VP Binay's experience with investigations makes him an expert in "Truth Commissions"
Time to shine: The veep wants to win you over by being the lesser...you know what.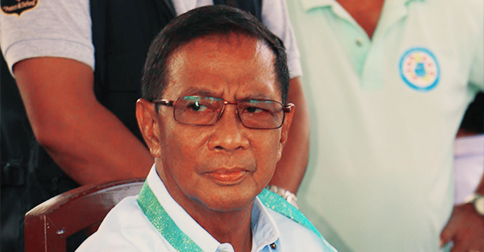 (SPOT.ph) Being a paragon of a public official under investigation, Vice President Jejomar Binay opined on the possible creation of a "Truth Commission" that would scrutinize the circumstances of the Mamasapano "Misencounter." Vice President Binay, who has been nothing short of submissive to the Senate Blue Ribbon Committee on Baseless Allegations, said that the President should not appoint the members of said Truth Commission.
ADVERTISEMENT - CONTINUE READING BELOW
"Having the members appointed by the President as proposed by several administration senators will certainly cast doubts on their impartiality. It could fuel speculations that the investigation will lead to a whitewash even before the probe has started," the Veep said in a statement released on Tuesday, published by GMA News. He added, "I further propose that the Catholic Church and other religious groups become part of this independent fact-finding commission, which should include former chief justices of the Supreme Court, and other eminent personalities who are not identified with the administration or any political organization."
The Vice President, known for his timely appearance in several hearings and his compliance to procedure without ever mentioning that his office should not be subjected to degrading fact-finding processes by "some senators" (and who doesn't make demands about seeing the questions prior to being examined), feels like it is very important to ensure that the committee is seen as impartial by the public. The Catholic Church, an institution that prefers not to meddle with state affairs, is obviously the perfect candidate for an investigation-especially since they do not approve of public officials "brushing off" things like, oh, corruption claims regarding buildings, farms, condos, and the like.
ADVERTISEMENT - CONTINUE READING BELOW
Clearly, the Vice President believes that allegations should be addressed and not dismissed. He also values procedure and even the President should be required to explain his actions. No office is high enough that it cannot be touched.
In addition to all this, the Veep was quoted by InterAkyson calling out suspended PNP Chief Alan Purisima: "He may be abroad but he can at least issue a statement or answer questions from media. There are many options open to him other than leaving the country at the most inappropriate time."
Vice President Binay has shown adeptness in such matters as issuing statements and answering questions when he is being accused of something that the administration, which he is incidentally a part of, could probably learn a thing or two from his tactics.
Recommended Videos
Load More Stories