Madonna, John Mayer, Kanye West set to perform at the Grammys + more things you might have missed today
Marwan is confirmed dead, Johnny Depp and Amber Heard are married, and more.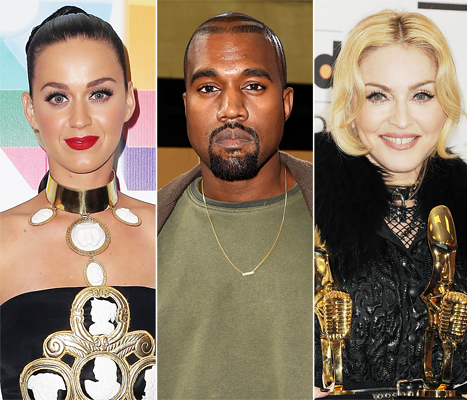 Photo via US Weekly
(SPOT.ph) Busy day, Spotters? We quickly recap 10 things you might have missed while you were off the radar.
1. Madonna, John Mayer, Kanye West set to perform at the Grammys
If you weren't excited yet for the upcoming Grammys, you will be now. The award show has an amazing performance lineup this year, which includes Beyoncé singing with John Legend and Common, Mary J. Blige with Sam Smith, and Kanye West (who's back after six years) with Paul McCartney and Rihanna. John Mayer is also confirmed to be singing with Ed Sheeran, Herbie Hancock, and Questlove. AC/DC and Madonna have also confimed individual performances.
ADVERTISEMENT - CONTINUE READING BELOW
2. FBI confirms DNA sample came from Marwan
The Federal Bureau of Investigation (FBI) confirmed Wednesday that the DNA sample it received from Philippine authorities belongs to wanted international terrorist Zulkifli Bin Hir, also known as Marwan. The PNP-SAF commandos shot Marwan dead and cut off his finger for DNA analysis and identification.
Marwan, described as "Southeast Asia's Osama bin Laden," was one of the FBI's most wanted terrorists. He was the main target of deadly Mamasapano clash on January 25.
3. Trillanes says Marwan death "absolves" Aquino
According to Senator Antonio Trillanes IV, the President should now be "absolved" from any liability now that Malaysian terrorist Marwan is confirmed dead. "Assuming the President gave the go signal, tama 'yung ginawang go signal," he said. "In my opinion that absolves the President as far as this operation is concerned."
Trillanes said even suspended Philippine National Police (PNP) Chief Director General Alan Purisima had no liability over the deadly clash.
ADVERTISEMENT - CONTINUE READING BELOW
4. Senate subpanel to wrap up Binay probe in March
Senator Trillanes also said that the Senate Blue Ribbon subcommittee will be wrapping up its investigation into the alleged anomalous deals in Makati City by March. He said that the Senate will probably be holding four more hearings, adding, "Gusto na naming ilabas ito lahat para matapos natin hopefully before we adjourn this March. Kasi ako, I was thinking na abot kami ng May kasi nga walang session ng April so gusto na naming isiksik para matapos ng March."
5. Uber in Australia now has a kitten delivery service
They're more than just a reliable car service. Now, they deliver kittens to your doorstep for a 15-minute cuddle. Uber has teamed up with animal shelters in Australia to bring an adorable furry friend to interested clients, but they would need to shell out $40 for a cuddle. The funds will then be donated to an animal shelter. Someone start this in Manila!
ADVERTISEMENT - CONTINUE READING BELOW
6. Johnny Depp and Amber Heard are married!
Sorry, ladies! Johnny Depp and Amber Heard have reportedly tied the knot in an intimate ceremony at their Los Angeles home on Wednesday. The private wedding is said to precede a slightly larger celebration that will take place this weekend in Depp's 45-acre island in the Bahamas.
7. An app that decides if your partner is "marriage material" exists
Ever wondered if your significant other is fit for marriage? Now there's an app that will answer the question for you. The app, Marriage Material, launched Monday in the Apple Store and boasts that its creators spent "months working with dozens of relationship experts" to give you a proper analysis of your partner and your future together. One of its quizzes calculates your compatibility, asking heavy-hitting questions like "Does he have an occupation you respect and leaves time for you?"
8. Bruce Jenner has told his family he is transgender, say reports
ADVERTISEMENT - CONTINUE READING BELOW
According to People, Olympic gold medalist Bruce Jenner has told family members, including reality TV celebrities the Kardashians, that he is becoming a woman and that they have "pledged their support." Jenner, according to published reports will star in an upcoming reality series documenting his transition.
9. #LalimNgHugot: 10 Sad Love Songs to Sing This Valentine's Day
Single and heartbroken this Valentine's Day? Sing all the hugot out with these 10 sad love songs that perfectly capture your feelings. There, there. It's okay.
10. 10 Surprise Celebrity Weddings We Love
Sometimes, the element of surprise is more exciting. These 10 local celebrity couples prove that just because something is private, low-key, or under the radar doesn't mean it's any less romantic or meaningful.
Recommended Videos
Load More Stories