Watch LEGO spoof the Fifty Shades of Grey trailer + more things you might have missed today
P-Noy set to give another nationwide address tonight, watch senior citizens try virtual reality porn (if you dare), and more.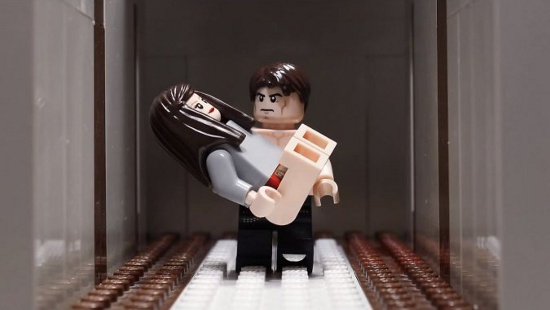 (SPOT.ph) Busy day, Spotters? We quickly recap 10 things you might have missed while you were off the radar.
1. Watch LEGO spoof the Fifty Shades of Grey trailer
Ever wondered what a mash-up of The LEGO Movie and Fifty Shades of Grey would look like? Wonder no more. The YouTube channel famous for the earlier LEGO and Guardians of the Galaxy parody is back, and they've brought the whips, chains, and husky voices. Slight spoiler alert: The elevator scene is particularly funny.
ADVERTISEMENT - CONTINUE READING BELOW
2. PNP has no official knowledge of Purisima's alleged resignation
On Friday, the Philippine National Police (PNP) said that they had no official knowledge of the alleged resignation of suspended PNP Chief Alan Purisima. "Maraming haka-haka, maraming mga storya, ang PNP ayaw nang dumagdag pa d'yan," said PNP spokesperson Chief Superintendent Generoso Cerbo Jr. He also clarified that if Purisima resigns, officer-in-charge Deputy Director General Leonardo Espina will not automatically be PNP Chief, saying, "Kailangan pa naming humingi ng order sa itaas."
3. P-Noy to address nation on Friday evening
The Palace has confirmed that President Aquino will once again deliver a nationwide address tonight at 6:30 p.m. The announcement comes more than a week after the President spoke about the fatal PNP Special Action Force (PNP-SAF) mission. There is still no word on what P-Noy will talk about in his speech.
4. Pope Francis says it's OK to spank your kids as long as "dignity is kept"
ADVERTISEMENT - CONTINUE READING BELOW
Pope Francis says it's OK to spank your children to discipline them...as long as their "dignity is maintained." He made the statement during his recent weekly audience, saying, "One time, I heard a father in a meeting with married couples say 'I sometimes have to smack my children a bit, but never in the face so as to not humiliate them.' How beautiful! He knows the sense of dignity! He has to punish them but does it justly and moves on."
5. Watch senior citizens try virtual reality porn
In case you didn't already know, virtual reality pornography is a thing that exists. Pop culture website Complex has decided to let senior citizens give it a shot because, well, why the heck not? The results are hysterical...and gets a bit creepy at some point.
6. Marcos laments government's "deafening silence" on Mamasapano
ADVERTISEMENT - CONTINUE READING BELOW
On Friday, Senator Ferdinand "Bongbong" Marcos lamented the government's "deafening silence" on who gave the final order for the deadly Mamasapano operation that claimed 44 lives. He also questioned Purisima's involvement despite the latter's suspension, why the plan to extricate soldiers from the site did not push through, and why the plan was kept secret from officer-in-charge Espina.
Marcos said he is hopeful that the Senate investigation on Monday and Tuesday will clarify facts that "could pave the way for the resumption of hearings on the Bangsamoro Basic Law."
7. A dating app for potheads now exists
Maybe there really is an app for everything. Developers have come up with a dating app tailor-made for potheads, aptly called High There. The new app is pretty much like Tinder where users can swipe through photos of potential dates...only this time, it also optimizes possible matches according to consumption preferences.
ADVERTISEMENT - CONTINUE READING BELOW
8. Watch the official trailer for the new Poltergeist reboot
Did you know that another remake for the horror classic Poltergeist is happening? No? Well, now there's a trailer and it's admittedly pretty spooky. Sam Rockwell and Rosemarie Dewitt star in this reimagined film from director Gil Kenan, out in theaters July 2015.
9. 10 Cute Tote Bags That You'll Actually Use
Who says functional eco bags can't be cute and stylish? We round up 10 eye-catching tote bags that you'll definitely love taking everywhere.
10. 10 Boutique Hotels for Your Romantic Staycation
Can't get out of the city on Valentine's Day? That can be a good thing. Skip the heavy traffic (and the headache that comes with it), and stay closer to home. We round up 10 romantic boutique hotels perfect for your V-Day staycation.
Recommended Videos
Load More Stories