An adorable flipbook marriage proposal + more things you might have missed today
Purisima says he's accountable, Cristine Reyes has a baby girl, and Ogie Alcasid wants to endorse Grace Poe.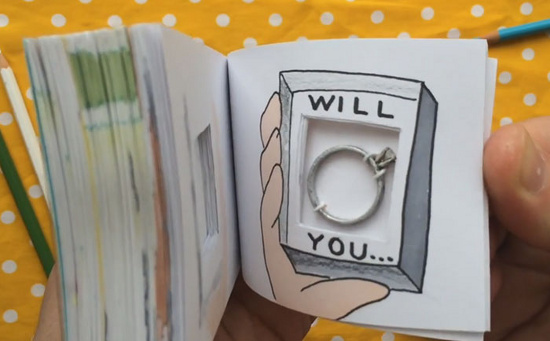 (SPOT.ph) Busy day, Spotters? We quickly recap 10 things you might have missed while you were off the radar.
1. Watch this adorable marriage proposal with a flipbook
Sometimes, you don't need an epic, grandiose gesture to pop the big question. Sometimes, you just have to be a little bit creative. The bride-to-be said the proposal happened at the Lincoln Park Zoo lights festival, where, on a freezing night, her boyfriend said he wanted to give her an early Christmas present. Go ahead, press play. It's ridiculously cute!
ADVERTISEMENT - CONTINUE READING BELOW
2. Purisima says he is accountable for the Mamasapano operation
Ex-Philippine National Police Chief Alan Purisima on Thursday admitted he was accountable for the Mamasapano operation that cost 44 lives. He was responding to Senator Miriam Defensor-Santiago's statement that he "pointed fingers" at relieved SAF Chief Director Getulio Napeñas, saying, "That is why Your Honor, I am held accountable for the operation. That's why I resigned."
Santiago's response? "Ay sus, maniwala naman ako."
3. Iqbal: MILF did not know presence of Marwan, Usman
Moro Islamic Liberation Front (MILF) chief peace negotiator Mohagher Iqbal finally made an appearance in Thursday's Senate hearing. "Hindi ho namin alam na nandoon si Basit Usman at nandoon si Marwan," he said. When asked why the two targets "felt safe" in MILF territory, Iqbal replied, "Sa community, karamihan doon po ay sibilyan ang mga nakatira [...] In a civilian community, you cannot compartmentalize the people, and then that granted na nandoon si Basit Usman, nagtatago [siya]."
ADVERTISEMENT - CONTINUE READING BELOW
He added, however, that the MILF is willing to help the government "chase after Usman and other terrorists."
4. Security officials remain mum on who informed P-Noy about the Mamasapano clash
Interior Secretary Mar Roxas, Defense Secretary Voltaire Gazmin, and Armed Forces Chief General Gregorio Pio Catapang Jr. were unable to answer Senator Nancy Binay's question on who informed the President about what was happening in Mamasapano. Gazmin said he did not inform Aquino, despite receiving word at 11 a.m. that there was an encounter happening.
Catapang, who received a text message from then suspended PNP Chief Director General Alan Purisima at around 5:30 a.m., said, "Hindi po namin alam na nagkakagulo sa Mamasapano. We were informed na magkaka-operation sa Mamasapano-wala po 'yung napasabak na, may namatay, na kailangan ng reinforcement." Roxas, meanwhile, said he "did not even know that there was an operation going on at that time."
5. Iqbal says a watered-down BBL is "unacceptable"
ADVERTISEMENT - CONTINUE READING BELOW
MILF chief peace negotiator Mohagher Iqbal said a watered-down version of the Bangsamoro Basic Law (BBL) may not be acceptable to the Bangsamoro people. ''Knowing that plenary powers rest with Congress, the MILF is requesting Congress to improve and perhaps to hasten the BBL,'' he said. He also added that a watered-down version "would not address the legitimate grievances of our people."
6. Cristine Reyes gives birth to baby girl
According to a report from PEP.ph, actress Cristine Reyes has given birth to her first baby with boyfriend Ali Khatibi on February 8. The report also said that Reyes was still on her seventh month of pregnancy, and was confined for delivery on February 4. Though they have not explicitly announced the baby news, close friends have been congratulating them on social media.
7. A dating app that won't judge you for your looks now exists
Willow is an app with a new approach to online dating. Instead of seeing a profile photo, you're prompted to answer a set of questions-written by users-that are designed to start conversation. Users will then decide when and if they wish to share photos with other users. At least now you'll know he's just not into you for your looks.
ADVERTISEMENT - CONTINUE READING BELOW
8. Ogie open to endorse Grace Poe in 2016 polls
Ogie Alcasid has announced he is open to endorsing Senator Grace Poe, should she decide to run for higher office in 2016. "Lagi ko namang sinasabi [kay Poe]. Gusto ko din si Congressman Leni Robredo," he said.
"At the Senate, nakikita niyo naman 'yung pagiging aggressive niya, the energy that she brings in the Senate. Kakaiba. Dati nakakasama ko na siya-sa MTRCB pa lang siya noon and I was with OPM-medyo nakakatrabaho ko na siya ng kaunti at nakikita ko na mayroon talagang (kakahayan) si Senator Grace," he added.
9. Top 10 Margherita Pizzas in Manila
Who says Margherita pizzas are boring? We certainly don't think so! We scoured the metro for the best takes on this classic, and we even threw in a pasta dish to best complement it.
10. 10 '90s Childhood Hangouts That We Miss
Before the Glorietta malls, there was the Quad. Before the McCafe, we had the awesome ball pit. Here are 10 hangouts we entertained ourselves with...that sadly don't exist anymore.
ADVERTISEMENT - CONTINUE READING BELOW
Load More Stories