10 Things Only Those Who Regularly Commute Would Know
Makakaupo is a lie.
(SPOT.ph) This is a list for the honorable working class of this fair city, who not only brave the traffic daily, but who also put their lives on the line when they board "death" buses or squeeze into the tiniest space ever inside a jeep. Good thing we all have a sense of humor. Because this sh*t is funny.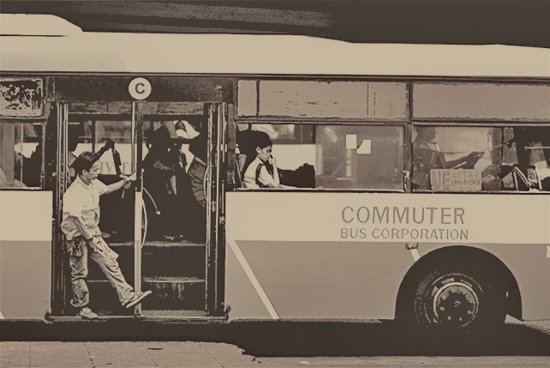 Also read:
10 Cuckoo Cab Confessions
Commuter Bingo: Win While Commuting in Metro Manila
10 Things Only People Who Regularly Ride the MRT Would Know
10 Ways to Kill Time at the MRT

1. Unless you're in a terminal, waiting for a ride at the "legal" stop will get you nowhere.
This has happened to all of us: You're waiting for a bus at a designated stop. By the time the bus reaches you, all the seats are taken by all the people waiting at the non-designated bus corner, where a sign says they're not allowed to hail anything.
ADVERTISEMENT - CONTINUE READING BELOW
2. Sometimes, even at a "legal" stop, you're punished for following the law (...because people don't know what a line is!)
Congratulate yourself if you're a civilized human being, especially if you still find yourself near tears whenever all sense of progress breaks down and savagery prevails. On good days, you're rewarded with the sight of an orderly queue. On bad days, it's like the zombie apocalypse has just begun and that jeep is the last ride to a safe zone. Stay limber and watch out for elbows!
3. The area near the door is prime real estate and nobody-nobody-wants to give up their piece.
It's essentially like Snowpiercer: Everyone is fighting to get to the front of the bus where the door is...for a quick escape, perhaps. As passengers descend from the bus, the passengers inside fight for a spot closer to the exit. Do the seat shuffle! Because the back of the bus is a freaky place, where roaches roam free. Speaking of which...
4. If you fall asleep, there's a chance that you'll wake up with a roach on your face.
If you think that's bad, we know for a fact that one commuter has had a roach fall on her head while casually walking along Quezon Avenue Station. (There are roaches in cabs, too. FYI.)
5. A lot of people are slobs. That or they think the world is a garbage bin.
Wrappers. Bottles. Cups. Hay.
6. Someone is always eating a burger when you're hungry.
CONTINUE READING BELOW
Recommended Videos
It is imperative that you, at some point in the future, board a bus with a burger in hand as well. Be on the other side of the fence for once. Keep the vicious cycle going.
7. The seats are designed for people whose bottoms are no more than five inches wide.
On the other hand, no matter how big you are, there's always room for you.
8. You don't know why you bother wearing nice clothes.
Wrinkle, wrinkle little star. Not to mention you start smelling like sweat and EDSA halfway through the journey.
9. When you're in a rush, the bus or jeep will take its sweet time on a stop or, heck, it'll take a 10-minute break at a gas station.
You even do theatrics and exaggerate movement while you check your watch, plus huffing and mumbling about how late you are on the side.
10. Close tayong lahat: GROUP HUG!
If you ever need the touch of another human being, just hop inside a PUV and feel the warm (sometimes sticky) embrace of 10 or more people.
Photo by Kimberly dela Cruz
Share this story with your friends!
---
Help us make Spot.ph better!
Take the short survey
Load More Stories