Senator Bong Revilla denies party photos + more things you might have missed today
Plus, a House of Cards parody and more emojis to enjoy
(SPOT.ph) Busy day, Spotters? We quickly recap 10 things you might have missed while you were off the radar.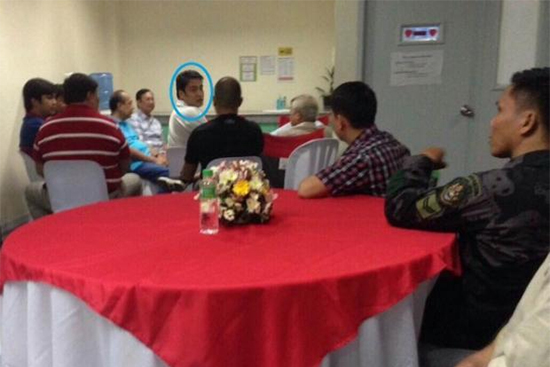 1. Senator Bong Revilla denies sneaking out to attend a party
A photo showing detained Senator Bong Revilla circulated on Monday, showing him seated in a room where a birthday party was allegedly being held. More photos, submitted to the Sandiganbayana and published by the Philippine Daily Inquirer, reveals hints that the party might have been for fellow detained Senator Juan Ponce Enrile, who celebrated his birthday on February 14. Senator Bong Revilla's camp denied the allegation, claiming that he was taken to the Philippine National Police General Hospital for a "debilitating migraine attack" and not a party.
ADVERTISEMENT - CONTINUE READING BELOW
2. Watch the Games of Thrones Season 4 gag reel
Fans eagerly awaiting the return of Game of Thrones will need to wait a few more weeks before Season 5 hits their screens. Meanwhile, they can satisfy their GoT withdrawal with this hilarious gag reel that features a dancing Cersei Lannister, a broken Iron Throne, and plenty of swear words.
3. Watch Sesame Street's parody of House of Cards
What do you get when you put the thrilling House of Cards television series and the child-friendly Sesame Street together? You get House of Bricks, a tale inspired by the story of the "Three Little Pigs." Kevin Spacey's character is played by a wolf named Frank Underwolf who blows down the houses of little pigs to teach kids about subtraction.
4. Introducing...racially diverse emojis
ADVERTISEMENT - CONTINUE READING BELOW
Your favorite emojis are about to get a lot more racially diverse. Apple's new operating systems will now feature emojis in a wider range of skin colors. In order to access the new skin tones, you'll select an emoji, then choose our preferred appearance. These include the usual face emojis, as well as the various hand gestures.
5. Floyd Mayweather fight could be Pacquiao's last
Manny Pacquiao on Monday hinted that his highly anticipated bout with Floyd Mayweather could also be his last, but clarified that he will make an announcement should he come to a decision on his retirement. The upcoming fight is scheduled for May 2.
6. MILF "won't wage war" if BBL is delayed, revised
The Moro Islamic Liberation Front (MILF) has said that it would not "wage another war" if the Bangsamoro Basic Law (BBL) is delayed or revised. Robert Alonto, deputy chair of the Bangsamoro Transition Commission, said, "The MILF does not have the intention to go back to war unless we have to defend ourselves." He also said that the MILF will "honor the pact, even if that takes more years of waiting."
ADVERTISEMENT - CONTINUE READING BELOW
7. Poe: suspended Purisima "enjoyed too much autonomy"
Judging from the text messages between resigned Philippine National Police (PNP) Chief Alan Purisima and the President, Senator Grace Poe said that the former "enjoyed too much autonomy" during the planning and implementation of Oplan Exodus. She added that he intervened despite his suspension and the President "simply let him."
8. Judy Ann Santos says she doesn't blame P-Noy for what happened in Mamasapano
The actress, however, stands by her Instagram post criticizing the President's absence during the arrival of the Fallen 44. She further explained that she believes that P-Noy's staff could have handled that day more sensitively, but clarified that she doesn't support the calls for the President's resignation.
9. Lenten Eats: Meat-Free Specials in Manila Restaurants
The spiritual cleanse of the fast is also a good time to cut down on meat and enjoy these goodies. Time to feast on fish and veggies!
ADVERTISEMENT - CONTINUE READING BELOW
10. 10 Style-bulok Tips for Torpe Guys
Can't keep it fresh? That's okay-there's an art to being torpe and we have everything you need to help you stay in the friendzone!
Load More Stories