Marion Cotillard is in Manila and she wants you to give love to the environment
So is the French President, but you know: Marion Cotillard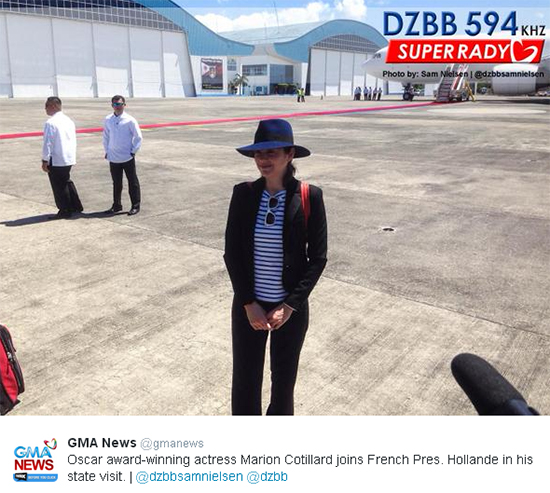 Photo by @dzbbsamnielsen
(SPOT.ph) Dust off that beret you got from your favorite ukay-ukay and take a bite out of a baguette, because very important French people are here in Manila this auspicious Thursday. The President of France is on a State Visit in Manila, to discuss climate change issues with President Benigno Aquino III and also to visit Eastern Samar.
ADVERTISEMENT - CONTINUE READING BELOW
President François Hollande is determined to reach a favorable agreement in the upcoming United Nations climate change conference, to be hosted in his home country. If you haven't noticed, we live in an area most affected by global warming. Super storms are not normal-otherwise, they wouldn't be called "super."
Earlier reports by the Philippine Star stated that President Hollande will also be discussing "pressing regional and global issues" like terrorism, especially after the recent attack on Charlie Hebdo.
That sounds very interesting on its own, but just to be safe, he comes with two familiar faces: Marion Cotillard and Melanie Laurent. It always helps to have beautiful, famous people around to keep people focused on an issue.
You most likely know Cotillard from Inception, while Laurent is famous for being Soshanna Dreyfus from Inglourious Basterds. Earlier reports also said that Jeremy Irons would be in President Hollande's entourage, but he seems to be MIA (for now).
ADVERTISEMENT - CONTINUE READING BELOW
Trivia: Marion Cotillard is pronounced Mar-yón Ko-ti-yár. The T in Laurent is silent and it almost rhymes with run.
Thumbnail photo by Danny Pata from GMA News.
Load More Stories