DC Comics' Catwoman is bisexual + more things you might have missed today
The word "awk" is now in the dictionary, Kanye West apologizes, and more.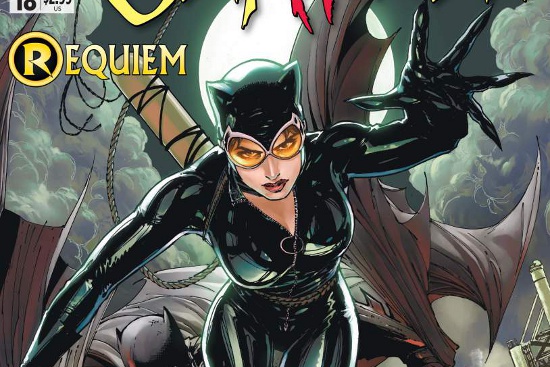 Photo via TIME.com
(SPOT.ph) Busy day, Spotters? We quickly recap 10 things you might have missed while you were off the radar.
1. DC Comics' Catwoman comes out as bisexual
Selina Kyle, Batman's enemy and love interest, "officially came out" as bisexual in the comic book's latest issue. The character kissed another woman in the new issue, confirming what fans have "long suspected." The series writer, Genevieve Valentine, also responded to critics who wondered what this could mean for Batman, saying, "Please be assured that Selina's longstanding connection to Batman has not been forgotten; that is not how bisexuality (or humanity) works."
ADVERTISEMENT - CONTINUE READING BELOW
2. Oxford Dictionary adds new words "awk," "superfan," others
Oxford Dictionary Online is keeping up with the times with their quarterly addition of new words and phrases to its database. Thursday's new words include "awk" (causing uneasy embarrassment), "superfan" (a person who has an "extreme or obsessive" admiration), and colorblocking (contrasting blocks or panels of solid, typically bright color.)
3. Lupita Nyong'o's $150,000 dress has been stolen
The pearl gown worn by actress Lupita Nyong'o at the 2015 Academy Awards was stolen from her hotel room on Wednesday (February 25). The custom Calvin Klein gown was adorned with 6,000 real pearls and is valued at 150,000 US dollars. The Oscar-winning actress made several best-dressed lists with her outfit during the award show.

ADVERTISEMENT - CONTINUE READING BELOW
4. Kanye West apologizes to Beck and Bruno Mars
On Thursday, Kanye West took to his Twitter account to apologize to Beck after he objected to the latter's Grammy win. West also said sorry to Bruno Mars, saying, "I used to hate on him but I really respect what he does as an artist." He also mentioned a possible music collaboration with Mars, offering to write "a hook" on one of his songs.
5. Binay looks to Berberabe to be his running mate
Vice President Jejomar Binay on Thursday said he was considering Pag-Ibig Fund president and chief executive officer Darlene Marie Berberabe as a possible vice presidential running mate in the upcoming elections. In a speech, he praised Berberabe and said "she could have a bigger future" after her stint in Pag-Ibig. Berberabe was earlier summoned to the Senate to testify on allegations that Binay had sought deals for favored contractors.
ADVERTISEMENT - CONTINUE READING BELOW
6. Lim won't let go of disqualification bid vs Mayor Estrada
Former Manila Mayor Alfredo Lim "refuses to accept" that he lost the 2013 elections to current Mayor Joseph Estrada saying, "How could a person convicted of plunder be qualified? It's the biggest crime that can be committed by a public official." Lim has asked the Supreme Court to reconsider its decision dismissing Estrada's disqualification case.
7. Pacquiao searching for tickets...for own fight
Apparently, Manny Pacquiao needs tickets to his own fight with Floyd Mayweather Jr. He said he has no control over complimentary tickets, as he used to in previous fights, as "Mayweather promotions took control of it." The cheapest ticket costs $4,175 (around P183,000).
8. France's Hollande visits Yolanda-hit town in Eastern Samar
French President François Hollande on Friday visited the town of Guiuan, seeking to "sound a global alarm" on climate change ahead of an upcoming United Nations summit. The small coastal town was among the first towns hit when Typhoon Yolanda made landfall.
ADVERTISEMENT - CONTINUE READING BELOW
Hollande is expected to announce 1.5 million euros ($1.7 million) in aid, enlisting the French non-government organization ACTED to help local storm-vulnerable communities. On Thursday, he also pledged loans of 50 million euros ($56 million) to help prevent future weather-related disasters in the Philippines.
9. 10 Brutally Honest Breakup Reasons, Revealed
Breakups are often painful, especially if you're on the receiving end. If you're the initiating party, however, it could be a different story. We offer you 10 real (and ridiculous) reasons why certain relationships end.
Looking for a quiet place to linger with a good cup of coffee? We've solved your dilemma. We rounded up 10 best cafes perfect for, well, simply hanging out.
Load More Stories