Kitchie Nadal weds in a P799 gown + more things you might have missed today
Weed-infused ice cream, Jam of Jamich passes away, and more.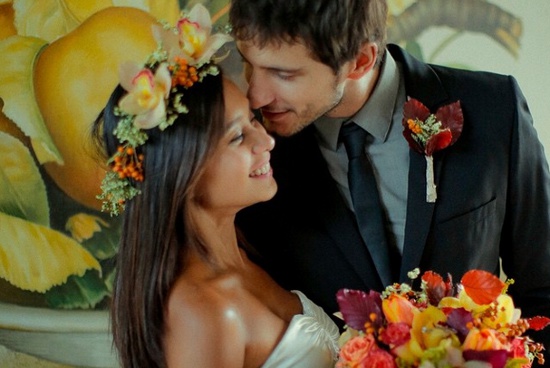 Photo via MangoRED Studios' Instagram account
(SPOT.ph) Busy day, Spotters? We quickly recap 10 things you might have missed while you were off the radar.
1. Kitchie Nadal weds in a P799 gown
If you were wondering whatever happened to Kitchie Nadal, she's married! The singer tied the knot on February 26 in an autumn-themed wedding. There weren't any grand preparations for this bride; in fact, her ready-to-wear gown only cost P799 and was purchased from a boutique store in a Makati City mall. According to the wedding coordinator, Nadal also did her own makeup.
2. Taylor Swift has the power to make this baby stop crying
Many of us turn to Taylor Swift's music for comfort, and this baby is no exception. A viral YouTube video was the talk of the Internet today, which showed a 6-month-old baby that would only stop crying if "Blank Space" was played. Swift loved the video and shared it on her Twitter account, saying, "THIS IS THE BEST THING I HAVE EVER SEEN."
ADVERTISEMENT - CONTINUE READING BELOW
3. Jam of "Jamich" has passed away
Jam Sebastian of YouTube sensation Jamich passed away Wednesday after months of battling lung cancer. Jam's fiance (and the other half of Jamich) Mich Liggayu took to Facebook, saying, "Thank you for everything... No words can explain. Until we meet again."
4. 50 Cent to place $1.6M bet on Mayweather
50 Cent is so confident in Floyd Mayweather's chances that he says he plans on betting as much as $1.6-M on the latter winning the upcoming bout with Manny Pacquiao. "I got champ [Mayweather]. He's gonna smoke him [Pacquiao]," he said.
5. Ben & Jerry's wouldn't mind making weed-infused ice cream
Ben Cohen and Jerry Greenfield, known to ice cream lovers worldwide as Ben & Jerry, have expressed their support for the legalization of marijuana. In fact, they're so supportive that they say creating a hybrid of weed and ice cream "make sense." By the way, if they do release this new flavor, it will only be sold in locations where weed has been decriminalized.
ADVERTISEMENT - CONTINUE READING BELOW
6. Watch the honest trailer for The Hunger Games: Mockingjay, Part 1
The folks behind the infamous honest trailers are back. Their newest target? The Hunger Games: Mockingjay, Part 1. The trailer kicks off with a snarky voiceover saying, "If you thought half a short book wouldn't have enough plot to carry a two-hour movie, you were right." The main criticism they have is that, well, basically nothing happens in this movie.
7. Family spokesman says Jolo Revilla's condition worsening
Contrary to previous reports, family spokesman and lawyer Raymund Fortun clarified that Cavite Vice Gov. Jolo Revilla is "deteriorating" after sustaining a gunshot wound on his chest Saturday. Revilla is said to be suffering from hematoma in his right lung, and is showing signs of pneumonia.
8. FOI bill approved for funding, moves on to plenary
The Freedom of Information (FOI) bill was approved for funding on Wednesday at the House of Representatives Appropriations Committee, paving its way onto the plenary for debate and amendments. The bill is a consolidation of 24 other versions and has been given the title, "An Act to Strengthen the Right of Citizens to Information Held by Government."
ADVERTISEMENT - CONTINUE READING BELOW
9. 10 Things Only Those Who Regularly Commute Would Know
This is for the brave working class of Manila, who board buses in the middle of a deadly highway and squeeze into tiny spaces in a jeep. We've rounded up 10 things only regular commuters in the metro would know.
10. SPOT.ph Roundup: Local Wines and Liqueurs To Try
You don't have to look very far to get a taste of gourmet alcohol. We zeroed in our own backyard, and searched for innovative liqueurs and wine...created locally and with homegrown ingredients. Plus, we tell you the best dishes to pair with your new cocktail.
CONTINUE READING BELOW
Recommended Videos
Share this story with your friends!
---
Help us make Spot.ph better!
Take the short survey
Load More Stories