10 Types of Plastic You See in Manila
We're the third biggest producer of plastic...so we did our "research."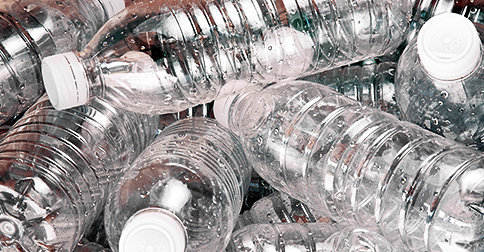 (SPOT.ph) On Tuesday, ABS-CBN News reported that the Philippines claimed another dubious distinction: Being the world's third largest producer of plastic. Aileen Lucero, national coordinator of the EcoWaste Coalition, called the "embarrassing" list a wake-up call and pointed a finger at the poor implementation of the Ecological Solid Waste Management Act.
It's a real problem, considering that grocery bags, plastic water bottles, shampoo sachets, and the like become marine debris. Sooner or later, that beautiful coastline is going to look as pretty as floodwater on EDSA.
In line with this, we thought we should educate people on the 10 types of plastics you will find in the city:
1. Lifestyle plastic. Those people who say they enjoy nature and they keep traveling, but they pack plastic everything (plate, cup, cutlery, and bottle) in their bag and they leave said plastic everything where they go.
2. Benign plastic. This is the type of plastic that is civil-this person doesn't really like you, but is decent enough to hide it from everyone.
ADVERTISEMENT - CONTINUE READING BELOW
3. Malignant plastic. Makes you think of maligno...and you're right. This plastic hates you and is smiling because it fulfills the plot of screwing you over. Danger, danger.
4. Power plastic. This person is such an expert at being plastic, they make a living out of it and they even teach their offspring the way of the plastic. We should really stop voting for them.
5. Occupational plastic. A person who doesn't really want to be a plastic, but is required by profession to smile and be nice to everybody.
6. Conflict avoidance plastic. An offshoot of a benign plastic, this type of plastic only surfaces in decision-making situations. This person nods and agrees simply because arguing is such a drag.
7. Enabled plastic. A rather sad case of plastic, this person is a fake and everyone just ignores it because this person's life is a void that can never be filled.
ADVERTISEMENT - CONTINUE READING BELOW
8. Hyper plastic. So good at being plastic, nobody-not even the plastic itself-knows that it's plastic.
9. High density plastic. Plastic you can use (and re-use). Because it's dense.
10. Polystyrene. Polystyrene foam is a major component of plastic debris in the ocean. It's not biodegradable at all and will be here on earth for hundreds of years. It is toxic to marine life and is the most common type of plastic people abuse. Polystyrene comes in the form of packaging pellets or "styrofoam peanuts," cups, plastic tableware, to-go "clam shell" containers, disposable razors, and those CD jewel cases.
CONTINUE READING BELOW
Recommended Videos
Share this story with your friends!
---
Help us make Spot.ph better!
Take the short survey
Load More Stories