Cheat Sheet: A Non-Definitive List of the People "Responsible" for Mamasapano
...according to the people involved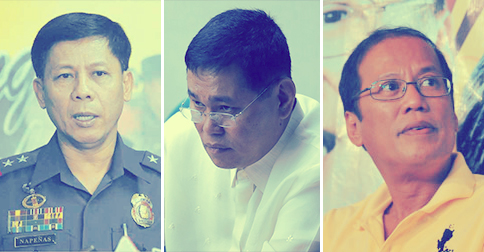 (SPOT.ph) The result of the Board of Inquiry's investigation is out and is available to the public as the Mamasapano Report. We can finally get to the truth...or can we?
There are bothering bits of information, like on page 70, where it says that relieved Special Action Force (SAF) Director Getulio Napeñas tried to relay information to then-suspended PNP Chief Alan Purisima, but his messages were stuck in his outbox because of "poor cellular signal." It's always the little things that erode the fabric of coordination, which the Mamasapano Report acknowledged as a "confluence of events that contributed to an inefficient, if not total breakdown at all levels of the Command and Control system on the ground."
One can argue that blaming doesn't get anything done, but the bereaved of the Fallen 44 are hoping for justice. They at least want to know what really happened. Here are the answers that they, and in effect we, are getting.
ADVERTISEMENT - CONTINUE READING BELOW
1. President Benigno Aquino III
Not at fault according to DILG Secretary Mar Roxas and Justice Secretary Leila de Lima. Partially at fault according to Napeñas. Also not at fault according to himself, because he was lied to by the person who was texting him during the operation and fooled by another person who was told not to coordinate with several people. The President's stance is that the ground commander must take full responsibility, which is echoed by Secretary Leila de Lima's opinion. She believes that the PNP as a "civilian group" does not fall under his command, meaning he is not part of any "chain" nor did he break one. Senator Miriam Defensor-Santiago, on the other hand, believes that he is liable and the families of the fallen want him to apologize.
The President has given conflicting statements about his knowledge of the operation-admitting first that he knew about what has happening and then later on saying that he wasn't aware that oplan wasn't going according to plan. The report itself acknowledges that the messages P-Noy sent to Purisima could be "misconstrued" as orders, as he was following up on the situation.
ADVERTISEMENT - CONTINUE READING BELOW
2. Relieved Special Action Force (SAF) Director Getulio Napeñas
Admits responsibility for what happened, but has frankly declared that he was following orders from people above him, namely P-Noy and Purisima. Even a widow of a fallen SAF officer believes that the "blame goes beyond" him.
3. Alan Purisima, formerly-suspended-now-resigned PNP chief
According to him, he did not break the chain of command, he did not lie to the President, and he did not give orders-oh, and even if he did, he said that Napeñas shouldn't have taken it because he was suspended. During the Senate Hearings, Senator Santiago berated him for interfering and declared that the lives of the 44 officer could've been spared had he not stepped in with his "suggestions." DILG Secretary Mar Roxas also believes that Purisima is to blame, but the former PNP chief maintains the stance that he "delegated responsibility" long before the mission was executed. Although P-Noy has accused him of lying, the President has also yet to say that his involvement in the operation was suspicious or malicious.
ADVERTISEMENT - CONTINUE READING BELOW
4. The United States
The Mamasapano Report, page 41, briefly discussed the involvement of the United States in the operation. According to the report, the intelligence they provided facilitated the "formulation and execution" of Oplan Exodus. Militant groups believe that they are meddling with domestic affairs and are also equally liable.
5. The MILF...?
Senator Alan Peter Cayetano couldn't resist pointing out that none of this would have happened if the terrorists didn't feel safe in the area and that the reaction to the operation was, in a manner of speaking, too much. Davao City Mayor Rody Duterte, however, said that the MILF was entitled to defend their territory.
As with any situation, there's a song that fits this perfectly:
Also read:
Who is Marwan and other FAQs about the Mamasapano Clash
Purisimese 101: Basic English à la Alan Purisima
Senate Hearing Update: Alan Purisima and the Case of the Misinterpreted Text Messages
ADVERTISEMENT - CONTINUE READING BELOW
CONTINUE READING BELOW
Recommended Videos
Share this story with your friends!
---
Help us make Spot.ph better!
Take the short survey
Load More Stories