A couple is getting married 38 times around the world + more things you might have missed today
Taylor Swift bought a porn domain, three out of five Pinoys are in favor of legalizing divorce, and more.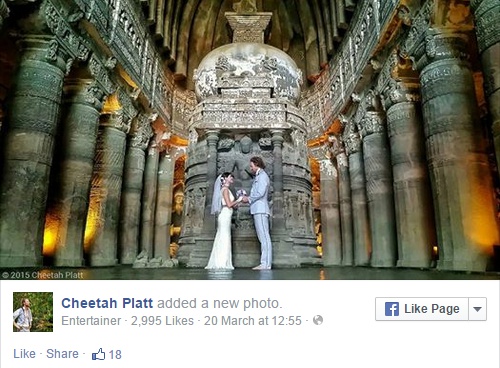 (SPOT.ph) Busy day, Spotters? We quickly recap 10 things you might have missed while you were off the radar.
1. A couple is getting married 38 times around the world
This couple is redefining the term "destination wedding." Because they were becoming "increasingly frustrated with the mounting costs" of planning a wedding, they packed their bags and decided to have a three-month "wedding tour" all over the world. They plan to stop by Thailand, Singapore, and Fiji, among others. They've already been married in Ireland, Morroco, and Egypt.
ADVERTISEMENT - CONTINUE READING BELOW
2. Taylor Swift bought a porn domain before someone else could
To prevent a "misuse of her name and image," Taylor Swift's publicity team reportedly bought the domains TaylorSwift.porn and TaylorSwift.adult. The Internet Corporation for Assigned Names and Numbers (ICANN) is set to release new top-level domain names to the public on June 1, so she's only doing it before someone else can. Swift is not alone; Microsoft has also acquired the Office.porn and Office.adult domains in advance.
3. One Direction's Louis Tomlinson breaks up with girlfriend Eleanor Calder
One Direction's Louis Tomlinson has reportedly split from his girlfriend of four years, Eleanor Calder. Reports say they called it quits two weeks ago, and that they've since tried to make it work but "it proved to be impossible" because of the many months they would spend apart.
4. Nora Aunor set to star in indie film, Hinulid
ADVERTISEMENT - CONTINUE READING BELOW
Superstar Nora Aunor is set to star in a new indie film entitled Hinulid, where she will play a mother who loses her only son (a law student) to fraternity hazing. The film will be directed by Kristian Sendon Cordero, and the filming is set to entirely take place in Bicol.
5. Scientists to resurrect woolly mammoths a la Jurassic Park
They're not exactly dinosaurs, but they come pretty close. Geneticists from Harvard have inserted the DNA of the extinct woolly mammoth into the genetic code of an elephant, the first time in 3,300 years that the mammoth genes have been "alive." The development was met with criticism from scientists, saying, "We face the potential extinction of African and Asian elephants. Why bring back another elephantid from extinction when we cannot even keep the ones that are not extinct around?"
6. SWS poll says three of five Pinoys in favor of legalizing divorce
ADVERTISEMENT - CONTINUE READING BELOW
A new survey from the Social Weather Stations (SWS) said that three out of five (or 60%) of Filipinos favor the legalization of divorce. SWS also noted a rising trend favoring legalization of divorce, from 50% in March 2011 to 60% in December 2014.
7. PAGASA celebrates 150th anniversary with new services and website
The Philippine Atmospheric Geophysical and Astronomical Services Administration (PAGASA) celebrated their 150th anniversary on Monday with a newly revamped website and the launch of new services, which include storm surge warning signals, a modified tropical cyclone warning system, and USAID support to PAGASA.
8. P-Noy accuses critics of spreading gossip about his health
After reports that he supposedly collapsed in the Palace, the President is responding to his "persistent critics." In a speech, P-Noy was quoted saying, "Talaga naman pong para sa mga pursigido nating kritiko, tila sala sa init, sala sa lamig ang aming sitwasyon."  Over the weekend, Anakbayan stated that Malacañang was spreading rumors on Aquino's supposed poor health "in preparation for hospital arrest as soon as he gets charged for the bloody Mamasapano encounter and other crimes."
ADVERTISEMENT - CONTINUE READING BELOW
9. PHOTOS: Scenes From Art in the Park 2015
Did you miss out on the Art in the Park fun over the weekend? We've got you covered! We give you a glimpse of the vibrant community and the even more vibrant art from the annual event.
10. 10 Sexy Sandals for Summer
It's summer, which means it's time to update your wardrobe. We give you 10 sexy sandals that are perfect for the season, whether you're chilling by the pool or attending a fancy evening beach party.
CONTINUE READING BELOW
Recommended Videos
Share this story with your friends!
---
Help us make Spot.ph better!
Take the short survey
Load More Stories