10 Guys on Tinder You Need to Stay Away From
Swipe left.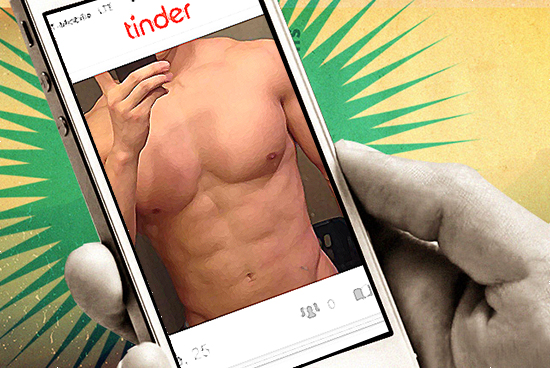 (SPOT.ph) The hook-up/dating app is practically a household name. Whether you're looking for a one-night stand, a long-term relationship, or just good ol' entertainment, Tinder is tried and tested. But just like in real life, you'll have to kiss a few frogs (or Jhay-Rh's) to find your prince. Here are 10 types of guys you could swipe left or right on, sometimes with hilarious results.
Also read:
Dating Apps 101: Your Quick Guide to the Latest Place to Find a Date in Manila
The 10 People You Meet in an Office
The 10 People You Meet in an Elevator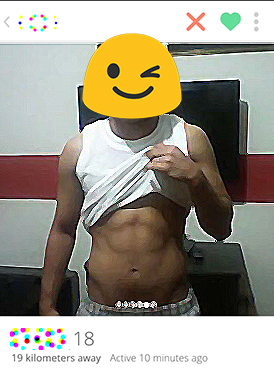 ADVERTISEMENT - CONTINUE READING BELOW
The Mukhang Abs
From the ubiquitous topless beach photo to the workout selfie, you're getting a whole lot more man than you expected. As you hover over his photo, ready to swipe, notice the strange feeling in your gut that tells you that maybe this guy relies too much on his six-pack for a reason.
Recommended course of action: Make yourself a hot cup of coffee; we know you'll be swiping right on some fresh pan de sal today, anyway.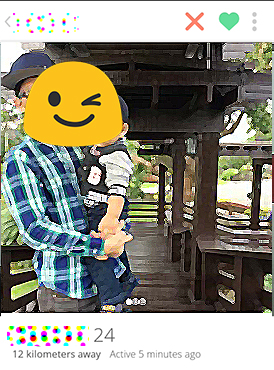 The Potential Father
We don't mean the potential father of your children (although, if that's your thing, go ahead). We mean the guy carrying a child who might be his. A lot of women find it attractive when a guy is good with kids, but when every photo has a baby (Is it the same one? Can you tell the difference?), you start to wonder if his intentionally vague profile description is trying to hide something.
ADVERTISEMENT - CONTINUE READING BELOW
Recommended course of action: Swipe left, unless you're willing to gamble on whether or not there is a baby mama.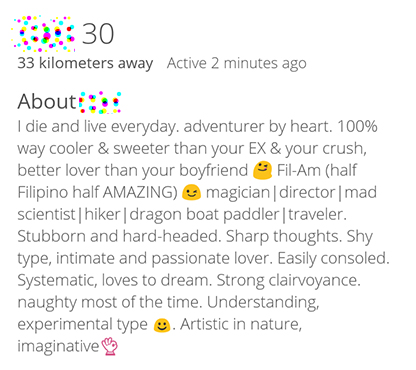 The Creative Writing Reject
While photos are Tinder's main attraction, your profile description can make or break a match. These guys understood that...and messed it up anyway. They're vague and pa­-deep, try too hard to be funny and end up scaring everyone away. These descriptions will leave you bothered and confused and reaching for the big green X, no matter how attractive the guy is. Good job, hot guy, for making us hate you. #blessed
Recommended course of action: Screenshot his description, share it on social media, and swipe left.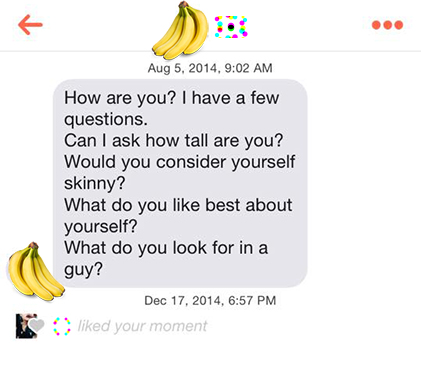 ADVERTISEMENT - CONTINUE READING BELOW
The Imbestigador
He starts off your interaction with a barrage of questions: Hi! What do you do? What kind of music do you like? What's your shoe size? Who is your favorite Teenage Mutant Ninja Turtle? Talking to him feels more like an interview than a conversation. Props to him for trying to get to know you in as little time as possible, probably so he can immediately gauge if you're the one for him-or move on to the next girl if you're not.
Recommended course of action: If he's cute enough, he might be worth the initial discomfort. They rarely are, though.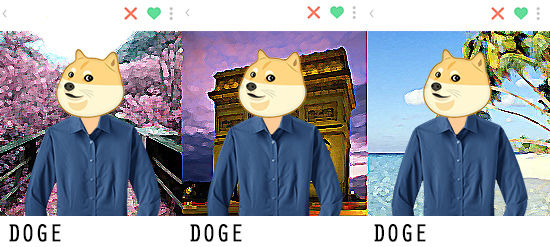 The One-Face Wonder
Tinder lets you set up only six photos in your profile, and using these wisely is crucial to landing those matches. So when you come across what is basically the same photo taken six times in six different locations, you begin to have the creeping suspicion that perhaps he doesn't show his other sides because he doesn't have any. He's a 2D character living in a 3D world. There is no proof he isn't.
ADVERTISEMENT - CONTINUE READING BELOW
Recommended course of action: Say what you want about him, but he knows his best angle. Swipe right if there's no doubt it's not his only angle.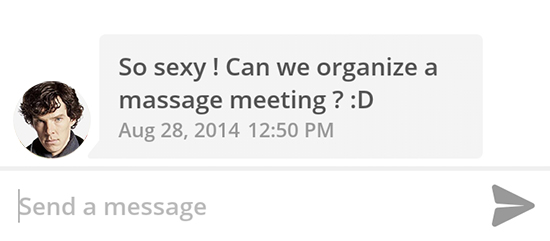 The Hot Foreign Fubu
Some of us have the fantasy of a hot foreign guy whisking us away to his beautiful homeland, spending entire nights deep in conversation and listening to his beautiful accent, and having beautiful children with him. This is not that guy. This guy knows what he wants, and it's probably not romance.
Recommended course of action: Go for it if you're on the same page, there's nothing wrong with having fun with an attractive (possibly British!) guy. Unmatch if you're saving it for marriage.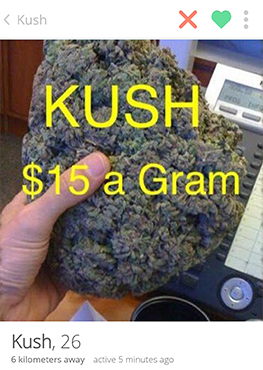 ADVERTISEMENT - CONTINUE READING BELOW
From Reddit.com
The Drug Dealer
There's no way to tell until it's too late. It begins innocently enough, and maybe you think you've found the one. He's cute, he's funny, and he likes the same weird music as you. You're about to ask him for his number when he sends you a message. ("oh hey btw do u want to buy some weed? haha")
Recommended course of action: Selling drugs on Tinder is sketchy at best. If you can get over this little speed bump, ask him if you can have some good, clean fun instead.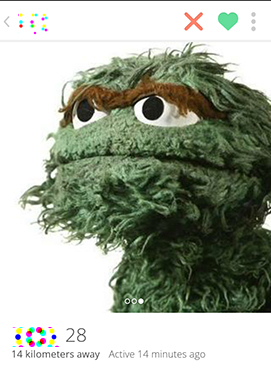 The Non-Human
As bad as the photos and profiles get, at least most of them are trying. Maybe they're unattractive, maybe they're uninteresting, maybe they're both-but if they use a car as their main profile photo in a dating app, you know they've given up. The rest of their photos are equally unyielding, but we'll admit there's something alluring about the thought that Carl, 24 is really a photogenic slice of pizza.
ADVERTISEMENT - CONTINUE READING BELOW
Recommended course of action: Do it. Do it for the pizza.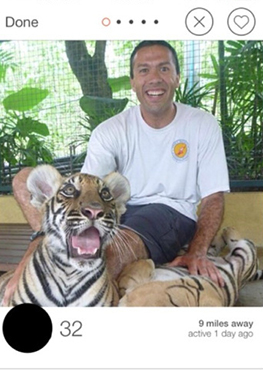 From Tinder Guys with Tigers
The Eye of the Tiger
There's a ridiculously large number of guys posing with giant wild cats in a vain attempt to attract women. If you don't believe this a thing, check out this entire Tumblr dedicated to it.
Recommended course of action: Can we swipe right on the tiger?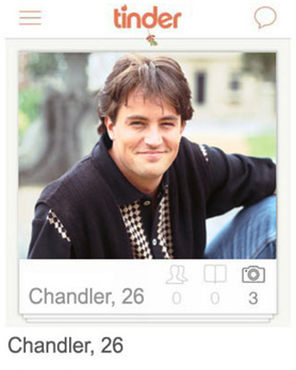 ADVERTISEMENT - CONTINUE READING BELOW
From www.digitalspy.co.uk
The Good Friend
What's the etiquette? Do you swipe left, and risk offending your friend? Or swipe right, and destroy the delicate balance of your fragile relationship? If you do match, did he do it out of politeness or because he's secretly in love with you? It's all games. There is no way to win. Quit Tinder now and maybe, just maybe, you can salvage your friendship.
Recommended course of action: Close the app, smash your phone with a hammer, and run away to Mexico.
Also read:
Dating Apps 101: Your Quick Guide to the Latest Place to Find a Date in Manila
The 10 People You Meet in an Office
The 10 People You Meet in an Elevator
Load More Stories