The Only Rape Prevention Tip Anyone Ever Needs to Read
A top 10 we can all get behind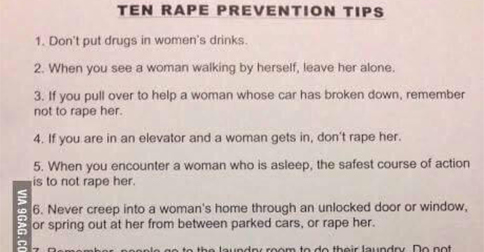 (SPOT.ph) We were kind of hoping this Top 10 would go viral and it finally did. The unique set of rape prevention tips first appeared in Washington State Coalition against Domestic Violence in 2011 and it gained popularity again recently, especially after it was retweeted by comedienne Sarah Silverman. Celebrating the female sex on Women's Month is awesome, but talking about serious issues is even cooler.
Victim-blaming is such a part of most societies that hardly anyone notices that it's happening. In most cases...actually, make that in all cases, it's the rapist who should carry the shame. No matter what the woman is wearing or how many drinks she's had, forcing yourself on her is never, ever, ever, ever okay. Ever.
Here are the tips in full:
1. Don't put drugs in women's drinks.
2. When you see a woman walking by herself, leave her alone.
ADVERTISEMENT - CONTINUE READING BELOW
3. If you pull over to help a woman whose car has broken down, remember not to rape her.
4. If you are in an elevator and a woman gets in, don't rape her.
5. When you encounter a woman who is asleep, the safest course of action is to not rape her.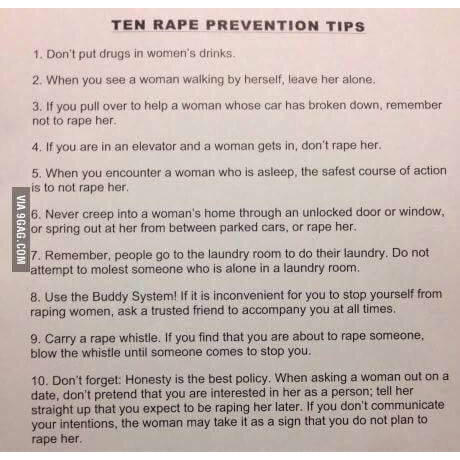 ADVERTISEMENT - CONTINUE READING BELOW
6. Never creep into a woman's home through an unlocked door or window, or spring out at her from between parked cars, or rape her.
7. Remember, people go to the laundry room to do their laundry. Do not attempt to molest someone who is alone in a laundry room.
8. Use the Buddy System! If it is inconvenient for you to stop yourself from raping women, ask a trusted friend to accompany you at all times.
9. Carry a rape whistle. If you find that you are about to rape someone, blow the whistle until someone comes to stop you.
10. Don't forget: Honesty is the best policy. When asking a woman out on a date, don't pretend that you are interested in her as a person; tell her straight up that you expect to be raping her later. If you don't communicate your intentions, the woman may take it as a sign that you do not plan to rape her.
ADVERTISEMENT - CONTINUE READING BELOW
CONTINUE READING BELOW
Recommended Videos
Share this story with your friends!
---
Help us make Spot.ph better!
Take the short survey
Load More Stories