Breaking News: Men change diapers, too!
Dads need changing stations in bathrooms, too? Whoa. Mind-blowing.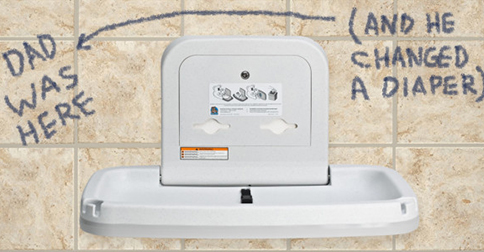 Photo from www.8bitdad.com
(SPOT.ph) On March 30, Senator Miriam Defensor Santiago filed Senate Bill 2704, which would require major establishments and government offices to install diaper-changing tables or stations in restrooms for both men and women.
We all know how important it is that a table is provided for mothers, so they wouldn't have to change diapers elsewhere (it's just awkward and uncomfortable for everyone involved, including the baby), but apparently, men do it, too! Leave it to a woman to figure out another way to make it easier for men to be better fathers. Meanwhile, our male legislators are busy with the divorce bill.
ADVERTISEMENT - CONTINUE READING BELOW
CONTINUE READING BELOW
Recommended Videos
In a report by the Philippine Daily Inquirer, Senator Santiago explained that, "to have changing tables located only in female restrooms assumes that only women have the responsibility to care for children and change their diapers. It fails to consider that even men are or should be involved in taking care of children."
This extremely new and very bold idea of men doing fatherly things also exists in the West, where Hollywood star Ashton Kutcher lives. As it turns out, Kutcher actually wants to change his baby's diaper. Wow. Consider us impressed. Men wanting to care for their children? How long has that been happening? (A very, very long time. Thanks, great dads! We do know you exist.)
Load More Stories