A theme park is going to feature Hunger Games attractions + more things you might have missed today
Only 63% of Pinoys are validated to vote, some bus firms are already fully booked for all Wednesday trips, and more.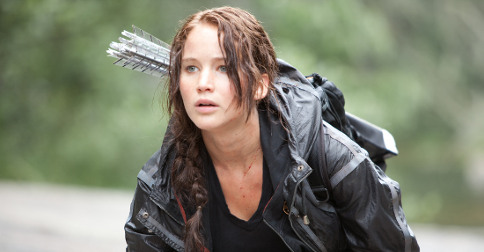 (SPOT.ph) Busy day, Spotters? We quickly recap 10 things you might have missed while you were off the radar.
1. A theme park is going to feature Hunger Games attractions
Are you an avid fan of The Hunger Games? You'd probably want to book a ticket to Dubai next year. Lionsgate and Dubai Parks and Resorts are teaming up to bring the popular film franchise to life with theme-park attractions. The park is expected to open in October 2016.
2. David Beckham strips down for a new (and fake) underwear ad
It turns out that David Beckham is actually pretty funny. He and The Late Late Show host James Corden spoofed an ad for an underwear brand, for which they were both spokespersons.
3. A new installment to Stieg Larsson's Millenium series is on the way
It turns out that late Swedish author Stieg Larsson's popular Millenium series (which includes The Girl with the Dragon Tattoo) will have a new sequel entitled The Girl in the Spider's Web. There's no word on the new title's plot just yet, but it's written by David Lagercrantz, who reportedly wrote it on a computer with no Internet connection and delivered a physical copy of the manuscript to publishers himself.
ADVERTISEMENT - CONTINUE READING BELOW
4. Sharon Cuneta is considering retirement in four to five years
In a Facebook post, Sharon Cuneta has said that she's considering retiring in the U.S. in "four to five years." She also said that while she loves the Philippines, she feared for her children's future in this country. She also added, "Sana naman inaalagaan natin [ang bansa natin] tapos tuwing may pagpalit ng administration, inaalagaan din sana tayo. Nakakapagod na rin minsan. And nakaka-sad."
5. Muhammad Ali rooting for Pacquiao against Mayweather
Retired boxing legend Muhammad Ali said that he will be rooting for Manny Pacquiao in the latter's upcoming bout versus Floyd Mayweather. His daughter, Rasheda, told TMZ that he is a fan of Pacquiao in and out of the ring, and that the two "have been friends for years."
6. Breaking News: Jadine And Kathniel To Star In Their Very First Movie Together?
What a way to start April! According to Candymag.com, two of the most popular love teams in showbiz will be starring in a movie together. Click the link and check out the newly unveiled movie poster.
7. Only 63% of Pinoys allowed to vote, says SWS
A new poll from the Social Weather Stations (SWS) found that only 37.4 million Filipinos (or 63% of the adult population) would be allowed to vote. Validated voters are those who have registered and submitted their biometrics data (photograph, fingerprint, and signature). Some 17.8 million Filipinos or 30% have reportedly registered but are not considered validated voters as of the end of 2014.
ADVERTISEMENT - CONTINUE READING BELOW
8. Some bus firms at Araneta terminal no longer accepting chance passengers for Wednesday trips
Commuting out of town tonight? According to a report, some bus firms at the Araneta Center Bus Terminal in Cubao are no longer accepting chance passengers as they are already fully booked for Wednesday trips. About 9,000 passengers are expected to flock to the terminal tonight.
9. PHOTOS: 14 Historic Manila Churches to Visit for Visita Iglesia
Embarking on a Visita Iglesia this Holy Week? Make sure to visit these places of worship in Manila that are full of history and definitely worth a closer look.
10. SPOT.ph's Staycation Guide: Where to Go for the Lenten Holidays and Easter Weekend
In case you've decided to stay in the city over the break, we've rounded up a few staycation ideas and exciting Easter events for you and your entire family to consider.
Load More Stories