10 Tweets That Trended Today: The Twitterati on Manny Pacquiao, the new COMELEC chair + more
Plus, what's so special about May the 4th?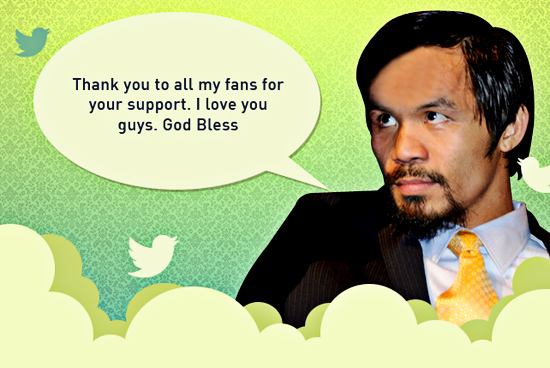 (SPOT.ph) Manny Pacquiao and Floyd Mayweather's big fight may be over, but the Las Vegas bout is still the talk of the town. While others are lamenting the end of the Labor Day weekend, it's business as usual for the government as current PCGG Chair Andy Bautista has been named chair of the COMELEC.
ADVERTISEMENT - CONTINUE READING BELOW
Did we miss a tweet from your favorite local celeb or personality? Share your thoughts on our comments section below or follow @Spotdotph on Twitter to let us know what you think!
Art by Warren Espejo
— Ruffa Gutierrez (@iloveruffag) May 4, 2015
Ruffa Gutierrez, celebrity
— Patty Betita (@pattybetita) May 4, 2015
Patty Betita, model
— Mico Halili (@micohalili) May 4, 2015
Mico Halili, journalist
— Manny Pacquiao (@MannyPacquiao) May 4, 2015
Manny Pacquiao, athlete
— isabelle daza (@isabelledaza) May 4, 2015
Isabelle Daza, celebrity
— Christian Bautista (@xtianbautista) May 4, 2015
Christian Bautista, celebrity
— Abi Valte (@Abi_Valte) May 4, 2015
Abigail Valte, presidential spokesperson
— James Jimenez (@jabjimenez) May 4, 2015
James Jimenez, COMELEC spokesperson
— Andi Eigenmann (@andieigengirl) May 4, 2015
Andi Eigenmann, celebrity
— Kai Honasan (@kaihonasan) May 3, 2015
Kai Honasan, musician
Recommended Videos
Load More Stories