10 Tweets That Trended Today: Rain on a Wednesday, Jesse Robredo's Birthday + more
Plus, how is The Rich Man's Daughter doing?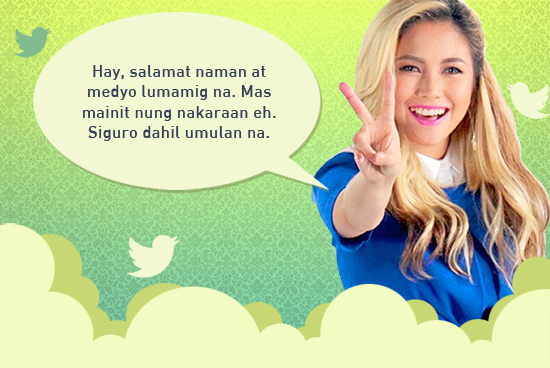 (SPOT.ph) After what feels like forever of complaining about the sticky weather—finally, rain! It looks like the summer season is preparing to say its farewell to the city. Pangako Sa 'Yo is keeping some of us glued to the screen, but let's not forget, The Rich Man's Daughter is also currently airing and the LGBT community is beginning to catch up on TV time. Today we also celebrate the birth anniversary of the late Jesse Robredo, whose work continues to inspire (we hope) our public servants.
ADVERTISEMENT - CONTINUE READING BELOW
Did we miss a tweet from your favorite local celeb or personality? Share your thoughts on our comments section below or follow @Spotdotph on Twitter to let us know what you think!
Art by Warren Espejo
— Chino Lui Pio (@chinoluipio) May 27, 2015
Chino Lui Pio, TV personality
— Yeng Constantino (@YengPLUGGEDin) May 27, 2015
Yeng Constantino, musician
— Raquel Fortun (@Doc4Dead) May 27, 2015
Raquel Fortun, forensic pathologist
— Lourd de Veyra (@lourddv) May 27, 2015
Lourd de Veyra, writer and TV host
— Mar Roxas (@MARoxas) May 27, 2015
DILG Secretary Mar Roxas, politician
— Senator TG Guingona (@TgGuingona) May 27, 2015
Senator TG Guingona, politician
— Joey Javier Reyes (@DirekJoey) May 27, 2015
Joey Javier Reyes, filmmaker
— Sofia Andres (@iamsofiaandres) May 27, 2015
Sofia Andres, celebrity
— libay cantor (@leaflens) May 27, 2015
Libay Cantor, writer
— alan c. robles (@hotmanila) May 27, 2015
Alan Robles, writer
Recommended Videos
Load More Stories