This Organization Will Pay You For Used Cigarette Butts
Earn money, save the environment.
Did you know that cigarette butts are the world's most common form of coastal trash?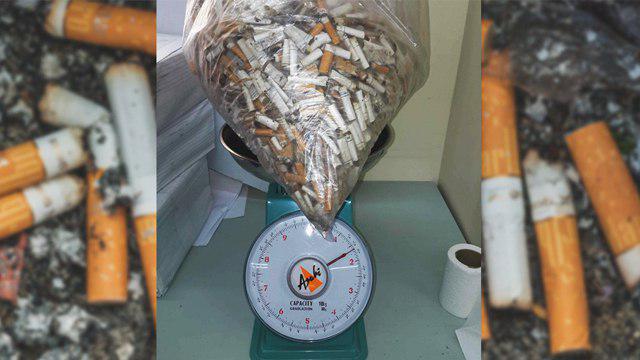 In a study conducted by Ocean Conservatory last year, it was revealed that almost two million cigarette butts were found on the world's shorelines in 2016 alone.
"On the average, cigarette butts take at least 10 years to rot while plastic products will need five centuries to a thousand years to decompose," Haribon Foundation, the country's pioneer environmental organization, said in a statement.
ADVERTISEMENT - CONTINUE READING BELOW
Because of this, Subic Bay Metropolitan Authority (SBMA) Ecology Center has started a project to help alleviate the cigarette butts problem.
Called the #HeaviestButtCampaign, the project encourages everyone to pick up cigarette butts from the streets and beaches, and sell them to their organization. The collected cigarette butts will be used for a study.
"We are buying cigarette butts for a study we are currently conducting for possible upcycling. We would be needing 20 to 60 kilograms of butts for this. Cigarette butts are one of the top three litters that go to our bay every year. They take 10 to 12 years to decompose," SBMA said in their Facebook post.
ADVERTISEMENT - CONTINUE READING BELOW
"SBMA has partnered with a local company that has designed their own recycling machine," Amethya L. Koval, manager of Ecology Center and the concurrent head of the Regulatory Group and the Media Production Department, explained to FHM.com.ph. "This machine can remove toxins from wastes. We are hopeful this machine can also remove the smell and toxicity of cigarette butts. This is why we need a lot of cigarette butts so we can push the study."
If the upcycling is successful, the cigarette butts will be turned into materials used for bricks and hollow blocks. 
The project was launched last March 5 and will end before May 5 (or until they reach the target weight). The #HeaviestButtCampaign is part of SBMA's War on Waste advocacy.
One kilogram of cigarette butts is worth P300. So far, the has team already collected five kilos from nearby areas.
Aside from the #HeaviestButtCampaign, Koval also encourages everyone to participate in their other upcoming War on Waste campaigns:
ADVERTISEMENT - CONTINUE READING BELOW
Regulated Use of Plastic Policy
"A policy implemented in 2012 wherein SBMA prohibits the use of plastics in general. There are only few exceptions such as primary wrapping material for wet goods and bread. We mandated that paper bags, paper plates, etc. are to be used in lieu of plastics. We encourage BYOB (bring your own bag)," Koval explained.
Refuse Single Use
This campaign is against the use of disposable plastics such as candy wrappers, sachets, plastic caps, and more. "This also promotes the use of reusable wares such as water bottles, tumblers, and eco bags," Koval added.
Straw Sucks
"SBMA is also against the use of plastic straws," Koval said. "Instead of using plastic straws, we are promoting the use of bamboo or metal straws, or just don't use straws at all."
According to Koval, these projects will be officially launched during the late celebration of Earth Day in the Subic Bay Freeport Zone, in May this year.
ADVERTISEMENT - CONTINUE READING BELOW
"Every individual can do their share in minimizing the waste that the produce by changing their lifestyle and acquiring habits that are not harmful to the environment such as waste segregation. By segregating our waste, we automatically reduce the amount that is being thrown away," Koval suggested.
She added: "When people go to the market, they can also bring their bayong, where they can put their vegetables and other dry goods straight without using plastic bags or sando bags. They can also bring their own reusable plastic containers where they can put their fish, seafood, and meat."
You can help the project by bringing what you collected to the SBMA Ecology Center, Regulatory Building, Labitan St. CBD Area, Subic Bay Freeport Zone, Olongapo City and look for Ms. Rj, Bello, or Patrick.
And if you want to do more for the environment, here are ways on how you can go green and ideas on how you can help save the Earth with the little things you do daily.
ADVERTISEMENT - CONTINUE READING BELOW
This story originally appeared on Fhm.com.ph. Minor edits have been made by the Spot.ph editors.
Recommended Videos
Load More Stories