(SPOT.ph) Did you know that about seven out of 10 Filipinos have online access, and they spend an average of nine hours and 14 minutes every day using the Internet? As more Filipinos log more hours online for education, work, entertainment, or plain doomscrolling, it begs the question: how protected are we against online threats and what can we do to defend ourselves?
It turns out, cyber security awareness is growing among Filipinos. In fact, the Philippines is among the top three countries and territories searching for "computer virus" in 2022, and among the top five in the world to search for "phishing," "privacy," "identity theft," "Internet safety," and "cyberbullying," among many others, according to Google Trends.
"Filipinos are becoming more and more curious—what are the trends out there, what does this trend mean—which is a good sign because we're becoming more aware and they're going to Google for trusted information," said Mervin Wenke, Google Philippines' Head of Communications and Public Affairs, in a press conference at the Google Philippines headquarters on Tuesday, February 7.
"This is driven by several events and insights. For instance, [in] the Philippines— because more and more Filipinos are going online, cybersecurity and being safe online have become top of mind and [a] top priority for Filipinos," Wenke said.
Also read:
Before You Click: How to Browse the Internet Safely
How to Avoid Getting Hacked

Safety Tips and Tricks for Online Protection, According to Google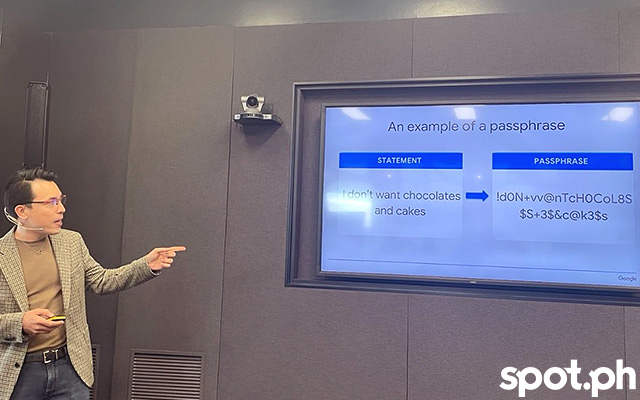 ADVERTISEMENT - CONTINUE READING BELOW
Use strong passwords
We're all guilty of using our birthdays and memorable dates in our passwords at some point in our lives. Scammers know that, and if you still practice this old-school hack just so you won't forget your password, it's high time to change strategies.
Remember to use long, unique, and memorable passwords. A combination of at least 14 letters, numbers, and symbols can protect you and your accounts. One of the techniques you can do is to use passphrases: long phrases or sentences that you know or based on a fact or memory which you can turn into a password, said Wenke.
Avoid reusing passcodes across devices and apps too so you can stop hackers from infiltrating your other accounts in the event one gets accessed.
If you have trouble remembering passwords, you can use the Google Password Manager which saves all your passwords across different applications and websites. It also has a feature called Password Checkup which checks the strength of your passwords.
Use two-step verification (2SV)
Cybercriminals can still find ways to open your accounts so a strong passcode may not be enough. By enrolling in two-step verification, you're adding another layer of defense for your accounts.
"I realized that it's okay to be safe than sorry later so I take extra steps for my accounts to be secure because we can never tell. No one goes online knowing they will be hacked," said Wenke.
Keep your devices updated
When you see notifications for app updates or refresh, do you ignore them or immediately act on them? Proactively keeping your devices updated will protect accounts, browsers, apps, and even document editors from security vulnerabilities, said Wenke.
Be in control of your privacy
Google can help set up your privacy settings via Privacy Checkup, which makes sure your data and online activities are well-protected. If you also want to control and customize the ads you see online, you may do so via Google's My Ad Center.
Practice safe browsing
Noticed the grey locked icon in the URL feed on your browser or websites that have HTTPS? Those are indications of a secure connection. To further protect yourself from suspicious links, avoid directly clicking on links or at least, hover over them to ensure you won't be taken to a malicious site. The best practice is to type in the URL.
It's also best to train your eye on what to look out for in a credible website. Watch out for spelling errors, too-good-to-be-true claims, and low-resolution media, among others, said Wenke.
Avoid using public WiFi or public computers as well for sensitive transactions. So if you'll access your bank app, please do so using a private connection.
Think twice too before you share your personal identifiable information (PII) like name, address, email, phone number, or credit card number; and linkable information like medical, educational, financial, or employment data.
"The only way to get ahead of cybercriminals is to have that critical thinking because no matter what advice we give you, they will always be one step ahead so be critical, don't click links, check the website first."
Share this story with your friends!
---
Help us make Spot.ph better!
Take the short survey
More Videos You Can Watch
Load More Stories