Trigger warning: Mentions of death, violence
(SPOT.ph) On February 20, Adamson University student John Matthew Salilig was reported missing after not being home for a couple of days. Ten days later, authorities confirmed his family's worst fear: the chemical engineering student was found dead and naked in a shallow grave in Imus City, Cavite after attending the initiation rites of the Tau Gamma Phi fraternity.
Salilig is added to the long list of 36 reported deaths by hazing at the hands of their fraternity brothers. It's a "senseless act" of "blood-thirsty violence", said Senator and Tau Gamma Phi member Joel Villanueva, who called on the police to hold those accountable for Salilig's death and for the Anti-Hazing Law to be fully implemented in all universities and colleges. 
"No type of brotherhood can ever equate to the sanctity of life. Hinding-hindi nasusukat sa karahasan ang tunay na kapatiran," Villanueva said.
ADVERTISEMENT - CONTINUE READING BELOW
While there are laws in place, hazing—or initiation activities designed to harass neophytes or applicants and existing members that could cause physical or psychological harm—remains to be an open secret among fraternities, sororities, and other groups requiring neophytes to undergo initiation rites to test their mettle. It's been practiced for decades despite the violence which ultimately ends in the death of some neophytes, which begs the question: why does it persist and is it possible to stop it?
Also read: Men Too Suffer Physical Abuse, Why Do They Stay Silent?

What is hazing for, anyway?
Hazing tests an individual's devotion to joining a collective—at least, according to fraternities and sororities where it is a common practice. It isn't exclusive to paddling—or the use of a wooden board to beat neophytes mainly on the thighs or buttocks—as it may also be any process involving anything from pranks to servitude, which can be uncomfortable at least or deadly at worst, especially if the ritual includes physical violence.
For outsiders, hazing is a show of power-tripping where current members subject their future brothers to moral degradation. For members, it's a show of exclusivity and a test of bond that proved to be so ingrained in the culture of fraternities that it seems impossible to break, said sociologist Enrico Baula, a senior lecturer of behavioral science at the University of the Philippines Manila.
Say you want to join an organization. Which one would you value more: a group that allowed you to join by simply signing up or a group that has hell weeks for neophytes to go through?
"The simple reality is that if you join a group where anybody can be a member, you're not going to value the membership, you're not going to feel the identity na unique ang grupong ito, unique ako sa grupong ito, special kami or exclusive kami," Baula told SPOT.ph.
"Marami kasing sumasali pero nawawala rin lang, not like 'pag dumaan ka sa proseso ng bigayan (hits) is mamahalin mo ang pinagdaanan mo," Tau Gamma Phi Adamson Chapter board member Marlon Carmen told GMA News.
ADVERTISEMENT - CONTINUE READING BELOW
Neophytes who go through the initiation process place high value [on] their membership, believing that through the process, they have earned their place to be there and can be privy to the secrets that bind the group. After all, "not everybody gets in."
"It's a filter. Make it hard for new members to join para sa grupo makita rin kung sino pinaka-committed. Not so much to see who's the toughest or strongest; gusto mo makita sino pinaka-committed."
Toxic masculinity also comes into play. Fraternities at their core are exclusively male, and with it comes the ideologies of what being a traditional male is—tough, aggressive, and dominating. Instead of backing out, hurt neophytes can be pressured to see it through, said Baula.
"The example of toxic masculinity is stoicism. Bilang lalaki, kailangan hindi ka nagpapakita ng weakness. Kahit hurt ka na, emotionally drained ka na, kahit vulnerable ka na, in order to show other boys that you're a man, pakita mo na you're not hurt, you can still do this."
ADVERTISEMENT - CONTINUE READING BELOW
The Effects of Hazing Go Beyond the Neophyte
Understand that when neophytes get hazed, nobody thinks someone would die or members would kill somebody. Those who die of hazing are outliers; those who pass the process will think it's just part of the initiation and move on to continue the tradition, said Baula.
Remember how the older generation use to say "ginawa na namin 'yan dati at kinaya namin, kayo rin dapat"? Nobody calls it abuse, not until somebody gets seriously hurt or dies, mainly because it's been practiced freely for so long, he said.
"They're expected to do that to the next generation or the new batch as if it's normal. Violence will be normal, hazing will be normal."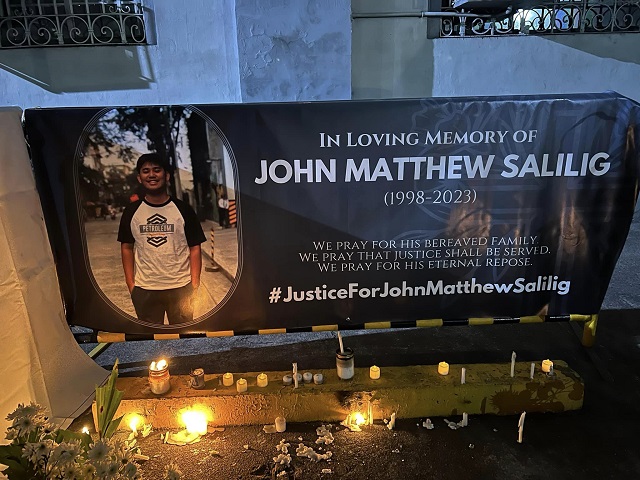 ADVERTISEMENT - CONTINUE READING BELOW
But what if the neophyte dies? That's when the practice gets challenged, especially by outsiders, said Baula.
Salilig's brother, John Michael, said he was informed his brother would attend the Tau Gamma Phi welcoming rites in Laguna. John Michael, who happens to be a member of the fraternity, gave his brother the go signal "with the high hopes and I know nothing [bad] will happen."
More than a week later, Salilig's lifeless body was seen bearing bruises from "severe blunt force trauma to the lower extremities," based on an autopsy by the Cavite Provincial Crime Laboratory. His chest and thighs also showed signs of hematoma, or blood clots, after receiving at least 70 hits during the initiation rites.
"Ang mensahe lang po doon sa taga-Adamson, mga authorities doon, at mga officers, sana this will come to an end, itong klaseng gawain ng mga ganitong mga fraternities like the Tau Gamma, and hopefully matulungan nila kami because 'yung anak namin [is] the victim, kami ang biktima dito," Salilig's father, Joeffrey, said.
ADVERTISEMENT - CONTINUE READING BELOW
What can stop hazing deaths?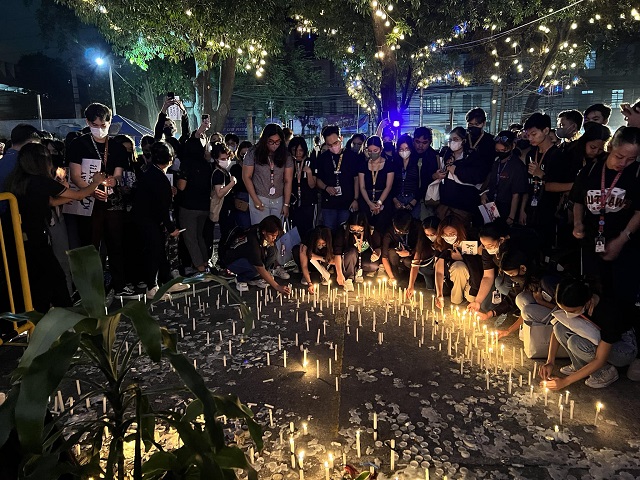 The Philippines has an Anti-Hazing Law as early as 1995 in response to the death of Ateneo law student Lenny Villa in the hands of the Aquila Legis fraternity. Hasher penalties were added to the amended law after the death of University of Sto. Tomas student Horacio "Atio" Castillo III during an initiation rite of Aegis Juris fraternity in 2017. This meant expanding the definition of hazing as physical or psychological suffering, covering various acts from paddling to forced physical activities, and stiffer penalties of reclusion perpetua, or imprisonment of up to 40 years, and a fine of up to P3 million.
ADVERTISEMENT - CONTINUE READING BELOW
Despite this, Castillo wasn't the last person who died of hazing. Philippine Military Academy (PMA) cadet Darwin Dormitorio also succumbed to hazing injuries in 2019. In 2021, Philippine National Police Academy (PNPA) cadet George Karl Magsayo died after being punched five times by an upperclassman, resulting in hazing charges. Another student, University of Cebu marine engineering student Ronnel Baguio, was said to have died in December 2022 from hazing injuries.
The Public Attorneys Office has since called to abolish fraternities that practice the deadly initiation rites, while lawmakers like Villanueva who are also members of the Tau Gamma Phi fraternity urged for the full implementation of the Anti-Hazing Law in universities and colleges. Some senators also called to scrap the bill on mandatory ROTC, which was abolished in 2002 after student Mark Welson Chua was murdered for exposing corruption in their program.
Also read: Yay or Nay: Senate Continues Push for Mandatory ROTC Despite Current Lack of Manpower
ADVERTISEMENT - CONTINUE READING BELOW
The Tau Gamma Phi fraternity also released a statement reiterating its commitment to non-violence and pushing for more reforms from inside the fraternity. What happened to "Brod Matt" was senseless and his death is a great loss to the fraternity, it said.
The Gen Zs, being the "woke" generation, can also challenge how the older generation sees hazing and other traditional initiation rites, said sociologist Baula. Perhaps the next generation of fraternity members can think of other ways to make applicants value their membership aside from torture.
Having a strong sense of self can also help so you can say no to groups that practice hazing, said Baula. While it's normal to feel the need to belong, you can avoid joining groups requiring you to undergo these violent rituals.
Castillo's parents have appealed to fraternities to come together and put a stop to the bloody tradition. Sen. Risa Hontiveros also issued the same appeal in an interview with ABS-CBN News.
ADVERTISEMENT - CONTINUE READING BELOW
"Baka this is another time, with this killing of John Matthew Salilig, that the leadership of the fraternities and sororities should come together again to decide how to end these deaths and injuries of their brothers and sisters as they call each other."
Share this story with your friends!
---
Help us make Spot.ph better!
Take the short survey
More Videos You Can Watch
Load More Stories