10 Sassy Things the Thai Man in the Viral "True Love" Photo Could've Said
The blond man holding hands with the German "hunk" has spoken!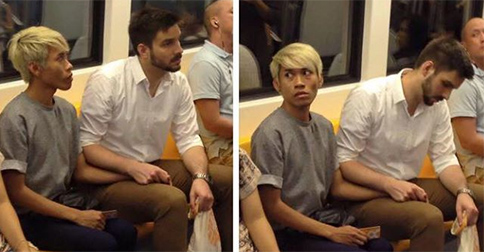 (SPOT.ph) Over the weekend, a photo of a blond man (whose features were subject to less than desirable descriptions) holding hands with an "attractive" man on the BTS Skytrain went viral. A number of people felt hope...because if someone who "looked like that" can find love—then it can happen for everyone. Others joined the discussion with cynicism, making the "astute" observation that foreigners usually go for, ahem, "island souvenirs."
On April 21, a report published by ABS-CBN disclosed the identity of the blond man. His name is Mond and he is a creative director. He's also rather disappointed at the way he has been treated:
"I won't give any interviews to the media because I'm not okay with what happened, and I want to spend time with Throston before he goes back to his country. We have become famous because I was criticized for having a 'sh**ty' or 'ugly' face. It is not funny."
Sometimes, the way we behave as humans induces an involuntary shudder. As Woody Allen once said in an interview with TIME Magazine: "The heart wants what the heart wants." So really, it's none of anyone's beeswax who makes whom happy in the world, right?
Now, we don't want to speak for Mond, but here are a couple of lines we would say if we were in his position:
1. Hindi maganda sa katawan ang inggit.
2. Kulang ka ba sa problema at pati mukha ko gusto mong solusyonan?
3. Well, I think he fell in love with me because we do the same things...like not leaving nasty comments in the Internet.
ADVERTISEMENT - CONTINUE READING BELOW
4. Remind me again why my face is any of your business?
5. What? Sorry, can't hear you over the sound of happiness.
6. Dearie, do you need help getting yourself out of that dated ideology? Software upgrade: it's free!
7. Malungkot ka siguro.
8. Ah talaga? Tell me more.
9. Speak up, your words are tripping over things that don't sound very intelligent. I mean, intelligible.
10. You guys are so funny. Don't worry about it. I have a good sense of humor. You know what else I have? Love for myself and respect for other people.
CONTINUE READING BELOW
Recommended Videos
---
Help us make Spot.ph better!
Take the short survey
Load More Stories