10 Things Your Mom Has Probably Said to You at Least Once
Out of love...we think.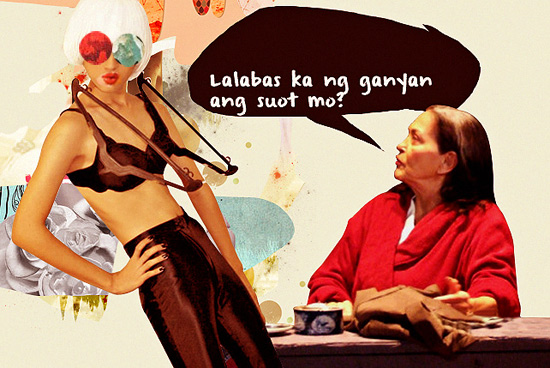 (SPOT.ph) We're going to exclude the one we hope we never stop hearing from our moms: "I love you." It's not obligatory sap, we just know that moms are great. They support us, they feed us, and they entertain us. They also make our lives more interesting by saying things that make us feel like doofuses.
ADVERTISEMENT - CONTINUE READING BELOW
Also read: 10 Mind-boggling Things Our Lolas Used to Say
Mata kasi ang gamitin sa paghahanap, hindi bibig!
We were just trying to ask for help. Ligpit ka kasi ng ligpit! No, wait, that's actually a good thing. Sorry.
Kung ahas 'yan, tinuklaw ka na!
"And you wouldn't save me by pointing it out, ma? I am your child!"
Siguro kung hindi nakakabit ang ulo mo sa katawan mo, mawawala mo rin.
Probably.
Papunta ka pa lang, nakabalik na ako.
We know. That's why dinners and teatime with you are always fabulous.
Tatanda ka rin!
WE KNOW. (Also, you're still older. And we still love you!)
Tawa ka nang tawa, para kang hindi babae.
Guys, on the other hand, constantly have to deal with their mothers asking them if they're gay.
Anak ka talaga ng tatay mo.
You married him, so technically, still your fault. Love you both!
ADVERTISEMENT - CONTINUE READING BELOW
Lalabas ka na ganyan ang suot mo?
Oh no, the world can see my arm and the skin an inch above my knee! Don't worry ma, we'll be Titas soon and scarves will be our thing. (Variants: "Ano ba 'yang suot mo!" and "Hindi ka ba lalamigin diyan? Nakulangan ka yata ng tela." )
Oh, umuwi ka pa!
This starts with "Anong oras ka uuwi? Sinong kasama mo? Anong gagawin niyo?" and ends with...
Kumain ka na?
We're not crying. We're just having an allergic reaction to feelings.
Recommended Videos
Load More Stories