20 Thoughts You've Had Because It's So Damn Hot
ANG INIIIIT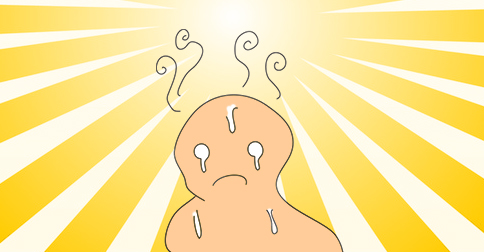 (SPOT.ph) It's been proven time and again that people find it quite difficult to agree on anything, but we're pretty sure that we can reach a consensus about how unbearable summer can be. This heat is enough to drive people mad and we're willing to bet that you've had at least one of these thoughts:
ADVERTISEMENT - CONTINUE READING BELOW
1. Naligo na ako. Tapos naligo ulit ako sa pawis. So futile.
2. Why am I not in a tank of ice-cold water?
3. Kailangan ko ba talagang gumalaw?
4. Why won't my pits stay dry?
5. If I wear anything with sleeves, it's hot. If I don't, skin contact with other sweaty people. Hmmmm.
6. Why am I not a mermaid?
7. Lord, is this hell? Is it too late to repent?
8. Where is the winter, Jon Snow?
9. Huwag kang maingay. Mainit.
10. Pwede bang ipaligo ang Frap? O halo-halo?
11. Alam ko na kung ano ang pakiramdam ng kakanin. Ang lagkit.
12. Are they going to fire me if I show up to work in a bikini?
13. Buti pa si manong, topless.
14. Ang tawag diyan jabar. Move on.
15. People's lips are moving but I can't hear anything. The heat has made me deaf. Crap.
16. Are people going to judge me if I go to the grocery and just stand in front of the frozen goods?
ADVERTISEMENT - CONTINUE READING BELOW
17. I spent all my money on ice cream. I regret nothing.
18. Am I on fire?
19. How is my butt sweaty?
20. Will anyone love me after they smell my feet?
Recommended Videos
Load More Stories