10 Things We're Expecting to Hear in the President's Last SONA
Are you ready, boss?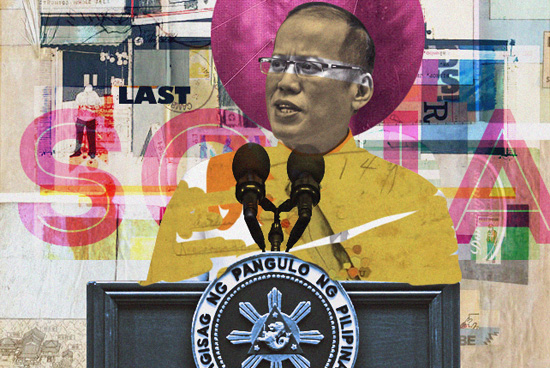 (SPOT.ph) This is it! Last SONA, last hugot. You may have experienced difficulty getting to work today because of road closures, but it'll be worth it. In a few hours, President Benigno Aquino III will soothe your senses. He will apply the accomplishments of his administration on you like toothpaste on third degree burns. Doesn't that just feel good?
Kidding aside, we're nearing the end of the second Aquino era for our country. Will there be more? Perhaps. Everything seems possible now (seaweed that tastes like bacon, you guys), but as he delivers the very last State of the Nation Address, let's not forget to savor the good times. The honorable thing to do is try and be friends with your ex. Here's what we expect to hear when we have "the talk."
"Kayo ang boss ko!"
It wouldn't make sense to leave out his iconic line from his last State of the Nation Address. He'll say that he spent six years of his life serving us—even if it is a thankless job. Critics, you know that the subtitle for this is: "Why you gotta hate on me so much? Appreciate, bruh."
"Daang matuwid!"
Did it lead anywhere? It doesn't matter! The important thing, he would highlight, is that we were on this road together. We trekked the daang matuwid together and we should keep going until...something happens. Goals? What are those?
A vague endorsement for the Liberal Party candidate for the National Elections in 2016.
ADVERTISEMENT - CONTINUE READING BELOW
The moment we've all been waiting for...who are we kidding, that's just not true. Even pundits are getting tired of the "striptease" being performed by the non-candidates for the upcoming presidential race. There's a possibility that P-Noy finally makes a statement confirming everyone's suspicion that they're probably going to go with Mar Roxas to pay him back for his "sacrifice" in 2010...but let's not hold our breaths.
Reference to appointing a new PNP Chief and the plunder case against Budget Secretary Butch Abad to counter Vice President Jejomar Binay's jabs against the administration.
We're betting that P-Noy and friends won't be able to resist using weaknesses as strength. It's a fair strategy to use, so we're prepared to hear them mask the *cough*failures*cough*.
CONTINUE READING BELOW
Recommended Videos
Indirect shade on Vice President Jejomar Binay (and, of course, all the other presidents before him save his mother).
One more thing the presidential squad can't resist? Throwing shade. It's a meme that's been around since his campaign in 2010 and maybe a part of us will miss it. What if the next guy can't take a joke? What if he wants to file lawsuits against critics? In any case, we're surely in for a treat because we're expecting that the President will make sure that we know that he inherited infinite problems from the previous administrations. They couldn't even fix a bridge, guys.
The Return of the Absence of Wang Wang.
Once more, with feelings. Call us sentimental, but we think it wouldn't be the same if wangs weren't on the menu. It's, like, the crowning jewel of his presidency.
ADVERTISEMENT - CONTINUE READING BELOW
"Sick Man of Asia" is now on its way to being a healthy, macho power. #fitspiration
Getting friendly with the neighbors (in Southeast Asia, at least) and keeping up with them! He's probably not going to do a victory dance, but he will mention his (administration's) role in restoring the vitality of the "Sick Man of Asia." If you can't feel it yet, just keep drinking that herbal supplement. Just do it.
"Future" Peace in Mindanao.
Does it matter that it hasn't been completely resolved? No, of course not. They're doing their best. Don't be so hard on them.
Economy! Jobs! Economy! Jobs!
Our economy is great. They created a million jobs for us. Don't you see it? Can't you feel it?
No apologies.
If you're expecting humility, tough luck. It's not impossible, but it's unlikely that we're going to hear them apologize for the awful traffic caused by the rerouting during the People Power Revolution Anniversary Bonanza. Maybe we shouldn't be so bitter. However, we're definitely going to eat celebratory pancit if P-Noy admits to flaws in Oplan Daang Matuwid.
Share this story with your friends!
---
Help us make Spot.ph better!
Take the short survey
Load More Stories