10 Theories About the Mysterious JoeAm from #SONA2015
We're guessing his blog suddenly got major traffic.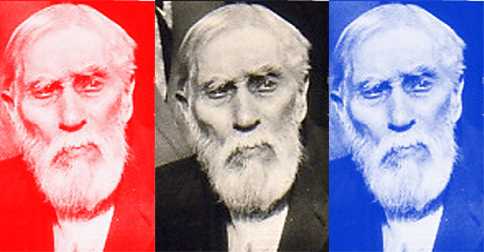 (SPOT.ph) The reference to this relatively unknown blogger is hard to miss. If you were watching the State of the Nation Address on July 27, Joe America (or JoeAm of joeam.com) got his very own slide. Perhaps the President had a bit of trouble trying to find a straight up pal who has written something as touching as, "If the President were in my foxhole, I'd watch his back. That's because I trust that he is watching mine." The quote, we traced, is from his blog post "President Aquino: Like a Beat Up Old Car."
We then got lost, wandering from article to article. Who is this guy and why is he writing so much about Philippine politics? There are other contributors in his blog, but he seems to be the captain of this ship. The "about" page reads:
Joe America is a permanent resident in the Philippines with his Filipina wife and culturally ambidextrous son. He arrived in the Philippines in 2005 and lived for a time in Northern Mindanao and Zambales Province on Luzon. His family now lives in the Visayas in a rural rice-growing area.
Joe is a retired banking executive with degrees in Mathematics and Radio and Television Arts. His 30-year working career was based in Los Angeles, California. He's traveled on business or personally to 21 countries.
So...he's a person and he just really, really likes the Philippines...and P-Noy (obviously, they have future foxhole plans)...and Mar Roxas. We read more of his writings and came up with these theories on who he is. Share yours in the comments! (We'd love to know.)
1. He's somehow related to a villain from a Fernando Poe Jr. film
Joe America doesn't like Grace Poe, soaring ratings in surveys be damned. Maybe it's rooted in something super deep like growing up with an FPJ villain for a dad. Or a goon. (Americans can be extras, right?)
2. P-Noy is totally paying him for publicity.
Joke alert! Joke alert! We're kidding. Step away from the libel button.
ADVERTISEMENT - CONTINUE READING BELOW
3. He's just a boy, standing...er, far from Mar Roxas, admiring.
A quick search on Mar Roxas in his website reveals praise that rivals, nay, outshines the complimentary (see what we did there) scrub that P-Noy gave the DILG Secretary during the final SONA.
4. This is a parody website and the joe-ke is on us.
It's possible. Who takes the Internet seriously nowadays? It's full of paid hacks. 'Di ba, Junjun?
5. Whoever he is, he probably bought a condo in Torre de Manila.
Can you believe that he defended the National Eyesore? We need to wash our hands with Holy Water just typing that sentence.
CONTINUE READING BELOW
Recommended Videos
6. He's the secret vigilante known as...Anti-Media Man!
His goal? Police the Philippine Daily Inquirer and Rappler. He has high hopes (which end in disappointment) for the former and a raised eyebrow for the latter. (His opinions get published in GMA News. Curious.)
7. He's literally a potato.
But, like, a politically cognizant potato. Science, guys. (Or, you know, GI Joe!)
8. Charles Darwin.
That's him in the profile picture. No doubt about it, 10/10.
9. He's a heathen.
He spoke against the Church. He has horns on his forehead, for sure.
10. He's the real mastermind behind Oplan Stop Nognog 2016.
We're on to you. We did a search on your website. Expect a P200-million lawsuit from the Vice President soon.
Share this story with your friends!
---
Help us make Spot.ph better!
Take the short survey
Load More Stories