10 Emotional Stages of Finding a Parking Space
The struggle is too real.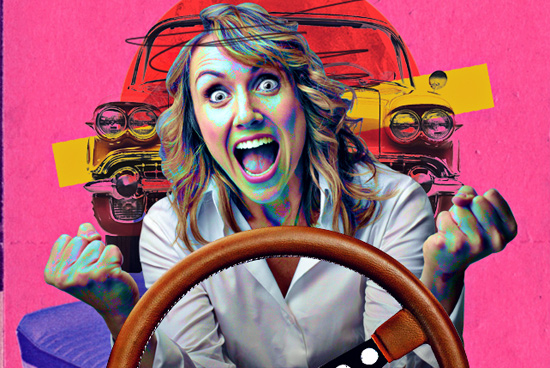 (SPOT.ph) Owning a car is probably #goals for many people but when that day finally comes, reality hits. Enduring the hopeless Manila traffic (you can even finish reading a book and many other things) is just one of the many problems you have to face. Dealing with reckless PUV drivers brings out the worst in you (insert long list of expletives), parallel parking is evil, and finding a parking spot in general is...horrible. It wastes a lot of time, gas, and it makes you hungry AF (eyyy, just like traffic!). Here are the 10 emotional stages of finding a parking space.
Stage 1: You enter the parking building and start praying to the parking gods
Ever heard of the saying, "Lucky in love, unlucky in parking"? You'd better get a line of dudes waiting at your door after this...
Stage 2: You spot an empty space but someone else is already waiting on it
As in...some bitch from another car jumps out and stands on the spot. Fantastic!
Stage 3: Regret because you realize that it's break time meaning everyone probably just got there
Gaaah, why does this always happen? You start feeling like the parking gods put a curse on you. You promise to plan ahead the next time you're going to have to park somewhere jampacked.
Stage 4: Car wash boy is guiding you to an empty parking spot
No, kuya. I don't need a car wash. Besides, the slot you're leading me to is sooo far from the mall entrance!
ADVERTISEMENT - CONTINUE READING BELOW
Stage 5: 395,723 minutes later, you decide you'll settle for ANY parking spot.
...as long as you aren't required to parallel park, of course. Because, you know. It's dangerous for the surrounding cars. Parallel parking is the bane of your existence.
Stage 6: You get angry at yourself because at this point, you should've just availed of the valet services.
Too late to back out now because it's either you've already paid for the parking fee or you went over the 15-minute grace period. Life is unfair.
Stage 7: Oooh, is that family leaving? Quick, creep up behind them!
Nooo, they're just dumping their groceries in the trunk! Talk about paasa.
Stage 8: You're about to lose hope and think about exiting the parking area.
The parking gods let you down and you realize you really are all on your own in this world.
Stage 9: You spot someone who looks like he's leaving. And he is! YES.
You press your hazard button and patiently wait for him to vacate his parking space...but of course, he takes forever. Is he doing this on purpose? What's he doing in there? Reading a book?!
Stage 10: Finallyyyyy, parking!!!
It feels like the weight of the world is lifted from your shoulders! Stay strong and NEVER GIVE UP, GUYS. Now comes the next stage: Dreading the parking fees.
Share this story with your friends!
---
Help us make Spot.ph better!
Take the short survey
Load More Stories