The 10 Kinds of Birthday Greetings You Get on Facebook
Translation: How to know what kind of friend your friend is. Or not.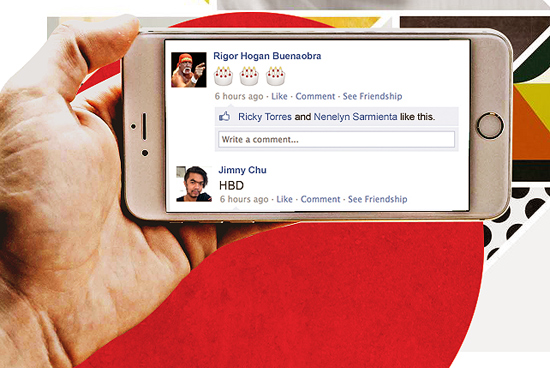 (SPOT.ph) It's your special day! In the dark ages before the Internet, you'd get a birthday card or even a postcard (Kiddies. You may be shocked but there was such a thing as postcards back in the day. It's like someone ripped out half of a greeting card and sent you the other half. The half with the picture or photo. What's a greeting card? Piss off.). In this digital age, you get a lightning quick greeting on Facebook with half of the heart. Well, not all the time.
Almost every day, depending on how many FB friends you still keep, you get a glaring notification on your Newsfeed that it's this person's birthday (you can't remember where you met her though...), making birthday greetings more of a chore than something you used to keep track of religously on your calendar.
Here's a handy guide to gauge just how precious (or worthless) online birthday greetings may be.

ADVERTISEMENT - CONTINUE READING BELOW
Happy birthday, pare! Pa-burger ka naman.
These people love to eat. And you don't mind because there's always room for burgers in your tummy.
Hey. Heard that it's your birthday! Happy birthday! Hey add me up naman! Thnx! Bye! Hey add me up ok? Ayuz! Bye! Tnx! Don't forget to add me up! Lol! Smiley face.
There's a big chance this person is a stalker or maybe even worse. Block 'em. Block 'em NOW. And change your password while you're at it.

CONTINUE READING BELOW
Recommended Videos
HBD
It's not that they don't care. It's just that they don't care enough to type out all 14 characters of a simple annual greeting.
Happy birthday!
The more exclamation points, the closer you are.
The video greeting or YouTube link
Do you see that video of a unicorn rapping a birthday greeting on your FB feed? Yep. Plus points if they know your favorite animal.
ADVERTISEMENT - CONTINUE READING BELOW
OMG Happy happy birthday to the best person we know! (Insert emojis here, in the middle, heck… even at the beginning of the greeting).
They are your Best Friends Forever. God bless you freaks.

Cake emoji or candle emoji
So they probably communicate with everyone via images and would rather speak emoji. (Insert poop emoji here).
Happy birthday! God bless!
This is your Dad or your Mom. Or a Tita. That's simply it. Love you Mom!

ADVERTISEMENT - CONTINUE READING BELOW
Haberday or worse, Haba Birdy!
They're just trying to be cute and maybe a little bit naughty. So forgive them. Or do the next best thing and wait for their birthday. Sorry, berday. Special tip: Greet them a "Haba Birdy!" right after their mom greets them.
______________ No greeting whatsoever.
We will not lie to you. We are one of these people. Now, when was your birthday again?
Share this story with your friends!
---
Help us make Spot.ph better!
Take the short survey
Load More Stories