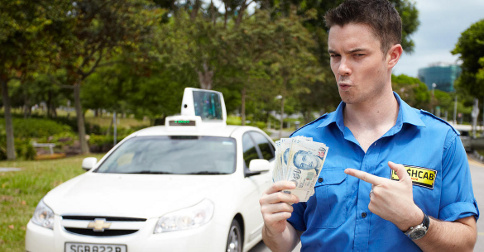 (SPOT.ph) Remember back in 2012 when Cash Cab was all the rage on TV? The hypothetical possibility of winning a cash prize made the idea of riding cabs in Manila a lot more appealing. If your memory is fuzzy, here's a quick rundown of the rules: Unsuspecting riders will be asked a series of trivia questions in order to win money (the amount increases the longer they play). Three wrong answers means you're out, but you can ask for help by phoning one friend (who hopefully has access to Google) or asking a bystander on the street if they know the answer.
We got wind of some news that the show is coming to the Philippines, a country whose traffic situation is a completely different being from other countries who have hosted the game show. Let's just say it's probably going to get pretty complicated for the unfortunate host sitting behind the wheel.
ADVERTISEMENT - CONTINUE READING BELOW
The traffic
At this point, managing to get anywhere in the Metro within an hour is practically a miracle. What happens when the Cash Cab gets stuck in hellish traffic for an hour or two? Or three? Do you keep playing? Is there a time limit to being inside the cab? We have so many questions.
You're in Farview and the contestant just said he's going to Pasay.
Does the Cash Cab also have the liberty to say no? (Somehow, the thought of saying goodbye to the chance to win money is more painful than just being turned down by manong driver.)
All those blaring car horns
BEEP! BEEEEEEEP! BEEEEEEEEEP!!! Sorry, could you say your answer again? We couldn't hear you over all these buses.
Confusing directions
Why. Are. There. No. Signs. Anywhere. Where are we?!! Is this a one-way street or are there just too many cars parked on the road?
ADVERTISEMENT - CONTINUE READING BELOW
Recommended Videos
That maddening lack of discipline
Counterflowing, speeding to beat the light, no signaling when changing lanes...we're guessing the Cash Cab host needs to be chill AF or the show's editing team will be censoring a lot of frustrating moments.
Jaywalkers. Jaywalkers everywhere.
To loosely quote Pokemon: A wild pedestrian appears! Oh God, there's so many of them all at once.
Dubious traffic enforcers
No, we don't just mean the ones who patiently wait in the shadows for a traffic violation, then come rushing out of nowhere like a terrible, terrible surprise. There's always going to be that one guy who didn't get the memo and thinks the Cash Cab is an unregistered taxi, illegally plying the highways.
Loading and unloading zones
The outermost lane is where PUVs (including the Cash Cab) can load and unload passengers. The lane beside that? Same thing. The lane after that? Same purpose, too. So...how on Earth is the Cash Cab going to pick up passengers now?
ADVERTISEMENT - CONTINUE READING BELOW
The sudden and dreaded downpour
We feel for the Cash Cab driver who gets stranded because of a traffic jam that's caused by five minutes' worth of rain. Extra prayers when it starts to flood and he's along Aurora Boulevard or España.
Payday Friday
See No. 1 again. Facepalm repeatedly.
Stay tuned for more details on the show!
Also read:
20 Things Only Manila Drivers Would Know
10 PUV Drivers You Can't Ever Avoid in Manila
10 LSS-Worthy Anthems for When You're Stuck in Traffic
Share this story with your friends!
---
Help us make Spot.ph better!
Take the short survey
Load More Stories