10 Crazy Political "Souvenirs"
LOL guaranteed! Major annoyance optional.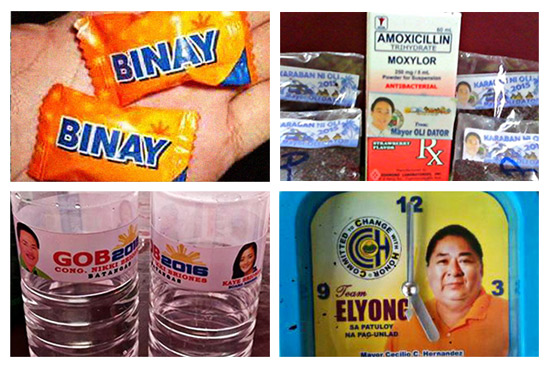 (SPOT.ph) Amid all the shenanigans and hand-shaking, Philippine politics is undeniably a dirty business. As early as now, way before the allowed campaign season, politicians and political hopefuls have already started making it known in not-so-subtle ways that they want their names on those ballots come May 2016. Of course, many of them say that they use their own funds for their own promotions, while some maximize community projects to include their names in tarpaulins, walls, and what have you.
Giveaways and freebies that you can totally use are part of the equation, of course. We've spotted 10 different cringe-worthy "souvenirs" from politicians.
Also read: A Holy Invasion: Papal Goods Inspired by Pope Francis' Visit
Mobile phones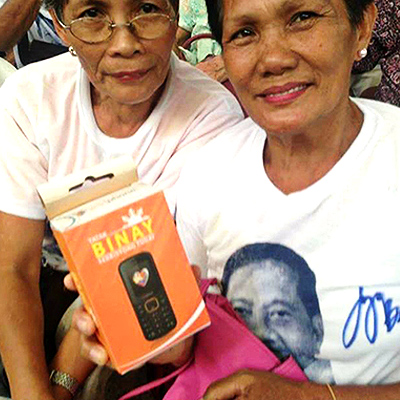 ADVERTISEMENT - CONTINUE READING BELOW
Remember Vice President Jejomar Binay's rosary? There's also a Binay phone.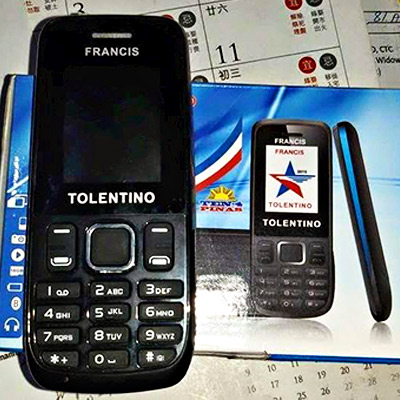 Not liking that unit? How about this brand courtesy of former MMDA Chair Francis Tolentino?
Medicine and crops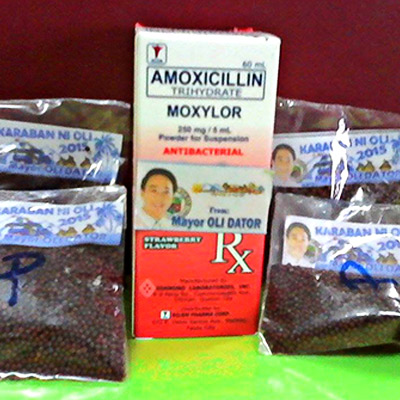 Amoxicillin and seeds from Lucban Mayor Oli Dator's KaRaBaN (Kaunlaran at Programa Para sa Bayan at Nayon) ni Oli program.
ADVERTISEMENT - CONTINUE READING BELOW
Pedicab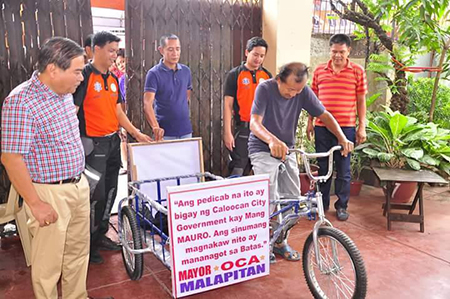 At least manong seems happy. Oh, and the pedicab is from Caloocan City after all...
Candy and biscuits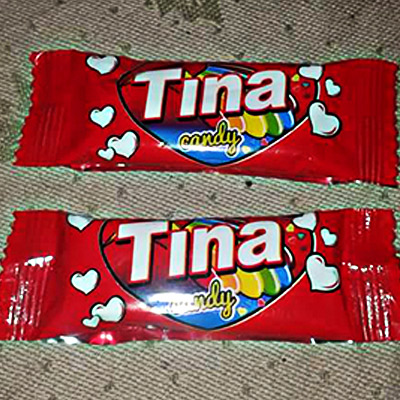 'Tina candies' from San Mateo Vice Mayor Tina Diaz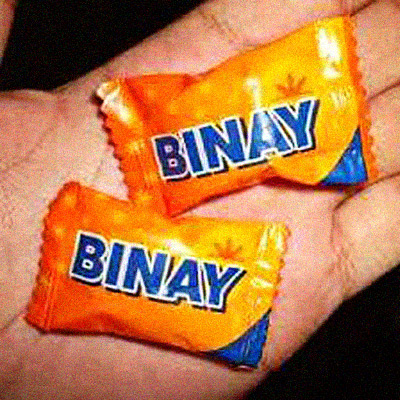 ADVERTISEMENT - CONTINUE READING BELOW
We're wondering what this candy's flavor is.
— Inquirer Group (@inquirerdotnet) October 12, 2015
Bingo biscuits were reportedly handed out to supporters before VP Binay and Sen. Gringo Honasan filed their certificates of candidacy. (See what they did there?)
Watch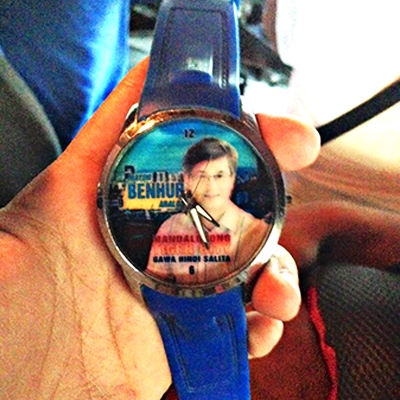 Mayor Benjamin "Benhur" Abalos Jr. wants you to be on time with the help of this trendy wrist watch. Bye, Swatch!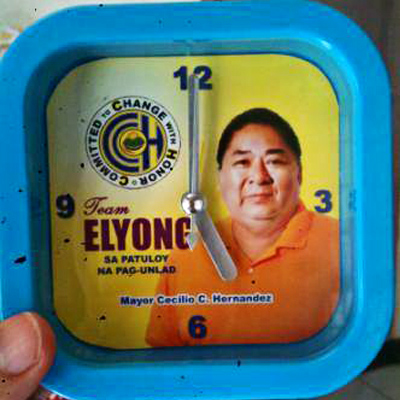 ADVERTISEMENT - CONTINUE READING BELOW
…so does Mayor Cecilio Rodriguez. He wants to make sure you won't hit the snooze button.
Calendar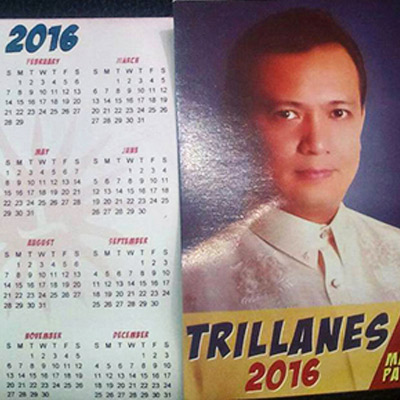 Take note of special dates on this calendar, with Trillanes' face that isn't distracting at all.
School supplies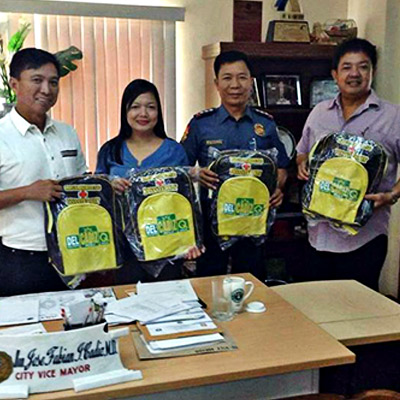 ADVERTISEMENT - CONTINUE READING BELOW
No need to take a trip to the book store.
Also, there's this report from TV Patrol about notebooks with Marikina Councilor Samuel Ferriol's face and "personalized" bags with San Mateo Mayor Paeng Diaz and (again) his wife, Vice Mayor Tina Diaz.
Medal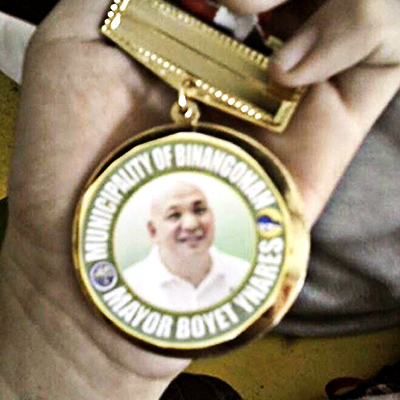 Congratulations! Here's a Mayor Boyet Ynares medal for your achievements.
Bottled water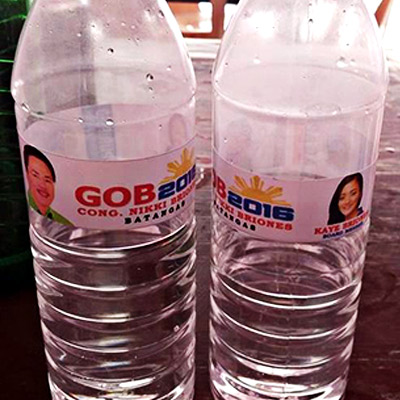 ADVERTISEMENT - CONTINUE READING BELOW
Water from AGAP Rep. Nikki Briones for all the thirsty people in the world.
IV fluids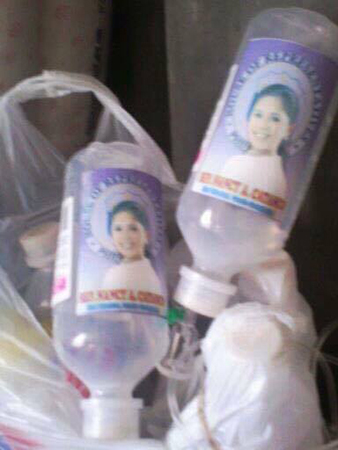 We have no words.
Photos from the Facebook pages of Support Juan and Eleksyon 2016 Pampam
Also read: A Holy Invasion: Papal Goods Inspired by Pope Francis' Visit
Load More Stories