10 Mind-Boggling Presidential Hopefuls for the 2016 Elections
Wi-Fi for all and a chance to meet aliens!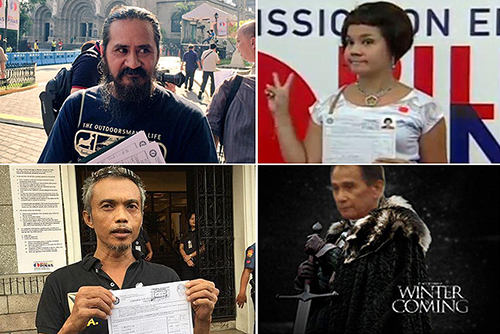 (SPOT.ph) The nation has been quite entertained by the week-long filing for the Certificates of Candidacy (COC) for the 2016 national elections, which started on October 12. As of writing, there are already more than 50 aspirants for the highest seat in Philippine government. It seems like this year's roster of hopefuls have everything figured out to lead the country—from those who have claimed that they're really just ordinary citizens, to those who say they've come from outer space.
We've narrowed down 10 hopefuls with promising platforms for our nation (or for the whole universe). And by promising we mean they're really quite fascinating!
— cantshowmyrank Deo (@PilosopoDeo) Oktubre 13, 2015
Arturo Pacheco Reyes
Reyes told reporters on October 12 that he wants to legalize the four seasons (yes, that's winter, spring, summer, and fall) in the Philippines "so that we can get rid of the rainy and dry season." He also aims to lead "an exodus to the promised land of tomorrow," and wants to sponsor free burial for all. We're voting for him because we'd rather have snow than this terrible heat over the holidays.
— ABS-CBN News (@ABSCBNNews) October 13, 2015
Allan Carreon
Allan Carreon of the "Intergalactic Earth Ambassadors" filed for his COC on October 13. He claims to have been able to communicate with ''aliens'' through the Internet and mind telepathy. He had us at "Wi-Fi for all."
— ABS-CBN News (@ABSCBNNews) October 12, 2015
Fernand Fortez
32-year old Fernando Fortez says he is the "voice for the youth generation." The voice of the youth sounds squeaky.
ADVERTISEMENT - CONTINUE READING BELOW
— Professional Heckler (@HecklerForever) October 13, 2015
Alfredo Tindugan
Pushing for a "divine government" is 75-year old Alfredo Tindugan. Together with his running mate, Angelito Baluga (a security guard), he stated that divine government is rooted on "righteous leadership."
— ABS-CBN News (@ABSCBNNews) October 13, 2015
Benjamin Rivera
73-year-old Benjamin Rivera from Tondo claims to be a consultant and says he wants to eradicate corruption through "adjustable government." He brought a wrench when he filed for his COC to tighten the "cabinet." His rendition of Power of Love is everything.
— GMA News (@gmanews) October 14, 2015
Joseph Urquia
66-year-old Joseph Urquia from Surigao del Sur filed COC for president despite his arthritis. That's the spirit!
CONTINUE READING BELOW
Recommended Videos
— GMA News (@gmanews) October 12, 2015
Freddiesher "Eddie" Llamas
A 34-year old tricycle driver from Iba, Zambales wants to change the lives of all tricycle drivers in the country and also promised to close beer houses. Wait, is that his real name?
— DZBB Super Radyo (@dzbb) October 12, 2015
Sel Hope Kang
38-year old Sel Hope Kang asked reporters to help her when she filed her COC on October 11. She's an Economics graduate of the University of the Philippines. Someone hold her bag, please.
— Senyora Santibañez (@Senyora) October 14, 2015
Jean-Pierre Pardo
A fashion designer from University of Santo Tomas seeks for "home improvement" should she be elected as president. However, 39-year old Jean-Pierre Pardo did not answer questions from the media.
— ABS-CBN News Channel (@ANCALERTS) October 13, 2015
Romeo John Ygonia
You might know him better as Archangel Lucifer. He claims to be chosen by his "master" to lead the country. He's possibly a Dothraki.
ADVERTISEMENT - CONTINUE READING BELOW
Also read: On the Spot: BAYAW for President
Share this story with your friends!
---
Help us make Spot.ph better!
Take the short survey
Load More Stories