10 Stalking Moves We're All Guilty of Making
Admit it!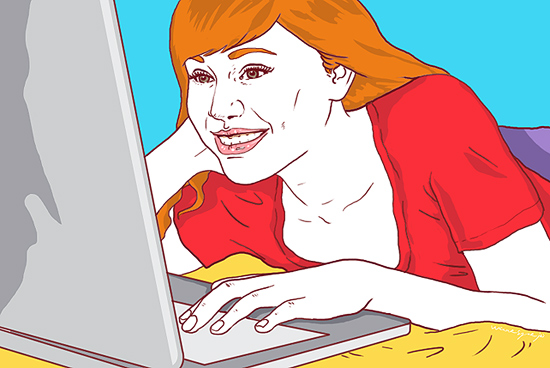 (SPOT.ph) Whether you admit it or not, social media unleashes the stalker in all of us...and sometimes we aren't aware it's happening until you're in too deep—how did you end up on this stranger's profile? Oh right, he's the brother of the girlfriend of your third degree-cousin's acquaintance. And you know how all of his family members look like! We've all probably found ourselves in this situation at one point and it's almost always accidental...almost. You're probably guilty of these stalking moves.
Stalking your stalkee's friends and family on social media
Because you saw your stalkee was tagged in her friend's photo...and there's obviously more where that came from. You also end up stalking the people with your stalkee in the photo to see if there are any photos where your stalkee is not tagged...because for some unknown creepy reason, you have to see it all.
Searching "@username" on Twitter to see people's mentions
Eavesdropping is fun. Especially when you don't have to strain your neck trying to hear what people are saying. But thanks to Twitter, now you can just scroll through everything and read at your own pace in the comforts of your room.
Clicking on your crush's "favorites" tab on Twitter to see what she's into
...or if she's ignoring your message—because if she faved a tweet posted two minutes ago, she's totally awake and online and so not into you. But hey! Now that you know that she loves bacon and so-ugly-they're-cute dogs, you might just find the way to her heart. *wink*
ADVERTISEMENT - CONTINUE READING BELOW
Reaching photos posted "127 weeks ago" on her Instagram
...and then accidentally double-tapping on a photo. Should you unlike? But that would make you look guilty! There is no way out of the mess you made and you just want to melt into the ground and disappear forever. But, if she's your friend, you could just double tap everything and comment "I MISS YOU!"—works all the time. If she's not, try following instead.
You learned the hard way that Instagram desktop is more stalker-friendly
By now, you know that the Instagram mobile app is your worst enemy because for some reason, you always end up double tapping even when you're very careful. But the desktop version is a breeze—photos are a lot bigger and there is no way you can accidentally double tap! Yay!
CONTINUE READING BELOW
Recommended Videos
Ending up on your friend's boyfriend's ex-girlfriend's cousin's friend's sister's dog's Instagram page
You take stalking to the 38th degree. But it's not like you actually mean to do that...you just get in too deep sometimes, and now you're obsessed with some stranger's dog!
Using your friend's account to stalk people you aren't friends with
It makes your stalking life 100 times easier and a little less risky...because they'll never find out it was you who accidentally liked her photo from five years ago! Whew. Plus, they might have common friends that you're not friends with a.k.a. more sources.
The "See Friendship" feature is your best friend
It's the best tool for stalking annoying couples on Facebook! You get to see their annoying wall-to-wall conversations and cheesy celebratory greetings all in one page—which you can screenshot and send to all your friends so they can all affirm your annoyance. 
ADVERTISEMENT - CONTINUE READING BELOW
Sometimes, you do an extensive research on your stalkee
This website is probably on your most visited pages. You do a Google search on their e-mail addresses (even old ones!) and different variations of their names so all their pages on the Internet are laid out right in front of you...like an old Wordpress and an even older Xanga blog! Ahh, the good stuff.
You read through all the questions they answered on their Ask.fm
...and maybe even ask a few questions yourself (anonymously, of course!). You can ask where he went today, what he's wearing, what he last ate, and it won't be weird at all. Imagine asking him all of that face to face...er, no thanks.
Share this story with your friends!
---
Help us make Spot.ph better!
Take the short survey
Load More Stories