10 Things We've Learned From Campaign Ads
Because really, we haven't heard these before.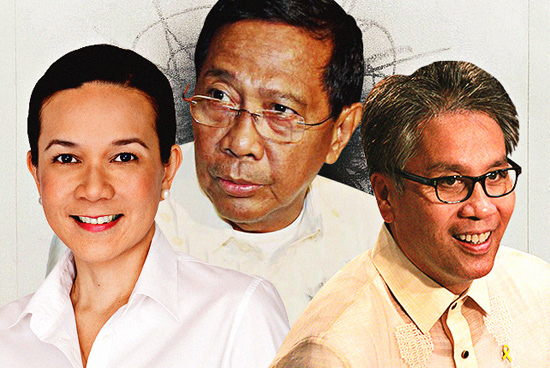 (SPOT.ph) As the 2016 presidential election comes closer, the volume of political ads is growing and promises are being thrown like confetti. It's important to consider that just one 30-second airtime slot in TV costs about P100,000 to P500,000, depending on the time (you do the math). All candidates refer to their "sponsors" and personal funds when asked where they get the resources for these endorsements—and of course, we all believe them. They can't get it from our 32% income tax, right? So we might as well learn something from these "public service announcements," and here are 10 of them.
ADVERTISEMENT - CONTINUE READING BELOW
Also read:
10 Funny Quotes From Pinoy Politicians
10 Crazy Political "Souvenirs"
10 Ligaw Moves a la Politico
Public Speaking: 10 Cliché Political Phrases and What They Really Mean
We shouldn't take risks.
"Bakit ka magpapaakit sa 'baka,' kung meron namang sigurado?" Why, indeed, when there are such sure things like the random breakdown of the MRT and carmageddon on EDSA?
Matiisin tayo. Nasasaktan na, pero sige lang. Kahit di makapagpagamot ang may sakit. Kahit di sapat ang tulong sa mga nasalanta. Bakit kapag serbisyo-publiko, madalas may pagkukulang? Prioridad ko po na ang lahat ng nangangailangan ay makatanggap ng tulong. Ikaw at ako, wag po tayong mag-iwanan. Opo #TayoMISMO

Posted by Grace Poe on Friday, November 13, 2015
We are masochistic.
All politicians have promised to give us what we deserve, and boy were they successful! Let's re-elect them!
Our struggles are only temporary.
"Martilyo Gang," "Budol-Budol Gang," "Akyat-Bahay," "Tanim-Bala," holdap, kotong cops—these won't go on forever. Trust our brave and fast-acting leaders to come up with brilliant solutions especially during campaign season.
We're all winners.
It's our responsibility to get to know the candidates who have already done so much for the Philippines—so we can vote for them to make this country even better. It's a win-win, right?
ADVERTISEMENT - CONTINUE READING BELOW
Service runs in the blood.
Like father, like son—we don't really need to know anything else.
Leyte recovered fast.
Schools, hospitals, and businesses are all fine and dandy in Leyte, more than a year after typhoon Yolanda. Thankfully, goverment officials are very compassionate people.
Our country needs discipline.
Rejecting the pork barrel deserves recognition. Because, you know, it's so hard for politicians to say no to what's rightfully theirs. "Now, now ating sigaw, 'Let's go Ping!'"
Our country provides the best job opportunities.
With outstanding educational facilities, countless hiring opportunities, and a very efficient tax system, Filipinos are living the dream.
When helping, make sure everyone remembers your name!
It's such a lost cause if people don't know who to thank. So when you help, share it online (like this webisode)! Pics or it didn't happen.
We should be sympathetic.
Our public servants are so kawawa. Imagine being in their shoes, being judged and being powerless—it must be soooo tough. Don't be so hard on them.
ADVERTISEMENT - CONTINUE READING BELOW
Also read:
10 Funny Quotes From Pinoy Politicians
10 Crazy Political "Souvenirs"
10 Ligaw Moves a la Politico
Public Speaking: 10 Cliché Political Phrases and What They Really Mean
Recommended Videos
Load More Stories