10 Perfect Songs for Election 2016 Candidates
We're sure they want to hear, "I've got a blank space baby, and I'll write your name."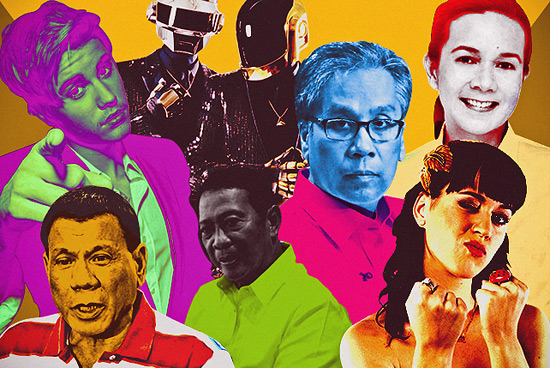 (SPOT.ph) We all have overwhelming feelings for the government, and the people behind it. Let's take a break from taking our frustrations out on social media and use music as an outlet. We're back in a time when those who seek to "serve" the public are pitching and promising better tomorrows—that is, if we put them in office. If we were in a musical, here are 10 songs we'd sing to perfectly sum up our feelings for 2016 candidates.
Got something to add to our list? Tell us in the comments section!
Song: "Hot N Cold"
Artist: Katy Perry
Perfect lyrics: "You change your mind like a girl changes clothes. Yeah, you PMS like a bitch, I would know. And you overthink, always speak cryptically."
Dedicated to: Rodrigo Duterte
We wanted to go for Justin Bieber's "What Do You Mean" but it looks like Davao City Mayor Rodrigo Duterte won't change his mind about running for president anymore. But we all know how he surprised everybody one Sunday night and just announced that he's running for the country's highest position. Although his sharp tongue is old news, you have to admit that The Punisher throws BFs (that's bitch fit from White Chicks) like he's always a famished, hot-headed, PMS-ing lady. He also says mysterious statements like "Don't vote for me (with conditions)," and "Put me last in surveys."
Song: "Glamorous"
Artist: Fergie
Perfect lyrics: "I got problems up to here. I've got people in my ear telling me these crazy things that I don't want to know (fuck y'all). I've got money in the bank and I'd really like to thank all the fans, I'd like to thank..."
ADVERTISEMENT - CONTINUE READING BELOW
Dedicated to: Jejomar Binay
In July, Vice President Jejomar Binay filed a P200-million complaint before the Makati RTC and claimed that he was the subject of "malicious persecution" designed to endanger his presidential bid. In December, however, the Commission on Audit (COA) revealed that not only was the P2.28-billion Makati City Parking Building II project allegedly overpriced and its bidding manipulated, there were also more anomalous practices involved. The "bloated" expenditures allegedly started when the VP was still mayor of Makati City—and continued throughout the administration of his son, former Mayor Junjun Binay. We're just going to leave Fergie's song here…
CONTINUE READING BELOW
Recommended Videos
Song: "Sorry Seems to be the Hardest Word"
Artist: Elton John
Perfect lyrics: "It's sad, so sad. It's a sad, sad situation. And it's getting more and more absurd. It's sad, so sad. Why can't we talk it over? Oh, it seems to me that sorry seems to be the hardest word."
Dedicated to: Bongbong Marcos
"Kung meron akong sinaktan, I will always say sorry. But what have I been guilty of to apologize about?" Sen. Bongbong Marcos said in an interview. P-Noy himself said that the children of former President Ferdinand Marcos should apologize for the atrocities that took place during the Martial Law. However, Bongbong persisted by saying that being a Marcos is an asset, and that his family is "exceptional." It can be true that in vice presidential aspirant Marcos' case, "Sorry seems to be the hardest word."
Song: "All the Things She Said"
ADVERTISEMENT - CONTINUE READING BELOW
Artist: t.A.T.u
Perfect lyrics: "All the things she said, all the things she said, running through my head, running through my head, running through my head. This is not enough."
Dedicated to: Miriam Santiago
Remember when Sen. Miriam Defensor-Santiago said, "Don't play words with me. Words are my livelihood," during the Mamasapano Senate hearing? It's true that she's been gifted with a sharp mind and tongue, which most of the time work well for her. She lost to Fidel V. Ramos when she ran for president back in 1992. Some people think she's crazy, but maybe people just can't comprehend dealing with a person with the brain capacity like hers. We're wondering if in the upcoming election, her words and wit are enough to make her the next Philippine president.
Song: "Brave"
Artist: Sara Bareilles
Perfect lyrics: "And since your history of silence won't do you any good, did you think it would? Say what you wanna say and let the words fall out. Honestly, I wanna see you be brave."
Dedicated to: Leni Robredo
Camarines Sur Rep. Leni Robredo popped up on everyone's radar first when her husband, former DILG Sec. Jesse Robredo died in August 2012. She made headlines again when the Liberal Party (LP) asked her to be Mar Roxas' running mate. But after she said yes and was officially LP's vice presidential bet, she became really...quiet. Even in the LP music video, she looked aloof (if you actually noticed her). So we just want to sing Sara's song for her, in case she needed a little push.
ADVERTISEMENT - CONTINUE READING BELOW
Song: "Be My Number Two"
Artist: Joe Jackson
Perfect lyrics: "Won't you be my number two? Me and number one are through. There won't be too much to do."
Dedicated to:Gringo Honasan
At first, Sen. Gringo Honasan said "the noodles might sell more." He was referring to a Binay-Honasan team up, dubbed as "Bi-Hon." United Nationalist Alliance (UNA) also considered Sen. Ferdinand "Bongbong" Marcos as their VP. But when it came down to the filing of COCs, Binay and Honasan were the first ones to file theirs. When asked how he felt about being the second choice, the Senator said, "I dont have the luxury of an ego. I'm a soldier and I will follow the party." But like Leni, it looks like Honasan doesn't have much to do.
Song: "Where Are Ü Now"
Artist: Skrillex feat. Justin Bieber
Perfect lyrics: "Tell me, where are you now that I need you? Where are you now? Where are you now that I need you? Couldn't find you anywhere."
Dedicated to: Manny Pacquiao
With boxing trainings, shooting for TV shows, and basketball games, Pacman sure is a busy man. Regarding his senatorial bid for 2016, Rep. Manny Pacquiao said, "I will not be absent because the whole country will be my responsibility." Because apparently, being a congressman wasn't enough of a responsibility for him to be present at the House, having only attended seven sessions out of 70 during his term. Since Pacquaio is running for a national position, so we'd like to know, "Where are u when Saranggani needed you the most?"
ADVERTISEMENT - CONTINUE READING BELOW
Song: "Harder Better Faster"
Artist: Daft Punk
Perfect lyrics: "Work it harder, make it better. Do it faster, makes us stronger. More than ever, hour after, our work is never over."
Dedicated to: Dick Gordon
In case you've forgotten, Richard "Dick" Gordon ran for president in 2010, and lost to P-Noy. The time for head-scratching is over, but we're still puzzled. He was a former Olongapo City mayor as well as Subic Bay Metropolitan Authority (SBMA) chairman and administrator. Currently, Dick continues to serve the public as chairperson of the Philippine Red Cross. There were plenty of memes for #IpasokSiDick. On his senatorial bid next year, we hope he works harder, better, and faster so he makes it in the Senate.
Song: "Born This Way"
Artist: Lady Gaga
Perfect lyrics: "'There's nothing wrong with loving who you are,' she said. 'Cause he made you perfect, babe. So hold your head up girl and you'll go far.'"
Dedicated to: Grace Poe
On FPJ's 11th death anniversary, Sen. Grace Poe said that she will continue fighting against the disqualification cases filed against her. As her adoptive father taught her "'Wag kang susuko kung ang ipinaglalaban mo ay tama." She was disqualified by the First and Second Division of the Commission on Elections (COMELEC) in favor of the petitions filed against her, claiming that she failed to meet the requirements to run for president. However, Poe said she believes that the COMELEC en banc will not "ignore the facts." As Lady Gaga said in this song, "We are all born superstars."
ADVERTISEMENT - CONTINUE READING BELOW
Song: "That Don't Impress Me Much"
Artist: Shania Twain
Perfect lyrics: "You think you're cool but have you got the touch? Don't get me wrong, yeah I think you're alright. But that won't keep me warm on the long, cold, lonely night. That don't impress me much."
Dedicated to: Mar Roxas
LP standard-bearer Mar Roxas has been branded "elitista" and "suplado," to which he responded with an apology. After he was endorsed by P-Noy, Roxas asked for a chance to get to know him "nang higit kung paano ako kakilala ng mga madadalas kong kasama." Is he talking about the 17 personalities included in LP's the star-studded music video? Or Daniel Padilla and his mom? Surely not, because those "messages" weren't impressive at all. Even his patol remark at Duterte's slap threat didn't make him look cool. This song is also for his publicist.
Also read: 10 Songs for Your Almost-Boyfriend...or Girlfriend10 Songs for Your Almost-Boyfriend...or Girlfriend
---
Help us make Spot.ph better!
Take the short survey
Load More Stories