10 Emotional Stages of Coping When Your Favorite Show Ends
All good things must come to an end...even your favorite TV show.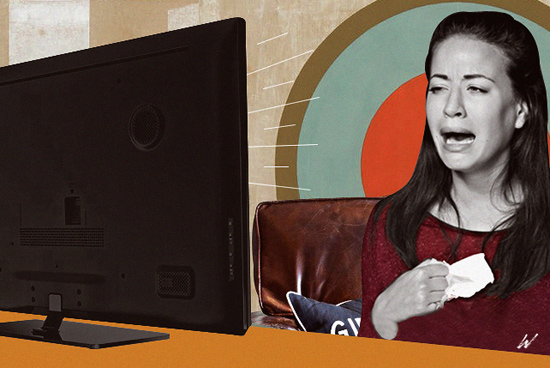 (SPOT.ph) You've stayed up for hours, muttering "One more episode..." until you can see the sun peeking through your curtains. You rooted for the show every time the Golden Globes and the Emmys come around. You've come to love (or really hate) its characters—maybe even grown attached to a handful of them. But like everything in this world, it must end. We document the 10 emotional stages of coping when your favorite TV show comes to a close.
Also read:
10 Emotional Stages of Finding a Parking Space
10 Emotional Stages of Shopping Online
10 Stages of Getting Over An Ex
The 10 Stages of an Are-We-or-Aren't-We Relationship
Stage 1: It's the last season of your show and you know the end is near.
You knew this was coming. You've read all the headlines—probably even the cast interviews. You mentally prepare yourself for the finale, and tell yourself it'll be okay. Everything will be okay for all your favorite characters, right? The writers won't let you down, right?!!
Stage 2: You pretend it's not really ending.
"It can't be over this soon!" In desperation, you sign an online petition demanding producers to keep the show on air. You deliberately delay watching the episodes just to make it last longer (no matter how much you're itching to find out what happens next).
Stage 3: It finally happens and you're dead inside.
Whether things end up working out for your favorite characters or not, this is it. It's the end. There's nothing you can do...except maybe sign another petition asking producers to keep it going on Netflix. Once you get over the emptiness, there will be tears. There will also be angry rants online.
ADVERTISEMENT - CONTINUE READING BELOW
Stage 4: You read all the articles you could find about the finale.
By now, it seems every news website has an article dedicated to analyzing the series finale. You're going to agree with some, disagree with a lot. This probably all goes on your Facebook page, by the way. Admit it: It's just an excuse to keep the show in your life.
Stage 5: You start talking about the show to anyone who would listen.
By the end of Stage 4, you're suddenly armed with a lot of information: symbolism, conspiracy theories, alternate endings...and you're itching to tell everyone. (Yes, even the people who haven't watched the show.) You just really, really need to talk to someone about this. "It all makes sense!" You say, and they probably just nod patiently at you in response.
CONTINUE READING BELOW
Recommended Videos
Stage 6: You look for fellow fans who understand how you feel.
You begin searching for fellow fans who know the emotional rollercoaster you're going through. Bonus points if they hold the same opinions as you do, because then you can spend hours ranting and dissecting everything.
Stage 7: The fan fiction begins.
When all the discussion is over, other fans will now redirect you to fan fiction that you'll spend hours poring over. You end up living vicariously through all of it because in this universe, your favorite characters get the happy ending you know they deserve.
Stage 8: You start searching for other projects of your favorite actors.
ADVERTISEMENT - CONTINUE READING BELOW
The attachment to a show is so strong that you begin missing seeing your favorite actors every week. You already follow them on all the relevant social media accounts, but it's just not the same. It's time to search them on IMDb...and what do you know, they have two old shows and a long list of movies to binge-watch! This will do, right?!!
Stage 9: You begin looking for shows that will fill the void in your heart.
The TV universe is massive and always expanding. You're bound to find something that will get you into another TV-watching routine. It could be something from the same genre, or something new entirely. Whatever it is, you're distracted and this is a good thing!
Stage 10: Acceptance
This is it. You've come full circle. Maybe you can look back at your show with fondness (or a little annoyance, depending on how it ends), Hey, you can probably even do a rewatch or two! You've probably moved on to your new favorite show, and it's the same cycle all over again.
Also read:
10 Emotional Stages of Finding a Parking Space
10 Emotional Stages of Shopping Online
10 Stages of Getting Over An Ex
The 10 Stages of an Are-We-or-Aren't-We Relationship
Share this story with your friends!
---
Help us make Spot.ph better!
Take the short survey
Load More Stories