10 Music Festival Problems We All Know
The thirst is real. Literally.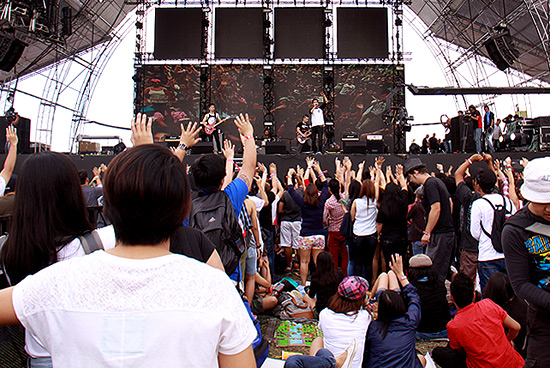 (SPOT.ph) You've got all the songs memorized, your outfit is on-point, and you're ready to sing the night away. When it comes to concerts, you can already expect the never-ending lines, the usual rowdy crowd, and the iPads and phones blocking your precious view. Music festivals, however, are on a whole other level. Imagine dealing with all of that...but for over 10 straight hours. Here are the 10 (very real) struggles we all have to face in a music festival.
ADVERTISEMENT - CONTINUE READING BELOW
CONTINUE READING BELOW
Recommended Videos
Also read:
10 Struggles Only Sneakerheads Would Know
10 Concert Problems We All Know (and Hate)
You're torn between showing up early or just in time for your favorite artist.
Would you rather spend hours under the sweltering sun so you can score that coveted (standing) spot, or arrive at the last minute and pray you can elbow your way to the front?
Trying to find the perfect spot
Are you willing to withstand the intense heat for hours just to keep your spot? Or would you rather take shelter in one of the far-off shady areas and just...listen to the music there?
Waiting, waiting, and more waiting
You need a lot of patience when it comes to music festivals. You wait in seemingly endless lines just for food and drinks. You wait for hours until your favorite act finally hits the stage, and when the time for his performance finally arrives, you rush into the moshpit...only to wait another half-hour in the cramped crowd while they set up.
ADVERTISEMENT - CONTINUE READING BELOW
The thirst is real. Literally.
Speaking of drinks, it's a proven fact that the line for water gets exponentially longer the later it gets into the day. Good luck trying to get one bottle of water when it's past six in the evening.
Everything is expensive.
You rejoice when you see your favorite restaurant has a food stall, but you practically hear your wallet crying when you see the prices. You have no choice, either, since you're likely not allowed to leave the venue once you get there.
Those damned portalets
Lines are extra unbearable when it involves bodily functions, and the portalet is a much, much less glamorous version of a public bathroom. Oh, and they don't come with light switches either, so good luck feeling your way through this little space.
The struggle of navigating through an open field
Going from one side of the venue to another takes way too long because you have to navigate a field of empty water bottles, food wrappers, and people lazily lounging on their blankets. (Congratulations if you can do this in the dark.)
ADVERTISEMENT - CONTINUE READING BELOW
When everything blocks your view
You think you've finally found the perfect viewing spot...that is, until the music starts and all the iPads and phones shoot up in the air. Sometimes, it could just be a very, very tall person in front of you.
Losing your friends in the venue
One way or another, you and your friends are going to have to separate. You probably need to get food while your friend makes sure your place is reserved. Then you need to work out a system because once the crowd comes, it's going to take awhile until you see your friends again. (Thank goodness for data plan and texting!)
The concert-goers
It's hot, sticky, and everyone around you is sweaty. You don't have a choice but to bump skin-to-skin, no matter how hard you try to avoid it. Someone will be singing way too loudly for your comfort. The screaming can get deafening. But you will bear all the annoying discomfort...just to see your favorite artist in the flesh.
ADVERTISEMENT - CONTINUE READING BELOW
Also read:
10 Struggles Only Sneakerheads Would Know
10 Concert Problems We All Know (and Hate)
Load More Stories