10 Best Tweets from the "Mocha Uson" Twitter Account
Because the fake one makes more sense...not.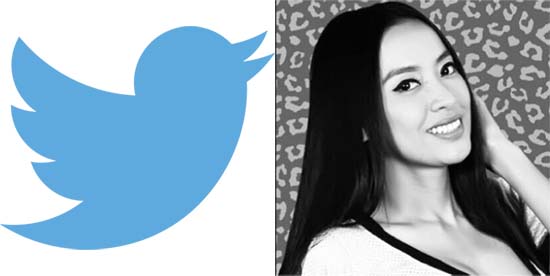 (SPOT.ph) When sexy singer-dancer wannabe blogger Mocha Uson landed an interview with President Rodrigo Duterte, we're sure plenty of journalists and reporters turned a certain shade of green. Who wouldn't? But the oft-controversial performer has been the butt of jokes for her "twisted" comments, at least according to Jim Paredes, and viral posts. And she got an exclusive?!! One book review even used her as a reference to make a point: "After all, what's the use of a book that discusses Philippine politics when one post from Mocha Uson can discredit decades of research?"
Take note, Mocha Uson has a "real" blog and a Twitter account. But, much to the delight of everyone, it also spawned a funny fake account on Twitter and we can't stop LOL-ing.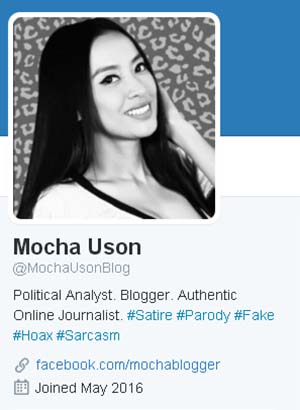 We can't emphasize enough that this is a parody account.
Check some of the best ones:

No one told us!

I see what you did there.

LOL

How to Deal with a Hater 101

She/he might be right.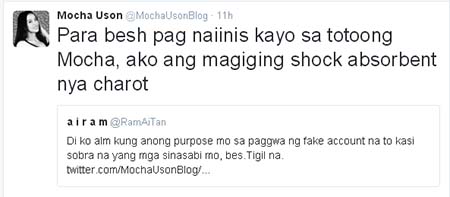 Will the real Mocha Uson please stand up!

How to spot a Lasalista

Truth!

Jokes are half-meant.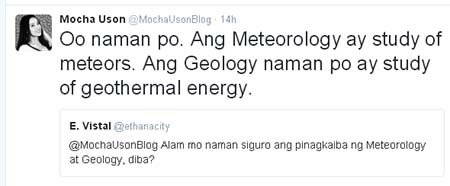 Ba-dum-tss!
Load More Stories