10 Craziest Moments From 2016 Congressional Hearings
Grab a bucket of popcorn!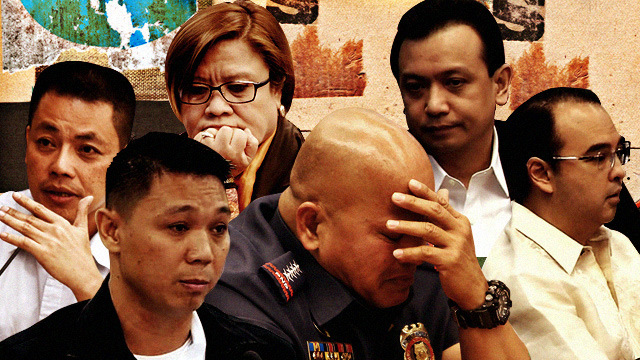 (SPOT.ph) 2016 bore witness to our lawmakers' finest hours. (Yes, we're being ironic.) There were Senate hearings and House probes on the extrajudicial killings, Kerwin Espinosa's suspicious death in jail, allegations of illegal drug trade inside the New Bilibid Prison, and other issues that have piled up with no clear resolution in sight.
While we're already used to seeing our elected officials banter, these hearings were also a source of a few lighthearted episodes. We look back on a few that made us scratch our heads and even laugh out loud.
When Joenel said his name in a sing-song voice
In a testimony before the House committee on justice on October 10, kidnapping convict Jaybee Sebastian claimed that Sen. Leila de Lima has romantic relations with one Joenel Sanchez, who supposedly collects drug money for her. He also said that the senator calls him "sweetie." The panel called Sanchez to the stand and after much berating, we find out that he's not at all called sweetie, but "Joenel" with a sweet tone. All together now...Joeneeel!
When Lascanas gave his two cents about watches
On October 3, the Senate Committee on Justice and Human Rights tried to find out who between SPO3 Arthur Lascanas, alleged leader of supposed Davao Death Squad, and Edgar Matobato, self-confessed member of the group, was telling the truth. In his story, Lascanas supposedly gave Matobato a used wristwatch after buying a brand new one for himself, and the whole hearing revolved around this item. Sen. Antonio Trillanes said Lascanas's credibility lay in the wristwatch. "Your Honor, kung relo lang ang basehan sa credibility parang may problema yata...Your Honor, wala pa akong nabasang libro sa law na 'yong test of credibility e relo," the police in question retorted. Preach, SPO3!
ADVERTISEMENT - CONTINUE READING BELOW
When Cayetano proved he was The Masking-Tape Master
To find out if Matobato was really involved in the alleged Davao Death Squad (DDS), Sen. Alan Cayetano asked him to identify what a masking tape is. The senator presented a bag full of different kinds of adhesive tape and asked the witness to choose which one was supposedly used in the executions by the DDS. Matobato chose the duct tape.
When Colanggo asked for a receipt #LikeABoss
Herbert Colanggo is another convicted drug lord who was called to the witness stand to testify against Sen. Leila de Lima and her alleged involvement in the supposed drug trade at the New Bilibid Prison. He claimed that a receipt would show Joenel Sanchez's name. When asked if he could show this evidence, he told his lawyer, "Attorney, ang resibo!" He might as well have said "Facundo!"
CONTINUE READING BELOW
Recommended Videos
When De Lima did a walkout during a Senate hearing
Gary V's rendition of Ebe Dancel's "Wag Ka Nang Umiyak" seems to be the most-used background music for the most ma-drama situations lately. Of course, Sen. de Lima's walkout during the October 3 Senate hearing made the cut.
When Lacson cracked a joke about having two watches
The wristwatch episode continues. To ease tension at the Senate, Sen. Panfilo Lacson tried to crack a joke: "Alam mo ba 'yong biroan namin sa dalawang relo? Delikado 'yon. Aba e di dalawang relo, guma-ganon 'yon," and gestured with a flick of the hand. Did he just make an offensive gay joke??
ADVERTISEMENT - CONTINUE READING BELOW
De La Rosa turns emotional over public's lost... by philstarnews
When Bato said he's not Superman...and cried
Philippine National Police Chief Director General Ronaldo "Bato" Dela Rosa was emotional during the November 23 Senate hearing. "Hindi ako Superman, ako'y isang ordinaryong pulis lang pero since inilagay ako as Chief PNP ni President, gagawin ko lahat, your honor, gagawin ko. Lilinisin natin ito," he said while in tears.
When Herbert Colanggo explained his "Chinese" surname
Colanggo explained the reason why he's often called "Colangco" even though he has no Chinese blood. "Eh di Colangco, sige Chinese na rin ako," he quipped. 
When Cayetano and Trillanes argued like schoolkids
The September 15 Senate hearing was the first time that Matobato was called to the witness stand. It also gave us the scene that would remind us of grade school students picking on each other (i.e. Sen. Cayetano versus Sen. Trillanes) and eventually telling the teacher (i.e. Sen. Leila de Lima) about the bully. Who can forget these lines: "Madam chair, may I just sit here and listen to you without being intimidated. My seatmate here is intimidating me... Can Sen. Trillanes stop talking to me?"
When Bato challenged De Lima to be PNP chief
Sen. de Lima and the PNP chief were caught in a heated exchange on December 5 over the PNP director's changing statements on who ordered the reinstatement of Chief Supt. Marvin Marcos. "Let's change jobs, your honor. You be the PNP chief," dela Rosa said. "I've had enough of you. All of you who are lying," De Lima responded.
ADVERTISEMENT - CONTINUE READING BELOW
---
Help us make Spot.ph better!
Take the short survey
Load More Stories