25 Most Ridiculous Facebook Events of 2016
Going, Not Going, or Interested?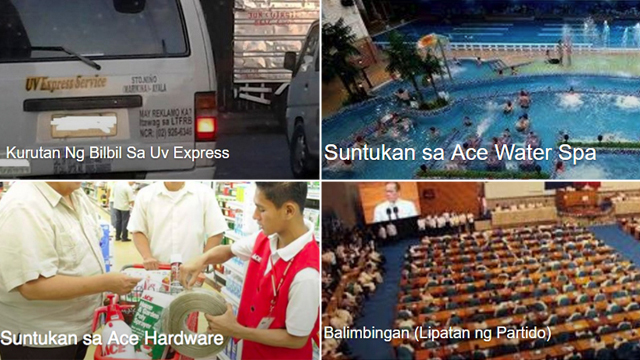 (SPOT.ph) Facebook's Events feature is a gift for planners. It lets you create an online invitation where people can indicate if they're going or not, get updates on changes in venue (if any), and even lets you check who has seen the invite but chooses to ignore your RSVP requests. But since this is the Internet, some people have taken the liberty to use the tool for more creative event invitations which got everyone talking.
We round up the most ridiculous ones that creeped up our feed this 2016—from a sweet "Renewal ng FB Friendship sa Kanto" to a violent "Bardagulan sa BGC." Which ones actually made you click on "Interested" (or, better yet, "Going")?

Suntukan sa Ace Hardware
When: April 15, Friday, 3 p.m.
Where: SM City Lucena, Lucena City, Quezon
One of the first Suntukan spoof events that immediately went viral, Suntukan sa Ace Hardware became so big that it later prompted Ace Hardware Philippines to embrace the unexpected attention and hold a three-day sale around the indicated event date. They didn't appreciate the fictional event at first and even said on Facebook that they "do not encourage this type of digital publicity." But if more than 66,000 people said that they're "going," then might as well take advantage of it, right?

Chiz Escudero Spoken Word Night
When: April 15, Friday, 9 p.m.
Where: SM City Lucena, Lucena City, Quezon
Viewers were quick to notice Chiz Escudero's Balagtasan-worthy intonation at the vice presidential debate, which someone thought merited a Facebook event. It was held at Ace Hardware in SM Lucena, of course. It went on for five hours non-stop!
ADVERTISEMENT - CONTINUE READING BELOW

When: April 30, Saturday, 10 p.m.
Where: SOGO Hotel, Quezon Avenue, Quezon City
Surprisingly, one of Hotel Sogo's most recent ad campaigns targets students through an invitation for a group study. "Aral at bonding din pag may time..." is not really what comes to mind when you book a room at this motel. It was only a matter of time before someone made fun of it through a spoof event.

When: April 9, Saturday, 12 p.m.
Where: Ace Water Spa, Hotel and Suites, Pasig City
It was one big rambol session in a water spa! What a perfect way to de-stress than let out your anger while enjoying hot herbal pools.

When: April 15, Friday, 3 p.m.
Where: Booksale, SM City Manila
Ever dreamed about meeting your One Great Love in a bookstore in a scene worthy of a movie where both of you pick the same book off the shelf? Well, Landian sa Booksale brought things down a notch with secondhand books, but it's romantic just the same...right?

When: April 13, Wednesday, from 8 a.m. to 8:05 a.m.
Where: All 7-Eleven branches nationwide
If you're given a five-minute shopping spree inside a convenience store, what would you get? Probably all the chips and booze!

When: April 16, Saturday, 8 a.m.
Where: New Bilibid Prison, Muntinlupa City
This is Fight Club, the bilibid version. There's only one rule: Bawal umuwi nang buhay.

ADVERTISEMENT - CONTINUE READING BELOW
When: April 15, Friday, 4 p.m.
Where: Morayta (Nicanor Reyes Street), Sampaloc, Manila
Siomais were flying from every direction and attendees brought out their inner baseball player to catch all the dim sum.

Conyohan Sa Starbucks Vito Cruz 
When: April 15 to 16, Friday to Saturday, from 6 p.m. to 9 p.m.
Where: Starbucks, Torre Lorenzo, Vito Cruz, Pasay City
It's common fare for this particular Starbucks branch to provide sanctuary for students making kwento or making tambay with their friends while waiting for kuya driver. The café is also a life saver after a very wild Happy Thursday and you need coffee to cure your hangover.
DOTA o Ako, Hiwalayan sa Manila Majors, SM MOA Arena 
When: June 12, Sunday, 10 a.m.
Where: Mall of Asia Arena, Pasay City
It wasn't pretty. There were tears! It was just too hard for some to let go of their online gaming addiction.

Magpaplantsa ng Damit sa UST Grand Stand Open Field 
When: April 16, Saturday, 1 p.m.
Where: University of Santo Tomas Football Field, Sampaloc, Manila
Tomasinos often need their uniforms as crisp as possible. Good thing there was a big clothes-ironing event so everyone can join in on the fun.

When: April 20, Wednesday, from 6:09 p.m. to 9:09 p.m.
Where: Malacañang Palace, Manila
It was the perfect day to let out all frustrations. We wonder who was punched first.

Renewal ng FB Friendship sa Kanto 
When: May 10, Tuesday, 9 a.m.
Where: Philippines
During the presidential campaign, a lot of Facebook friends were unfollowed or, worse, "unfriended" because of differences in opinions (and even values). The post-election renewal of friendship was very much needed. It was a simultaneous event in all kantos.
ADVERTISEMENT - CONTINUE READING BELOW

Balimbingan (Lipatan ng Partido) 
When: June 30, Thursday, 3 p.m.
Where: House of Representatives, Batasang Pambansa, Quezon City
With the change in administration on June 30, it was crucial for lawmakers to pick a side. This is, after all, Philippine politics.

Laslasan ng Vocal Cords sa PETA 
When: June 17, Friday, 8 pm.
Where: Philippine Educational Theater Association, Quezon City
Now, this is what we call an effective marketing strategy. The PR team behind the widely acclaimed Filipino musical Rak of Aegis used the online trend to promote the theatrical show featuring the songs of Aegis. "Rakrakan na ulit! Laslasan na ito ng vocal cords at palakasan ng diaphragm muscles!" they said in their shoutout.

Muling Pagtayo nang Sagad ni DICK sa Senado 
When: June 30, Thursday, 8 a.m.
Where: Senate of the Philippines
Trust the Internet to throw in a sexual innuendo or two. Sen. Richard Gordon's nickname was a meme waiting to happen.

Pagsabihan ang mga Pasaway sa SM Escalator
When: November 25, Friday, 3 p.m.
Where: SM Megamall, Mandaluyong
SM Malls finally decided to teach Filipinos about escalator etiquette. It is common knowledge to stand on your right when riding the escalator to make way for people who are in a rush. This, however, seems to be unknown to some people who continue to disregard the rules.

Aminan ng Tunay na Nararamdaman sa PICC 
When: April 29, 8 a.m.
Where: PICC Plenary Hall, CCP Complex, Pasay City
Students from Polytechnic University of the Philippines made fun of graduation day. "Ga-graduate ka na't lahat-lahat, hindi mo pa rin maamin kay crush na crush mo siya. Last chance mo na 'to!" they said on the Facebook event description.
ADVERTISEMENT - CONTINUE READING BELOW

When: May 27, Friday, 7 p.m.
Where: Supreme Court of the Philippines
Special guests were Sen. Leila De Lima, whistleblower Benhur Luy, former Vice President Jejomar Binay, and a lot more. Prior to the event, there were discussions on the best things they can get for free as raffle prizes or even loot bag items. Some of the options were: Kopiko 78C, tuition, and mamahaling kape ng PAGCOR.

Debate Invitation to Mocha Uson 
When: October 22, Saturday, 3 p.m.
Where: University of the Philippines-Diliman
In case Mocha Uson didn't understand, Debate Invitation To Mocha Uson event host Jan Emil Langomez also wrote an open letter for the entertainer. "Ang intensyon namin po nung ginagawa namin yung 'mock' event page noong mga nakaraang buwan ay base sa isang satirical na aspekto. Siguro alam niyo po ang mga satirical na posts dahil mga supporters niyo din po ay minsan nagshe-share ng mga ganitong content sa social media," he explained. At this point, it's impossible that Uson still doesn't understand the word satire.

When: May 2, Monday, 9 a.m.
Where: Bank of the Philippine Islands, Julia Vargas, Pasig City
In April 2016, Sen. Antonio Trillanes claimed that President Rodrigo Duterte had P211 million undeclared funds in his account at the Bank of the Philippine Islands-Julia Vargas branch. Then-presidential aspirant denied this but later confirmed that he has a joint account with daughter, Sara. To prove that he's innocent, Duterte agreed to open his account. The "event" was actually attended by supporters of Trillanes and Duterte who shouted at each other in front of the BPI branch. 
ADVERTISEMENT - CONTINUE READING BELOW

Reunion ng mga Tanga at Umaasa 
When: April 10, Sunday, 6 p.m.
Where: Valenzuela City People's Park
About 2,500 people were interested with this event. That's not a lot, considering that many are not too wise when it comes to love.

Kurutan ng Bilbil sa UV Express 
When: May 19, Thursday, 4:30 p.m.
Where: Quezon Avenue, Quezon City
Sitting in the middle row of an FX is probably a commuter's nightmare. The driver tries to fit four people in a seat that's supposedly only for three. It gets worse when the one beside you is not too lightweight.

Malawakang Ihian Sa Puntod ni Marcos 
When: November 19 to 20, Saturday to Sunday, from 12 a.m. to 12 p.m.
Where: Libingan ng mga Bayani
Remember that "surprise" burial? A lot of people were so angry that they came up with different ways to release their frustrations. This was one of them.

Bardagulan sa BGC with Sass Rogando Sasot 
When: November 30, Wednesday, 12 p.m.
Where: Bonifacio Global City
After Matanglawin Ateneo came out with a lampoon issue which didn't sit well with a lot of Duterte supporters, Netherlands-based Sass Rogando Sasot posted a challenge: "Gusto ninyo ng bakbakan, sige pagbibigyan ko kayo. Pero ito tandaan ninyo, kapag nag-all out tayong bardagulan, kaya kong mawala ang lahat at magdildil ng asin." First of all, what's bardagulan?
Load More Stories