How to Deal With a Typo, According to The DDS Style Guide
See also: Luneta Park, April 2, 2017.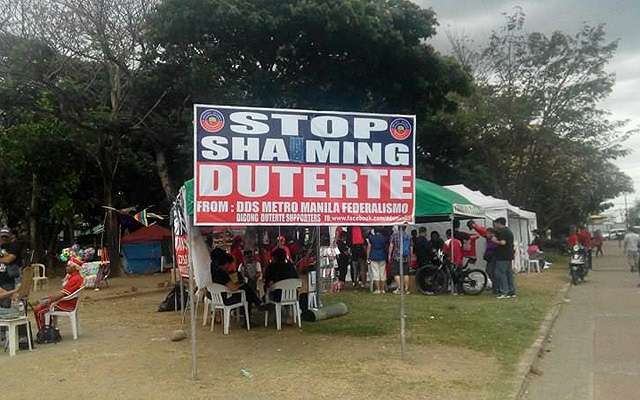 (SPOT.ph) Proofreading, which is the practice of examining text carefully to find any potential errors before publishing and printing, is very important in journalism. Actually, it's important in real life, too. Ask Steve Harvey. Also, ask the Yahoo Finance social media manager.


But let's face it, no one is perfect and we all make mistakes. So here are a few DDS Style Guide-recommended ways to ease your way out of the situation, should you find yourself confronted with a typo that you've somehow missed. Which then ends up printed on banners that have been put up everywhere.
ADVERTISEMENT - CONTINUE READING BELOW
"Stop Shaming Duterte," isa sa panawagan sa 'Palit Bise' rally sa Luneta, Maynila | via @zhandercayabyab pic.twitter.com/JkQ8xQestE

— DZMM TeleRadyo (@DZMMTeleRadyo) April 2, 2017
Cover it up with blue ink
Hide the wrong letter by filling it with the same color as the background. Never mind that the permanent marker is a shade lighter. Never mind that the letters end up having a big space in between them. 
Blur during post-production
Careful not to blur out the letters beside it. You can also pixelize, add glitter, or add an emoji because video editing is the best.
Akala ko sa Twitter lang sila nagkamali sa spelling ng word na "SHAIMING".
Please SPELL CHECK what a SHAIME! #PalitBeshie pic.twitter.com/zNmZ7Z1LoW

— don r.b. (@donthebasher) April 2, 2017
Cut out the wrong letter
Grab a trusty pair of scissors or a sharp knife and "delete" the wrong letter. If you don't see it, it's not there. CTRL+X (a.k.a. cut) and it'll all be gone.
Vocab muna:

SHAIMING
n. Telling the truth about horrendous acts but being accused of bias.

Stop shaiming me for beating my wife. Dilawan!

— Shakira Sison (@shakirasison) April 2, 2017
Invent a new word
If all else fails, you can just coin a new word. Language, after all, is dynamic. You can even try to have it published by Merriam Webster or Oxford. 
Load More Stories