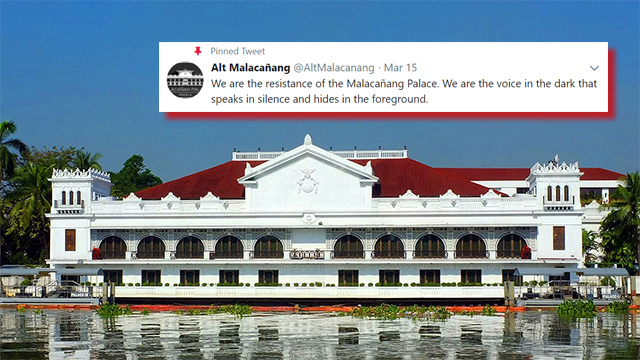 (SPOT.ph) In early 2017, alternative Twitter government accounts sprang up to challenge U.S. President Donald Trump's policies—especially about science—by posing as alternative or rogue voices of government workers and agencies. There's an alt account for the National Park Service posting about environmental activism; a rogue account for fictional POTUS staff which posts about overheard White House gossip, and so on.
ADVERTISEMENT - CONTINUE READING BELOW
It was only a matter of time before alt accounts started popping up locally, too. They don't pretend to be official, in fact they identify themselves as alternative accounts, but there are days when you might actually prefer them to the real thing. Check them out below and you'll see why.
As a true ally to the LGBT community, I don't need to find an honest and hardworking gay person. They are all around me and around all of you. I will protect them and ensure equal rights for them as Filipinos, including the right to marry. This is what real presidents do.?????‍????

— Diplomatic Duterte (@PCduterte) December 18, 2017
Diplomatic Duterte | @PCduterte
Diplomatic Duterte is a satirical Twitter account that reimagines what President Rodrigo Duterte would say as a "benevolent version" of himself. Cuss words, "patayin kita," and "yawa" are not in its vocabulary.
Our biggest Christmas gift: Special Screening of "Dragging Down with the Dutertes". Inquire now! pic.twitter.com/fbTKUdIIFl

— Malacañang Events and Catering Services (@MalacananEvents) December 22, 2017
Malacañang Events and Catering Services | @malacananevents
Malacañang Events was founded days after the controversial pre-debut photoshoot of presidential granddaughter Isabelle Duterte in the country's seat of power. They plan baptism celebrations, birthdays and pictorial sessions right inside the Malacañang. The account often makes witty remarks that throw major shade, even referencing notable lines spoken by the president and his supporters.
As #VintaPH continues to take the lives of our kababayans, 133 alone in Mindanao, know that the Duterte Regime slashed the calamity fund by P21.5 billion for 2017 and P11 billion for 2018

Meanwhile, he increased his own *intelligence fund* from P500 million to P2.5 billion. pic.twitter.com/Pqf8rbwtCU

— AltAsecMargauxUson (@AsecMargauxUson) December 23, 2017
Alt Mocha Uson | @AsecMargauxUson
"Modern Mocha," "Unbiased Uson," and "Progressive Pokabelle" are just some of the phrases that describe this parody Twitter account. Unlike Assistant Sec. Mocha Uson's original Mocha Uson Blog, which often retweets and reposts fake news, @AsecMargauxUson relies on facts and numbers—usually headlining her statements with "RESIBO" (pertaining to supporting articles).
Palace feels widespread brewing outrage over Kian's death, instructs Mocha, Nieto & bloggers to shift narrative and blame Kian.

— Alt Malacañang (@AltMalacanang) August 20, 2017
Alt Malacañang | @AltMalacanang
"We are the resistance of the Malacañang Palace. We are the voice in the dark that speaks in silence and hides in the foreground," goes @ AltMalacanang's bold description of itself. It posits conspiracy theories and commentary on current events.
As Mr Duterte's popularity and support from the military continues to decline, he has resorted to declaring the CPP-NPA as a terror organization-- a fact ALREADY LONG ESTABLISHED in the AFP and recognized by intl orgs and other goverments- in an attempt to foil the inevitable.

— ALT Team AFP (@AltTeamAFP) December 6, 2017
"Patriotism means to stand by the country. It does not mean to stand by the president," @AltTeamAFP says in its banner. Following the mandate of the Armed Forces of the Philippines, it promotes the "sovereignty of the State and integrity of the national territory."
ADVERTISEMENT - CONTINUE READING BELOW
Ang hari ng kasinungalingan! pic.twitter.com/GKxm4IBInZ

— AltBong Go (@AltBongGo) December 21, 2017
Christopher "Bong" Go, special assistant to Duterte, earned the title "Selfie King" during the 31st ASEAN Summit in November after taking numerous photos with international personalities. Of course the "pambansang photobomber" (snagging the moniker from Torre de Manila) would inspire a parody Twitter account.
Amazing how the DDS are suddenly playing the "Christian" and "morality" card when Dutz expressed support for Same-sex civil unions. Pero saan yang Christian morality ninyo nung pinatay sila Kian at iba pang "suspected drug users"?

— AltSpox Harry Roque (@AltSpoxHRoque) December 20, 2017
AltSpox Harry Roque | @AltSpoxHRoque
@AltSpoxHRoque is Presidential Spokesperson Harry Roque in a parallel universe. It tweets about patriotism, government conspiracies, and also posts some pretty astute observations and insights about the current administration.
"We love our Moro brothers... "

But ABSTAINED?!?!
The 8 countries who voted no with the US on the #UNGA #Jerusalem resolution pic.twitter.com/noxA0ORoCV

— Alt GovPH ???????? (@AltGovPH) December 23, 2017
This alternative Philippine government account encourages everyone to practice their rights as citizens of a democratic country through its motto: "Dissent. Oppose. Resist." It highlights national issues that people should look into such as Isabelle Duterte's photo shoot, incorrect spelling in a publicly funded Department of Tourism campaign, and more.
Joke of the day! Kapal talaga ng mukha ni @bongbongmarcos hahaha! pic.twitter.com/vYbXubTqa6

— Alt BBM Employee (@altBBMemployee) November 25, 2017
Alt BBM Employee | @altBBMemployee
This fictional BBM Employee has come to realize: "Ako ay bayaran ni [BongBong Marcos], pero alam kong nakaw ng pamilya niya ang binabayad sa akin, kaya bayad ako ng Bayang Pilipinas." With this, he/she is "for TRUTH."
ADVERTISEMENT - CONTINUE READING BELOW
Your guide to thriving in
this
strange new world.
Share this story with your friends!
---
Help us make Spot.ph better!
Take the short survey
More Videos You Can Watch
Load More Stories