10 Newsworthy Facebook Events Worth Your RSVP
Immortality workshops, reunions, suntukan, and more!
(SPOT.ph) Ever since "Suntukan sa Ace Hardware" went viral, ridiculous Facebook events have become a favorite source of laughs for many in the country. With the wide breadth of facepalm-worthy items currently in the news, a number of creative Pinoys have taken to Facebook and created the most ridiculous events, proving once more how humor can make anything a teeny-bit more bearable. We list 10 of the most mind-bogglingly hilarious ones.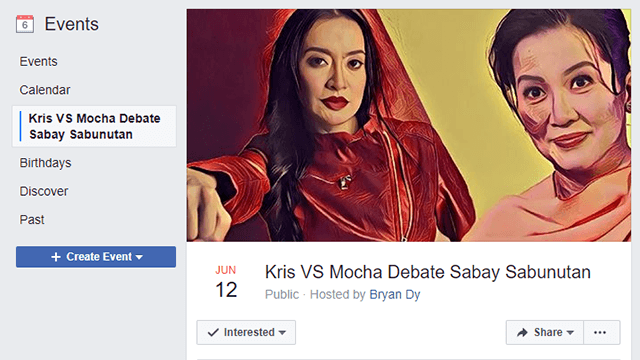 ADVERTISEMENT - CONTINUE READING BELOW
CONTINUE READING BELOW
Recommended Videos
Kris vs. Mocha Debate Sabay Sabunutan
When: June 12, Tuesday, 10 a.m.
Where: Luneta Park, Manila
When Kris Aquino went live on Instagram and Facebook challenging Mocha Uson to re-enact that unforgettable scene from Four Sisters and a Wedding, you were probably excited—now get ready to see the event happen live. A debate will begin the proceedings—you know, to keep things civilized.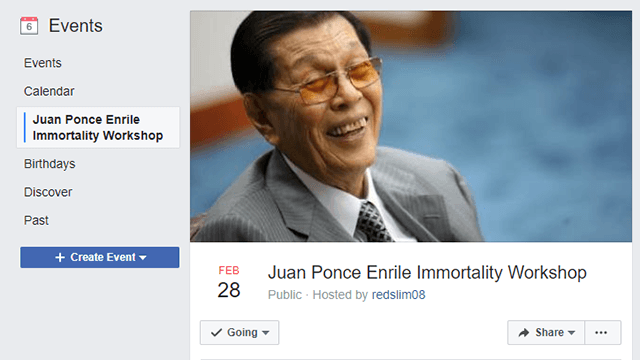 ADVERTISEMENT - CONTINUE READING BELOW
Juan Ponce Enrile Immortality Workshop
When: Feb 28, 2019, Thursday, from 2 a.m. to 5 a.m.
Where: Claro M. Recto Avenue, Manila
Did you know that Juan Ponce Enrile is actually older than sliced bread? If you ever wondered whether he's found the fountain of youth or has a decaying portait of himself in the attic, here's your chance to find out!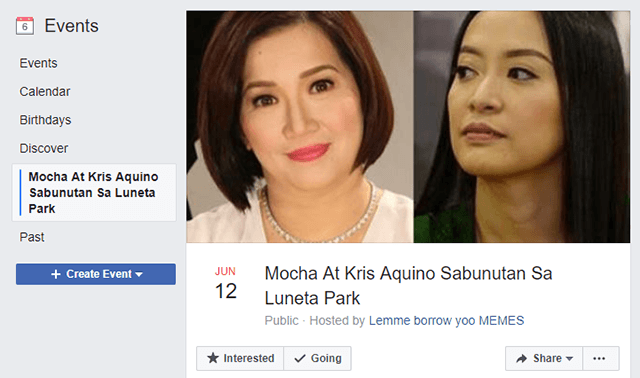 ADVERTISEMENT - CONTINUE READING BELOW
Mocha At Kris Aquino Sabunutan Sa Luneta Park
When: June 12 to 13
Where: Luneta Rizal Park, Manila
Proving just how much fanfare the Kris-Mocha rivalry has spurred, the two battle it out in a public hair-pulling extravaganza in Luneta Park. Who will come out on top?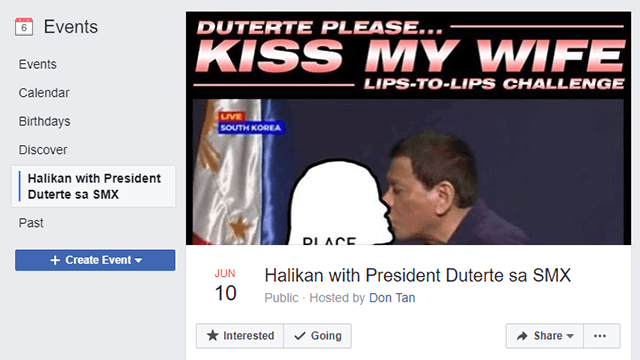 Halikan with President Duterte sa SMX
ADVERTISEMENT - CONTINUE READING BELOW
When: June 10, Sunday, from 10 a.m. to 2 p.m.
Where: SMX Convention Center, Pasay City
You think that incident was way overblown, huh? Dubbed as "an historic event in Philippine history," you wouldn't want to miss this chance!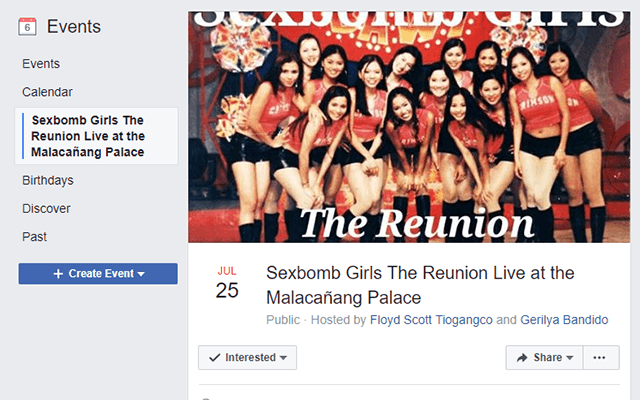 Sexbomb Girls The Reunion Live at the Malacañang Palace
When: June 25, Wednesday, from 7 p.m. to 11 p.m.
ADVERTISEMENT - CONTINUE READING BELOW
Where: Malacañan Palace, Manila
Get, get, aw! This beloved 2000s girl group will be reuniting soon—at Malacañan Palace, no less.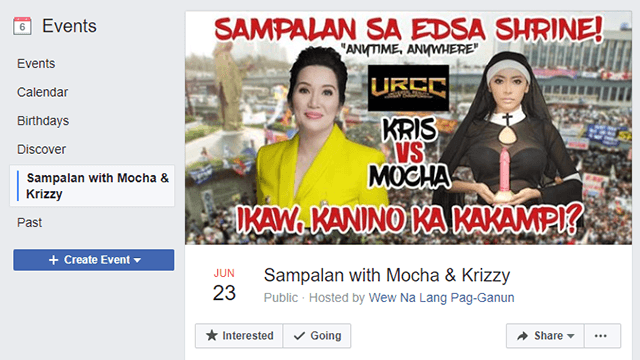 When: June 23, Saturday, from 4 p.m. to  7 p.m.
Where: EDSA Shrine, Ortigas Center, Quezon City
These two just won't stop going at it, will they? Catch them at the EDSA Shrine this time around.
ADVERTISEMENT - CONTINUE READING BELOW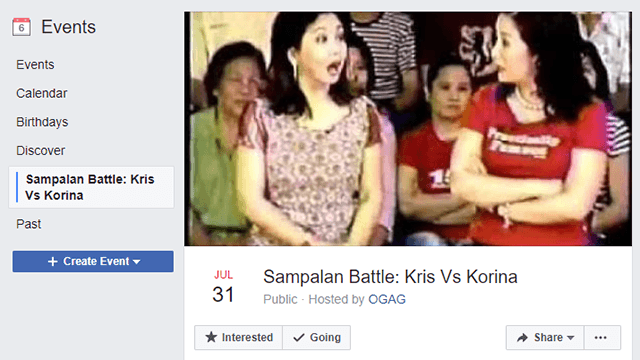 Sampalan Battle: Kris Vs Korina
When: July 31, Tuesday, at 1 p.m.
Where: Philippine Arena, Bulacan
Mocha Uson isn't the only person Kris Aquino has beef with! In case you forgot, there was that whole issue with Korina Sanchez—watch them battle it out at the Philippine Arena.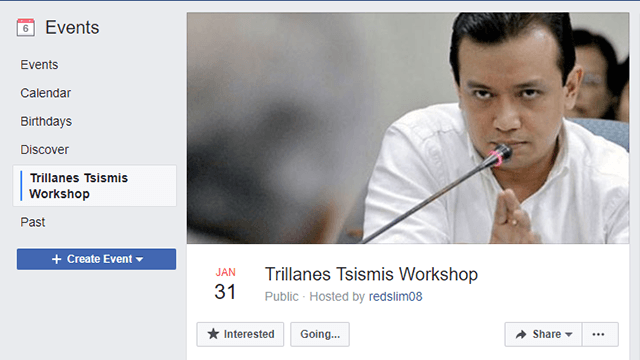 Trillanes Tsismis Workshop
ADVERTISEMENT - CONTINUE READING BELOW
When: January 31, 2018 to February 8, 2019
Where: Coastal Mall City, Parañaque City
Ever thought about how the Senate's resident whistle-blower gets the information that he uses against his colleagues? Find out at this workshop, from the senator himself!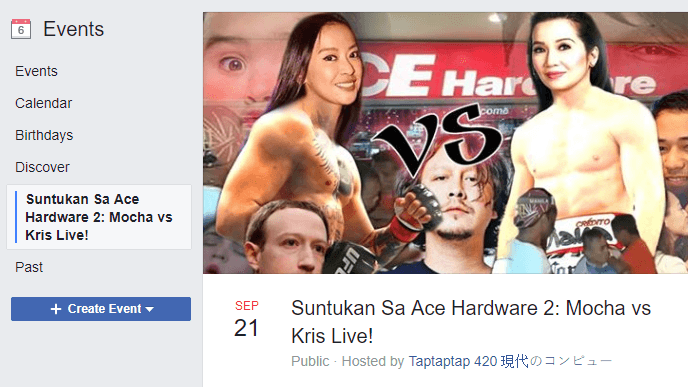 Suntukan Sa Ace Hardware 2: Mocha vs Kris Live!
When: September 21, Friday, from 3 p.m. to 6 p.m.
ADVERTISEMENT - CONTINUE READING BELOW
Where: Ace Hardware, SM City Lucena
Here's a sequel to the event that started it all, featuring the country's current favorite rivals!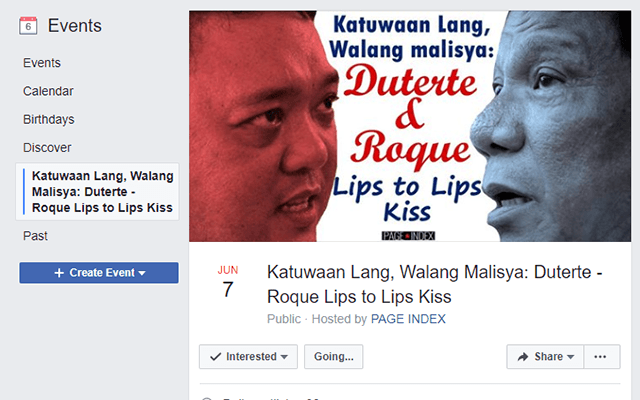 Katuwaan Lang, Walang Malisya: Duterte - Roque Lips to Lips Kiss
When: June 7, Thursday
Where: Malacañang Palace, Manila
To prove how kissing each other on the lips is a totally acceptable form of Filipino culture, President Duterte and Spokesperson Harry Roque have decided to make a stand and...kiss each other on the lips. So exciting!
ADVERTISEMENT - CONTINUE READING BELOW
Load More Stories