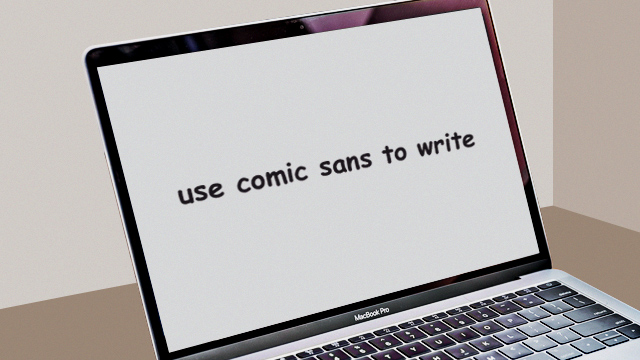 (SPOT.ph) 2018 is coming to an end and the new year is looking to be a promising one for, well, the font Comic Sans. You know this font, of course, and you probably cringe whenever you see it being used. There's just something about the way the letters look that doesn't sit right with a lot of people, but for reasons only the universe can understand, Twitter users are saying using Comic Sans is actually boosting their productivity—and it might just be true. 
ADVERTISEMENT - CONTINUE READING BELOW
writers try this????? pic.twitter.com/nED2ZwcqLg

— vie ???????? (@tajntedsorrow) December 14, 2018
The "Comic Sans magic" is getting reactions that's equal parts awestruck and confused. It's particularly popular among aspiring writers who saw the original tweet about the claim. Skeptical about the font and its effectivity (because, really, Comic Sans?), people who have been struggling with their writing tried it and got surprising results.
hey how dare this comic sans trick actually WORK, how DARE IT

— christine lynn herman ???? (@christineexists) December 20, 2018
Comic Sans: *laughs victoriously*
The image in this tweet suggests that writers looking to improve their speed while drafting should switch from their preferred font to Comic Sans.

I regret to inform you all that, having just tried this, it fucking works https://t.co/GqYFT2skeN

— Paul Krueger pls go see into the spiderverse (@NotLikeFreddy) December 18, 2018
Does... does it really?
y'all remember the whole "writing in comic sans sparks creativity" thing ?? it fucking works i wrote all that in probably twenty minutes pic.twitter.com/0fEzV1q6j5

— ? ???????????????????? (@guccyprince) December 17, 2018
We're cringing (but thoroughly impressed).
The Comic Sans myth is true and pure sorcery ???? pic.twitter.com/1BneuyMOAr

— Fallon DeMornay *drafting PROJECT SPARROW* (@FallonDemornay) December 19, 2018
What other explanation could there be?
i've been refusing to talk about this but the comic sans thing... it works. i wrote 6.3k last night in one go. an entire fic. in one go.

— johnny seoft (@taeyongseo) December 19, 2018
The only thing more impressive than writing 6,300 words in Comic Sans is the fact that they lived to tell the tale.
u know that post about how writing in comic sans immediately improves your writing quality & productivity by 500%? it works. it fucking works. i'm writing better sentences, and more of them. i'm noticing the microclichés and writing circles around them. this is black magick

— moon ???? (@_marienadine) December 17, 2018
The only plausible explanation.
It's hard to tell whether there's real science behind the success or not. There is, after all, a 2010 study from Princeton University that claims it's easier to retain information if they're written in hard-to-read fonts like Comic Sans. Or maybe it's the placebo effect and just that.
In any case, we found a Tweet we're sure you can relate to right now:
I'm still completely horrified by the concept. And yet tempted. pic.twitter.com/m1tCYa8FLC

— Blue Christmas (@BlueSummerGirl) December 20, 2018
ADVERTISEMENT - CONTINUE READING BELOW
Share this story with your friends!
---
Help us make Spot.ph better!
Take the short survey
More Videos You Can Watch
Load More Stories