10 Priceless Clips of Pets Making Work-From-Home Impossible
These adorable creatures are hard to resist.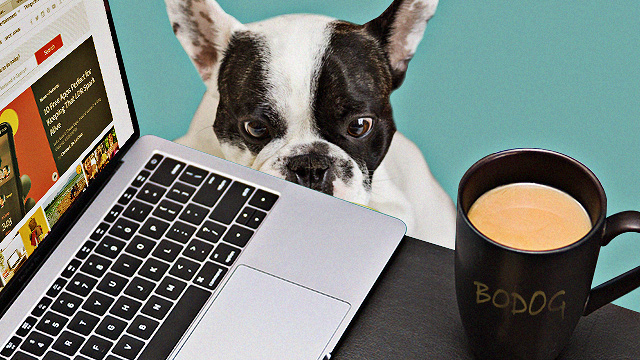 (SPOT.ph) With most of us working from home amid the COVID-19 pandemic, our household pets are probably grateful that we're around 24/7. No more long (and guilt-ridden) goodbyes in the morning, no more worrying about what they're doing (and praying that they're not ransacking the kitchen), and entire days of cuddling. Some pets, though, are pushing the envelope by trying to make sure their humans can't even attempt to work without distractions. 
ADVERTISEMENT - CONTINUE READING BELOW
Also read:
10 Essentials for a Productive Work-From-Home Setup
Check out some of the funniest pets we've seen online: 
Brody Versus Weather Report
Meteorologist Paul Dellegatto was delivering his weather report over Fox 13 Tampa Bay when his golden retriever Brody decided to steal the show. The canine bumped up against the computer, causing all digital maps and visuals to disappear from the screen. Dellegatto continued with the show, until Brody ran across the room and poked his head right in front of the camera. "We don't need to see that forecast map, we'll just look at Brody," the news anchor on the other end of the line said. We couldn't agree more.
ADVERTISEMENT - CONTINUE READING BELOW
Betty as New Weather Cat
Making sure that he can still deliver the weather report from his home, WFIE-TV weatherman Jeff Lyons set up a green screen in his dining room. In one of his weathercasts, the director asked to see Betty, his cat. "So I held her up for the camera. We just had the final 30-second weather to do, so I kept her in my arms just for fun," Lyons said in a report by BoredPanda. Support for the cat has been crazy since, so Betty eventually became a staple in the evening news.
ADVERTISEMENT - CONTINUE READING BELOW
A Huge Husky Sleeps on a Laptop
"No more work," barked K'eyush in a video posted on March 23. The captions were his hooman's interpretation, of course. Until he is given belly rubs, "needy husky" K'eyush has decided that he'll be using his mom's laptop as a pillow.
Dog Says No to Spreadsheets
ADVERTISEMENT - CONTINUE READING BELOW
Working on spreadsheets is out of the question, too. Pet owner Kevin P. Johnson was prohibited from working from home until he gave Ginny neck scratches. "Will you let me do my Excel spreadsheet now?" he asked the little one. The dog, of course, grabbed his hand and stopped him from typing.
Bengal Cat Claws Her Way
ADVERTISEMENT - CONTINUE READING BELOW
Sher, a Bengal cat, has taken the more violent route. With all her might, she clawed, snarled, and prevented her owner from plugging in the laptop charger—effectively stopping him from working that night. We say, if there's a will, there's a way.
Ghost + Pig = Fun
"Wuts da point of youus workim from home if youus is not gunna play wiff me," said Ghost in an Instagram post. (Well, his hooman's words.) Ghost insisted that his human play with him and his squeaky mini pig. Perhaps the dog is just trying to show his owner what work-life balance really is.
ADVERTISEMENT - CONTINUE READING BELOW
Cat Makes Pillow Out of Human Hand
How to stop your hooman from working? Sleep on the hooman's hand. Iubirescu, the cat, halted her owner's attempt from getting any work done by making his arm her pillow. It's just interesting how the cat is very near the mouse. 
Brandy as the World's Best Worst Assistant
ADVERTISEMENT - CONTINUE READING BELOW
Brandy made sure that his human gave him all the attention he could get this quarantine period by simply tapping his paws on the keyboard. Was he trying to log in? Did he delete anything important? We will never know. 
Puppy Dog Eyes Are Irresistible
If you had any doubts about whether puppy-dog eyes really work, then take a look at Kevin's recent video. The St. Bernard exuded his best puppy-dog-eyes-with-a-frown combo, tricking her working mom into giving her belly rubs.
ADVERTISEMENT - CONTINUE READING BELOW
Zoomies Times Infinity
Daisy, the corgi, got some serious zoomies (a.k.a. sudden explosion of energy) while his dad was working from home. The human didn't flinch as the canine ran in circles around him—even when she stepped on his laptop. We don't think Daisy's going to give up anytime soon.
ADVERTISEMENT - CONTINUE READING BELOW
CONTINUE READING BELOW
Recommended Videos
Share this story with your friends!
---
Help us make Spot.ph better!
Take the short survey
Load More Stories