Cheryl Diaz Meyer: Life After Pulitzer
SPOT.ph caught up with international Pulitzer Prize-winning photojournalist Cheryl Diaz Meyer during her last visit to Manila.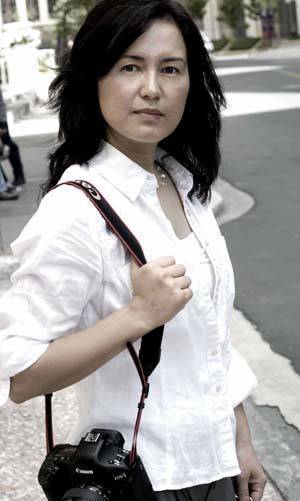 Cheryl Diaz Meyer hits the streets of Manila
In 2004, Philippine-born international photojournalist Cheryl Diaz Meyer won the Pulitzer Prize for Breaking News Photography with her colleague, fellow The Dallas Morning News staff photographer David Leeson for their "eloquent photographs depicting both the violence and poignancy of the war with Iraq." Her work in Iraq also won the Visa D'Or Daily Press Award 2003 at Visa Pour L'Image in Perpignan, France. Meyer, now a freelance photographer based in Dallas, Texas was, in town recently after attending her 25th high school reunion in Legazpi City. Spot.ph had the chance to bask in and ask about her glory:
What made you decide to become a photojournalist? I love the creative process of photography, the discovery, the joy of taking what the eye sees and making it new. Ultimately, photography is really an exploration of the self–the photographer seeks to reveal her own inner truth using the camera as her tool. Photojournalism attempts to combine photography with information, the goal of which is to educate and inform. I was drawn to photojournalism because storytelling was a strong part of my cultural heritage growing up in the Philippines. Photojournalism is the visual art of storytelling.
ADVERTISEMENT - CONTINUE READING BELOW
What was your most memorable experience during your coverage of the war? What made you not give up? Perhaps one of the more difficult experiences of my Iraq war coverage happened when the US Marines with whom I was embedded suffered their first casualty during the invasion–by friendly fire. I will never forget the agonized scream of a man who had just killed his friend. I realized then that the injustice of the war extended not just to those killed but also to the living. In the end, we would all be victims of the violence.
[svgallery name="cheryl-diaz-folio"]
CONTINUE READING BELOW
Recommended Videos
What did you learn from covering the war? Covering war is one of the most challenging assignments a photojournalist can undertake because it truly pits the photographer against her most elemental fears. Learning to come to terms with those fears has made me a better photojournalist and human being.
During times you thought you would die in the war, what went on in your mind? There is nothing more sobering to put perspective to one's life than the thought that one could die at any moment. When I thought I was going to die, I always took comfort in thoughts of my loved ones.
How does it feel to be back in the Philippines? I come every two to four years on average. This time, I went home to attend my 25th school reunion at St. Agnes Academy in Legazpi City, Albay. Being back is a joy because I love visiting my family and friends, I love the food, I love hearing and speaking the language and I love the culture. In Legazpi, I was out at the mall, and everywhere I turned I ran into people I knew or people who know my family. I feel very much at home here.
ADVERTISEMENT - CONTINUE READING BELOW
What have you been up to since you've been back? What have you been eating? Aside from catching up with friends, I have also been working on a story about the marriage of native healing arts and Catholicism. While home, I have been enjoying some of my favorite dishes such as cocido, baduya, pinakbet, ibus, Bikol Express, sisig, crispy pata and bangus. I also adore Filipino cacao, mangoes and pili candy, which my cousins produce at Albay Central Pilinut Candy.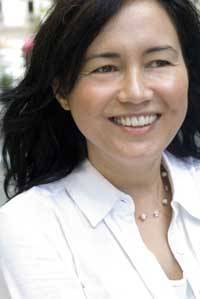 "Being back is a joy...I love the food...I feel very much at home here."
How was it growing up in the Philippines, then moving to America? I loved growing up in the province and it was very difficult moving to the U.S. at the age of 13. My barkada was very tight knit and I was deeply lonely when I left them. The best thing about moving though was that I really came to understand myself better because had to reconcile my childhood and a new culture that often conflicted with how I understood the world. I consider those formative years the most defining time in my life.
ADVERTISEMENT - CONTINUE READING BELOW
What do you love about Manila? I love Manila for all the variety it offers: the food, the shopping, the entertainment. I have taken advantage of all that in these past weeks. I love exploring Filipino furniture, especially antiques. Tiendesitas is great fun with its eclectic collection of food from all over the country, clothing and furniture. Greenhills is also wonderful for the crazy combination of name brand stores to crafts to electronics to fake goods.
What are your views regarding photography in the Philippines? How can our local talent take it to the next level? The Philippines has a lot of strong photojournalists, but there is definitely a core group of very talented shooters whose names I've followed through the years. Bullit Marquez is one of my favorites, and he works for the Associated Press. He always seems to find the news of the day and makes wonderful images. But there are many more like him who are competitive on the international level. I think if Filipino photojournalists want to grow they need to start thinking of themselves as storytellers. Powerful images come from powerful ideas. So challenging themselves to be instigators of ideas instead of just followers will make their work even that much more stronger.
What are your views about the prospect of the death of print media? The print media in the Philippines is not yet dead but it may be headed in the same direction as the U.S. and Europe, which are definitely struggling. But there is also the opportunity to create something totally new, and not necessarily to follow the market trends of the West. With the highly developed cell phone industry, the Philippines is poised to develop a system of micropayments that could finance web media as the print media is phased out. Or it may be some other payment system that has yet to be defined. Filipinos are highly innovative and entrepreneurial, and creative experimenting will help this transition.
ADVERTISEMENT - CONTINUE READING BELOW
After winning the Pulitzer Prize, has there been a lot of pressure to produce award-winning work all the time? What will you do next? Receiving the Pulitzer was a great honor for me and my colleague David Leeson. I have always strived to produce compelling photo stories and winning the Pulitzer has not changed that. I don't necessarily keep a to-do list, but I am looking forward to starting my freelance career and working on meaningful stories. I'm very excited about my current reporting on native healing and the possibilities of documenting indigenous healers.
Portraits of Cheryl Diaz Meyer by Monica Barretto. Photos by Cheryl Diaz Meyer from cheryldiazmeyer.com and pulitzer.org.
[svgallery name="cheryl-diaz-pulitzer-series"]
Share this story with your friends!
---
Help us make Spot.ph better!
Take the short survey
Load More Stories