Cosplay Stars Alodia and Ashley Gosiengfiao at Toy Con 2010 + SPOT.ph Q&A
The toy collector, gamer and anime fan geekfest was packed with cosplayers, contests, and comic books. Plus SPOT.ph chats with the Cosplay star sisters.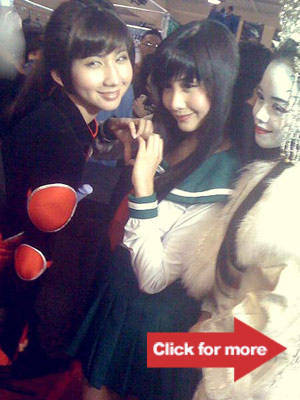 Toy Con 2010 Gallery: Ashley and Alodia Gosiengfiao and Monique Dimanlig. Click for more photos. Photos by Raymond Sison.
Toy collectors, gamers, cosplayers and anime fans geeked out at the Toy Con 2010 on June 19 and 20 at the SM Megatrade Hall. The weekend event was packed with contests (toy photography, fan art, toy design and cosplay), live performances (Paramita and Rockwell Science), games, fan film screenings, raffles and more. Among the many items on display and sold were action figures, discounted comics, and clothes.
ADVERTISEMENT - CONTINUE READING BELOW
CONTINUE READING BELOW
Recommended Videos
Sister cosplayers Alodia and Ashley Gosiengfiao came as Kagome and Sango of Inuyasha, respectively. Also spotted were cosplayers Jan Pesino Illenberger, Alexandra Keuls, Monique Dimanlig, Nikki Gevana, Jen Ching and Captain Hank Sparrow. Actors Aljur Abrenica and Kris Bernal graced the event-not in costumes but they did pose for photos with cosplayers dressed as Batman and Joker.
SPOT.ph Q&A With Alodia & Ashley Gosiengiao

By Jansen Musico
ADVERTISEMENT - CONTINUE READING BELOW
Ashley (left) and Alodia (right) Gosiengfiao ham it up for the camera.
Animé fanboys break into deafening cheers whenever the Gosiengfiao sisters arrive at any geekfest. Alodia, 22, is no stranger to the adoration. She's won numerous titles in the cosplay circuit and was even named one of the 100 Sexiest Women in 2009 by FHM. She was also hailed one of the Most Influential Women by Uno in the same year. Ashley, 20, is another familiar face in the long roster of cosplay elite. In a matter of seven years, she and her older sister perfected the art of disguise, elevating themselves to levels that amateur cosplayers can only dream of.
As two of the new faces on the international animé channel Animax, the Gosiengfiao sisters can only express their anticipation. "We're nervous," said Alodia. "We're pressured because we were never really good in public speaking." "We're actually shy girls," laughed Ashley, "But it feels really good to be able to do what we want and spread the love of cosplay." Alodia and Ashley go beyond cosplay as they spill the beans on each other, and talk about their passions, obsessions, and their ideal men.
ADVERTISEMENT - CONTINUE READING BELOW
Let's start with your name, Alodia. How did your parents come up with it?
Alodia: My full name is actually Alodia Almira. My mom found it in a name book and thought it was unique. Alodia means love and Almira means princess. So I'm the princess of love. It's so cheesy. [Laughs]

You were a fresh graduate when we last spoke to you almost a year ago, what have you been up to lately? Do you have a day job?
Alodia: Cosplaying has become my full-time job already. I blog for Animax. I do a lot of cosplay stuff out of Animax. I also do several photo shoots.


Do you like being called the Queen of Cosplay?
Alodia: It's okay, but I prefer just being the princess [laughs]. There are a lot of really great cosplayers out there and I don't think I'm the best one. I'm a fan of my friends. Not only are they really good cosplayers but they also teach me how to be good in the craft.
ADVERTISEMENT - CONTINUE READING BELOW
Ashley plays "Primera" on the guitar with the rest of Hymn of Siren.

Aside from cosplay, what are your other hobbies?
Ashley: I do photography, web-design, and song writing... I have a rock band called Hymn of Siren. We record and play our own music. I also love sports. I play volleyball. I was actually a varsity volleyball player for five years and up to now I still play for the Ateneo club.
Alodia: My other hobbies would include playing the piano. I also do toy photography. I love to draw, paint, and play videogames. I collect toys. They were formerly sorted out as anime stuff: anime figurines and statues. But now I branched out to Iron Man and Marvel girl.

How big is your collection right now?
Alodia: I've never counted them. Before I did, but now I can't [laughs]. I just can't because they're all over the place.
Ashley: If I take one from her collection and decide to sell it she won't even notice.
Alodia: You're so mean. Never do that! [Laughs]

Are you two really this close at home?
Alodia and Ashley: [The two stare at each other and laugh at the same time.] Yes.

Who's more mischievous?
Alodia: Obviously... [She points to Ashley]. She has a multiply account named "Ashley the Bully." She bullies everyone [laughs]. When she has a stalker on the internet, she tends to fend them off and she really enjoys fending them off.

Who's better with boys?
Alodia and Ashley: [Both of them glance over to their mom.]
Jing Gosiengfiao: They have the same number of admirers.
Alodia: But it's more of quality over quantity [Laughs]. Kidding! I'm just kidding.

Who's the bigger geek?
Alodia: Me! I'm the geekier one. Before all this, I used to wear very thick glasses. I had thick eyebrows, wore braces, and had thick hair. I sat in the corner, alone, drawing [laughs].

You obviously have a lot of fans. What's the nicest thing a fan has ever done for you?
Alodia: Last year, one of my fans [set up] an Alodia Fans Day. That was a month after my birthday. As part of the program, they greeted me and bought me a cake. It was shaped as my favorite Final Fantasy character. It was really sweet... Thank you Xandra!
Ashley: [Thinks for a minute] I've gotten some pretty cool gifts...
Alodia: Like chocolate?
Ashley: [Points to Alodia] She's the sucker for food... I don't know... Probably kasi inaaway ko silang lahat? [Laughs] I'm just the mean one.

So how about the meanest thing a fan has done?
Ashley: In Facebook, I had this impersonator and her "on-line boyfriend." There was this guy who believed them so he sent me a message one day telling me he was my former friend and saying, "I'm sorry about what I said last time..." And I replied, "I'm sorry I don't know you. You were probably talking to a fake Ashley." Then he started getting mad at me telling me it was my fault na naloko siya. He called me a spoiled brat and started cursing me. And I was like... okay.
Alodia: She got him back... I'm the good sister and she's the evil sister. [Laughs]

Have you ever received marriage proposals from fans?
Alodia: We get random fan comments on Facebook asking, "Will you marry me?" Okay... next comment. [Laughs]

You got listed in FHM's Sexiest Women last year, would ever consider posing for FHM?
Alodia: As much as possible, we want to avoid adult magazines because we don't want to expose our young audience to them yet. We have grade school fans and if we expose ourselves, I don't think it's safe for them. I also have a morality clause with one of my contracts with Kojie-san-it's a skincare product from Japan-so bawal pa ang adult magazines.
ADVERTISEMENT - CONTINUE READING BELOW
Ashley and Alodia in "Witchblade" at the Cosplay Regional Championship at the Anime Festival Asia '09
What do you wear on a normal day?
Alodia: Shirt and jeans.
Ashley: It depends because I'm moody when it comes to that. In school, I'm usually in a shirt and jeans. But when I go to the mall, I try to dress up. I like Asian Fashion.
Alodia: In school, I used to dress up in Gothic Lolita but it became too hot, literally. From there I switched to more comfy clothes. We cosplay a lot and cosplaying on an everyday basis gets pretty tiring.
Where do you usually shop for your clothes?
Alodia and Ashley: People are People, Mango, and Zara.
What do you do during your free time?
Alodia: Facebook! [Laughs] Just kidding.
Ashley: We're huge internet geeks. We also have our cameras. Even if my bag is tiny, I still fit my camera inside it. I'm the photographer and she's my model.
ADVERTISEMENT - CONTINUE READING BELOW
What are your addictions?
Alodia: America's Next Top Model. That's my favorite show.
Ashley: I used to be obsessed with That's So Raven. It was funny.
Alodia: As for music, I'm into K-Pop and videogame music.
Ashley: I'm also into videogame and Asian music, but I like alternative rock more. I like Up Dharma Down, Imago, and Sugarfree.
Alodia: I like movies with good graphics like Avatar, Iron Man, and Mulan.
Ashley: I like the weird ones. I like films by David Lynch and Quentin Tarantino.
Are you pet people?
Alodia: Yes! We really love animals. I always have a cat with me. We also have a lot of dogs. We have fish. We already had turtles, chicks, ducks...
Ashley: ...hamsters, guinea pigs...
Alodia: ...everything, even jellyfish...
Ashley: ...meron pa, sting ray. We can't even count them all.
Alodia: They just multiply. [Laughs]
What are your top five favorite restaurants?
Ashley: Number one would be Polu Kai in Serendra. It's a Hawaiian restaurant.
Alodia: Yes! This is not in order, by the way. The next one would be Sumo Sam. We always eat at the one in Rockwell.
Ashley: We like Zong. It's in The Fort Strip.
Alodia: Pepper Lunch! That's also in Rockwell... and Jollibee! Ashley likes the palabok and I order the spaghetti.
Ashley: Yeah, it's been like that since we were kids.
ADVERTISEMENT - CONTINUE READING BELOW
What's your favorite hangout?
Alodia: I don't hang out. [Laughs] National Bookstore!
Ashley: Within Quezon City, I like going to Katipunan or Eastwood.
Are any of you dating anyone at the moment?
Alodia: No comment.
Ashley: [Laughs] Eh, no comment daw.
Alodia: I like to keep personal things private.
Assuming you both are single, could you describe your ideal guy?
Alodia: Siyempre dapat loyal, patient...
Ashley: ...nauutusan...
Alodia: ...funny. I really want him to be funny kasi I obviously love to laugh. I've been laughing for the past twenty-two years? [Laughs]
Ashley: He shouldn't be kuripot. He should be hardworking.
Alodia: He should be able to stand on his own two feet. Hindi dapat siya sumasakay lang sa parents niya.
What's the sweetest thing a guy has ever done for you?
Ashley: I got my first Valentine's Day gift from an admirer and they were orange roses because orange is my favorite color.
Alodia: The sweetest thing, for me, would be a Valentine's date. Ang sad, kasi once lang? [Laughs] I liked it because I usually spend Valentine's Day with my family. So this was... wow.
ADVERTISEMENT - CONTINUE READING BELOW
When you have kids, would you like them to be cosplayers as well?
Alodia: Of course! But if he's a guy, I'll think it over. It depends.
Ashley: Why not? I'm going to bully anyone who bullies them for cosplaying.
For how long do you intend to keep cosplaying?
Ashley: Around mid-twenties?
Alodia: It depends kung kaya pa. Some people can get away with it. At age thirty, they still look like they're twenty-five. Why not? We'll never know.
What are you planning to do after you retire from cosplaying?
Alodia: Fashion! I really love fashion, the arts, and business. I've had a fashion business ever since I was seventeen.
Ashley: Photography, fashion photography, portraits, everything except landscapes.
Catch Ani-mates Alodia and Ashley [and their co Ani-mate Stephanie Henares] every day as they introduce you to the new shows on Animax.
Load More Stories