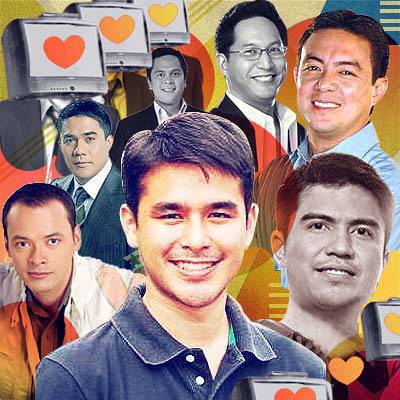 We watch news shows to get clued in on what's happening in our country and the rest of the world. But there are times when the news is hard to take. This is probably why TV networks hire newsmen who are easy on the eyes. In the spirit of cost-effective brainless fun, SPOT.ph lists 10 of the cutest--and most visible--TV newsmen in the Philippines. (Pretty please, let us know if you spot more cute newsmen, we just might come up with another list.)
Atom Araullo has a face that could convince young girls to be more responsible citizens--as soon as they stop gushing over how cute he is.
1. ATOM ARAULLO
ABS-CBN's Araullo is, hands down, the "prettiest" newsman on national TV. He appears on the network's major news shows Umagang Kay Ganda, TV Patrol, and Bandila. Araullo's lean frame, mestizo features, and his boyish charm have attracted many fans. He's also a man of substance. In an interview with the Philippine Center for Investigative Journalism, he said, "It's important for me to develop (one's) personality in all aspects, to be a well-rounded person." Atom is an Applied Physics graduate of the University of the Philippines and went to the Philippine Science High School. He was also a champion triathlete who also trained in soccer, tennis, volleyball, taekwondo, platform diving, mountaineering and underwater diving. A well-known student activist at the UP, he was one of the convenors of UP SIGAO (UP Student Initiative for Gloria's Ouster). Indeed, it's a bonus that he's brainy. Because, really, all he has to do to melt our hearts is go on air. This Atom is certainly the bomb!
ADVERTISEMENT - CONTINUE READING BELOW
Fortunately, TV-5 was only reformatting its news shows and Martin Andanar didn't have to go away.
2. MARTIN ANDANAR
If you're looking for a good reason to wake up at 5 a.m. on weekdays, you'll be pleased to know that Andanar is already on air by then. He's the best-looking male anchor in TV-5's morning show Sapul. His expressive eyes, aquiline nose, and cosmopolitan alpha male vibe appeals to working women who are in need of something stronger than caffeine to get them out of bed on weekday mornings. This newsman is also very down-to-earth. In a 2007 interview, PEP asked him why he didn't think of moving to other TV networks. He replied, "I'm happy here without much pressure. I can improve and achieve more by not thinking much of the network war." He then added with a laugh, "Isa pa, wala namang nakakaisip na i-pirate ako." Andanar also hosts TV-5's Aksyon at 5 p.m. on weekends.
Alex Santos helps make the news more attractive.
3. ALEX SANTOS
Santos has a trustworthy face. Despite his salt-and-pepper hair, he still has a boy-next-door appeal. Watching him deliver the news on TV Patrol's weekend edition is a pleasant experience--even if he's dishing out daunting facts. Santos also serves as early morning eye candy in Umagang Kay Ganda and gets into hardcore investigative journalist mode in XXX, a magazine type news program.
Ivan Mayrina looks good in any location.
ADVERTISEMENT - CONTINUE READING BELOW
Recommended Videos
4. IVAN MAYRINA
The tall and dreamy Mayrina is an anchor of QTV-11's News on Q. He also appears frequently in GMA-7's news shows. Mayrina may not have pretty boy features, but his clean-cut fashion sense makes him look rather dashing. He still looks put-together when he's sweating it out in the field.
Does Paolo Bediones makes it easy or difficult to focus on the news?
5. PAOLO BEDIONES
Bediones started out as a host in GMA-7 shows such as Extra Challenge and Survivor (Philippines). He then signed up with TV-5, where he now serves as an anchor for the primetime news show Aksyon. He also has his own show, USI: Under Special Investigation. Bediones is a universal cutie. His charm works on everyone--from kids to lolas. He's the kind of man that you'd want to bring home to mama or show off to your friends.
Mark Salazar hits the mark.
6. MARK SALAZAR
GMA-7's Salazar is usually tapped to be the face of the station's Flash Report. He is also featured in 24 Oras' on-location segments. Sometimes, he goes on special assignments. In any case, it's not hard to understand why viewers would want to see more of this fresh-faced hottie.
TJ Manotoc's classy vibe is sexy.
7. TJ MANOTOC
Manotoc--the son of 1970 Miss International Aurora Pijuan and sportsman Tommy Manotoc--is not as handsome as his half-brother Borgy. However, he's sexy because he exudes class effortlessly. Manotoc started out as a sportscaster for ABS-CBN. He got his fair share of groupies during his sports stint. He is currently an anchor for Studio 23's News Central. He recently ended his Mornings@ANC stint and is now Ces Drilon's co-anchor in ANC's The Rundown.
ADVERTISEMENT - CONTINUE READING BELOW
If you see women swooning while watching the morning news show, Paolo Abrera is to blame.
8. PAOLO ABRERA
Abrera is the latest addition in Mornings@ANC, replacing the show's former resident sexy guy TJ Manotoc. Like Manotoc, one can't quite put a finger on Abrera's appeal. He's not the stereotypical pretty boy tisoy but, for some reason, temperatures rise when he walks into a room. He's long, lean, and dusky--and we like him that way.
Ferds Recio has a wild side.
9. FERDS RECIO
Recio is a veterinarian who hosts GMA-7's nature news program Born to Be Wild. Even though he's usually getting down and dirty in the great outdoors, Recio's matinee idol vibe always shines through. His beautiful eyes and great hair can bring out anyone's wild side. Animals can also probably sense his cuteness, as they seem to calm down when he's the one handling or petting them.
Aljo Bendijo makes mornings brighter via his show. (He's the guy wearing a suit.)
10. ALJO BENDIJO
Bendijo is a former ABS-CBN newsman. He's now one of the main news anchors in government-owned networks IBC-13, NBN-4, and RPN-9. One Morning, a morning news show, is just one of his news gigs for the said networks. Bendijo's got a "good boy" vibe. His Oriental features make this Davao City native crush-worthy to women all over the country.
Art by Warren Espejo, photos from network publicity stills.
ADVERTISEMENT - CONTINUE READING BELOW
Share this story with your friends!
---
Help us make Spot.ph better!
Take the short survey
Load More Stories