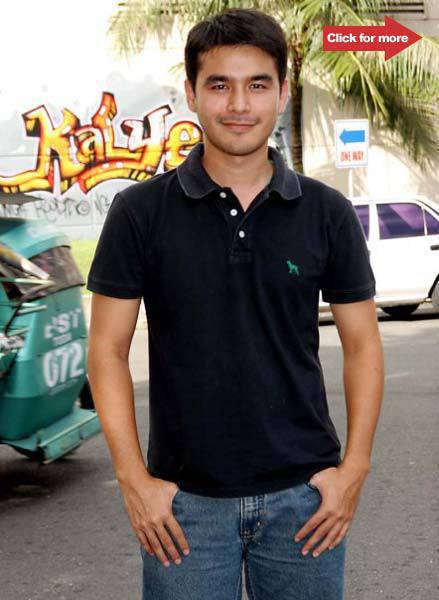 Photo of Atom for his old documentary show, Kalye. Click for more photos.
Not until SPOT.ph declared him the No. 1 Cutest TV Newsman in the Philippines last week has the, er, minor fact about news reporter Atom Araullo's movie star good looks been splashed into the forefront of the media scene. News about it reached viral fever pitch instantaneously--picked up by shows, Tweeted, blogged about, and, of course, giddily Googled. It's almost as if his cuteness were his dirty little secret the way it's been overlooked, or perhaps even downplayed. And that's the most irresistible kind of sex appeal--covert, underrated, unexploited; in short, the kind of stealthy handsomeness Pinays like to describe as "'di niya alam na guwapo siya."
ADVERTISEMENT - CONTINUE READING BELOW
And why wouldn't his looks be glossed over when there's so much more than meets the eye? Check out this fat CV: UP Diliman Applied Physics graduate, Philippine Science High School graduate, champion triathlete in his teens. Student activist, student councilor, college paper editor. At present, host of ABS-CBN's morning show Umagang Kay Ganda and news reporter for TV Patrol and Bandila.
If you've never heard about him (since mass overexposure, it seems, is not his style) and yet he looks familiar, it's because the 28-year-old has been in our boob tube consciousness since he was nine. Some might remember Atom as one of the hosts for the youth-oriented TV programs 5 & Up (which he started hosting while in third grade) and Kabataan News Network (KNN). He then proceeded to appear in Y-Speak, then hosted Breakfast and Kalye.

As the son of medical doctor and Bagong Alyansang Makabayan (Bayan) Chairperson Carol Pagaduan Araullo and engineer Mike Araullo, both of whom were activists during the Marcos regime, Atom has always been exposed to the political environment and so it seemed natural for him to become a student activist in college, being a member of the League of Filipino Students (LFS), head of Student Alliance for the Advancement of Democratic Rights-UP (Stand UP) and one of the convenors of UP SIGAO (UP Student Initiative for Gloria Arroyo's Ouster).
ADVERTISEMENT - CONTINUE READING BELOW
Recommended Videos
The importance of "well-roundedness" was always stressed by his parents, so Atom made sure to juggle his academics with more than a good amount of extra-curricular activities. In college, aside from academics, athletics and activism, he also pursued politics. He served as a councilor in the 2003 UP Diliman Student Council and ran for Chairperson the next year, but lost, a matter he told the Philippince Center for Investigative Journalism (PCIJ) was a humbling experience and "a rude awakening," but which "equipped him with a deeper appreciation of things." To top that, Atom was also an editor for his college's publication, Siyensya.
SPOT.ph got to know "the smart woman's newsman" and discovers that the man who serves as many a viewer's morning TV eye candy (or make that brain coffee?) really has no need to prove he's more than just a talking head.
Were you really named after the August Twenty One Movement (ATOM), the militant group formed in 1983 after Ninoy Aquino was assasinated?

I was actually born in 1982, a year before the assassination of Ninoy Aquino. My nickname is a combination of Alfonso and Tomas, the names of my two grandfathers.
ADVERTISEMENT - CONTINUE READING BELOW
Were your parents both activists? What was it like growing up in an environment of activism? Any early memories about the political climate during your childhood?
Both of my parents grew up during the tumultuous years of the 70s. Living with politically conscious parents has definitely been an advantage as far as my edification about the real world is concerned. I don't remember a lot about the 80s and the 90s, but I do remember seeing my mother in newspapers and TV every once in a while when she joined rallies. That certainly redefined my sense of what a normal, peaceful life really is.
How did you and your sister Sandra get into sports when you were kids?
We learned how to swim at a very young age. At barely four years old, my sister and I were already competing in various local tournaments.Aside from being a crucial survival skill, my parents figured that we could get sports scholarships for our college education, in case the family falls on tough times. We tried other sports such as football,tennis, taekwondo, volleyball, and platform diving also. Then we became dedicated triathletes when I entered first year high school.
ADVERTISEMENT - CONTINUE READING BELOW
How did you end up in the kiddie TV show 5 & Up? How old were you? What was it like?
I was in Grade 3 when the 5 & Up team went to Ateneo de Manila to hold an open audition. Members of the Ateneo Children's Theater (which I was a part of) were encouraged to try out. I remember telling the producers a really detailed story about how I rescued frogs from the hands of cruel 10-year-olds in school. I think maybe that sealed the deal for them: "Atom: The Champion of Amphibians Everywhere."
Did this early exposure foster your interest in broadcast media?
Most definitely. I didn't watch a lot of TV back then, but I had so much fun doing stories for 5 & Up that media became a real career option.
Atom with Chynna Hortaleza and Maxene Magalona in the farewell episode of 5 & Up
ADVERTISEMENT - CONTINUE READING BELOW
Why did you go to Philippine Science High School? How did you handle the pressure of being in such an academically demanding school with all your sports activities and TV work?
I went there simply because we thought it was the best high school in the country, all things considered. A big plus was the fact that students in Pisay were all scholars. We didn't have to worry about tuition, and I had a monthly stipend to boot. Aside from that, I was also convinced by my parents that it was a good idea to meet kids from more varied economic and social backgrounds, as enrollees camefrom all over the Philippines. They were right, of course.
How would you characterize your upbringing? Your father was very hands-on and would drive you to all your practice sessions and competitions. How did he influence you?
I am unbelievably lucky to have had the kind of upbringing that is the sum of who I am today. We had a strict, regimented lifestyle (mostly due to our sports involvement). TV time was limited. We were not indulged with junk food or the latest toys. But my parents exerted extra effort to buy us a desktop computer with a few educational programs--and yes, the odd game here and there...remember Alley Cat?. Summers I would spend with my uncles in Binangonan, Rizal. They had a big compound among rolling hills, and me and my kinakapatids would spend the days catching grasshoppers and picking Indian mangoes from trees before they were ripe.

You won't find a more dedicated and selfless man than my father. Despite our modest resources, he would insist in enrolling me and my sister in all of these co-curricular activities so we that would grow into "well-rounded individuals." That was at the expense of buying such essentials as new pairs of socks for himself. Anyway, my dad says he prefers wearing sandals. If triathlon training was hard for Sandra and me, if was even harder for Papa. Because he prepared all our things, woke us up for training, drove us around all the time, and paid for the competition fees (a special mention goes to my Tito Tony and Tito Meng who also toiled for years for our triathlon training). When I have my own family, I already have a model to aspire for.
ADVERTISEMENT - CONTINUE READING BELOW
How about your mom? As a staunch activist and freedom fighter, how did she influence who you are today?
My mother opened my eyes to the world like no other person ever could. Her patriotism, perseverance, and intellect is legendary, as people who know her and know of her will no doubt testify. She's an achiever who could have easily led a life of relative peace and prosperity, but she chose instead to offer her talents to the people. Her every waking
 hour is consumed by thoughts of making the world a better place.
Why did you take up Applied Physics in college? What was your desired career path?
I took up Applied Physics because I was fascinated with the field, watching so many documentaries about the theory of relativity, time-dilation, black holes, and the like. I didn't bother thinking about a definite career path when I decided to study Physics. To me, programing my college life because of a career plan was an unnecessary distraction.


ADVERTISEMENT - CONTINUE READING BELOW
You were a well-known student activist in UP. Besides your having been born into activism, what drew you to it?

Just looking at the world around us: realizing that something was wrong, something needed to be done, and we were the ones who had to do it.


What are you still fighting for today?
For all the same things I fought for when I was still a student: equality, peace, and social justice. Of course, I had to adjust to mynew role as a member of the press.
Atom reports on last year's Maguindanao Massacre protest by media groups
Back in college you ran for student council chair. Do you ever think of going into politics in the future? Is establishing a career in media part of a future political plan?
No, no plans.
Would you ever run for President? Why or why not?
No. I wouldn't win anyway.
ADVERTISEMENT - CONTINUE READING BELOW
What made you choose your career as a field reporter?
Journalism plays a huge role in shaping a nation and I'm glad I have the opportunity to be part of that.
Why did you pursue journalism instead of science considering you graduated with a degree in Applied Physics?
It wasn't planning to become a journalist after graduating from college, but a series of events led me to this profession. It's been a wonderful and fulfilling experience for the most part. I haven't abandoned the scientist in me though, and I still firmly believe that developing patriotic and scientific minds is one of the keys to changing the country.


What's the best part about being a reporter? The worst?
The best part about being a reporter is you're never stuck in the office developing all kinds of sicknesses from sitting in a cubicle for hours on end. Every day is a new adventure out on the field. It can be a thrilling and engaging experience. Having said that, being a reporter can also be very stressful because of the nature of the profession. There are deadlines to meet, competition to consider, and topics that can take a toll on your
 psychological and emotional well-being. They say that journalism is a calling, and I can understand why.
ADVERTISEMENT - CONTINUE READING BELOW
Do you write your own news reports? How long does it take you to write your stories? Do you prefer writing in English or Filipino?
Oh yes, of course. I write in both languages for Channel 2 and ANC. Depending on the urgency and sophistication of a news report, each story takes me 30 minutes to an hour to write.
Have you ever been offered a career as or thought of becoming an artista?
When I was younger I used to do theater. I had some encounters with people from the entertainment industry but I was more preoccupied with my other obligations and interests.
How do you deal with your fan girls? Ever had crazy encounters with them?
Not a lot to be honest. My biggest fan girl would be my mom. But she'll never admit it.
Are you really a morning person? Do you think the morning show is perfect for you?
ADVERTISEMENT - CONTINUE READING BELOW
I wouldn't say I'm naturally a morning person, but I have been accustomed to waking up early because of all the years of training as an athlete. But I still don't think I'll ever get used to waking up at 4 a.m. every day for Umagang Kay Ganda. It's a daily struggle.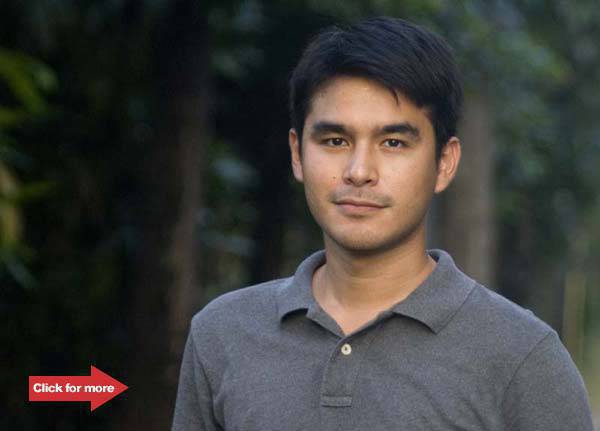 Scenes from Atom Araullo's life. Photo from TFC's Multiply page. Click for more photos.
ADVERTISEMENT - CONTINUE READING BELOW
How did you meet Patty Laurel? What makes the two of you click? What do you like about her?
I met Patty through a morning show we used to host together a few years ago. We click because we have so much in common and so many differences as well. It's so much fun exploring our contradictions while taking comfort in the fact that you'll never get lost in the process, that there's always a safe place to come home to, if you know what I mean.
We heard you love to travel with Patty. Where do you like to go? What was the most memorable trip you took together?
As much as possible, we like going to unusual places whenever we travel. We're still testing the limits of our bravery but so far, one of our most memorable adventures was our trip to Egypt. The highlight of our vacation was camping in the Sahara. The desert is so silent at night that you could hear your ears ring.
ADVERTISEMENT - CONTINUE READING BELOW
You seem like the guy a girl would take home to her mother, are there any things you've done that are far from that "image"?
I suppose, but I'm not saying anything.
Will we hear wedding bells anytime soon? Future plans?
Secret.
How did you react when you heard you were declared SPOT.ph's No.1 Cutest Newsman? Is this a good or bad thing for someone who wants to be taken seriously as a newsman?
Grateful but a little perplexed. Of course, the real challenge is to prove that there's more to your skill set as a journalist than looking pleasant on camera. But it helps.
What do you do when you're not working?
First and foremost, I catch up on sleep.
Where do you hang out in Manila to relax?
Usually in the house of friends, sometimes in small, nondescript pubs.
Are you still into sports? Which ones? Where do you practice?
ADVERTISEMENT - CONTINUE READING BELOW
I don't compete anymore but I usually run just to maintain a certain level of fitness. I also play football and futsal with friends every once in a while.
Where do you like to eat out in Manila? Favorite restaurants? Bars? Other hangouts?
I usually leave it up to my companions to pick a place.
What do you like best about living in Manila? What do you dislike?
I've never lived anywhere else. Manila may not be the cleanest, safest, or most progressive city in the world, pero nakakabit na ang bituka ko dito.
What do you want to change or improve about Manila? How do you think this can be done?
Where to begin? In the end, I think all the efforts to improve the city will be superficial if the lives of working class who make Manila tick are taken for granted.
What are your hopes, dreams and goals for the Philippines? Is there hope? What gives you hope?
ADVERTISEMENT - CONTINUE READING BELOW
Everybody dreams of a prosperous Philippines where everyone is free to explore his or her full potential without economic or social hindrances. I think the only way to achieve this is by breaking the yoke of exploitation and oppression that many Filipinos have lived with for hundreds of years. Of course there is always hope. If there wasn't any hope, there's no point in living.
Gallery photos courtesy of Patty Laurel and Noel Orsal of PEP.ph.
Share this story with your friends!
---
Help us make Spot.ph better!
Take the short survey
Load More Stories