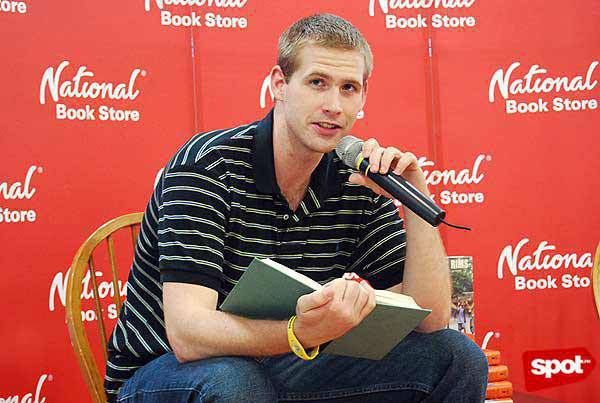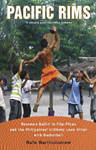 It's no secret that New York native Rafe Bartholomew, author of the first ever book on Philippine basketball Pacific Rims, lived in the Philippines from 2005 to 2008. He was granted a one-year Fulbright grant to study Philippine basketball. He ended up staying for two more years, during which he learned the Filipino language. "My time in the Philippines was the best three years of my life," he said.

"Basketball is what brought me here, but the country is really what kept me here," Batholomew revealed at the first Philippine book launch of Pacific Rims on August 21 at National Bookstore Cubao. His fans and members of the media lauded the book and his love for the Filipino culture. He said, "It's hard to explain how it feels to have all these people say these wonderful things about (me). It's wonderful and it's also a little weird."

Judging by the book reviews, online buzz, and book sales, Bartholomew seems well on his way to becoming the adopted foreigner of the Filipino community worldwide.

Read on as Bartholomew--or Paeng Bartolome, his Filipinized name that some of his friends call him by--talks to event host Lia Cruz, the press, and the public at the book launch about thinking of playing pro basketball in the Philippines, talking to Willie Revillame, and surviving PBA superstar Willie Miller's naked rite of passage.

(To read SPOT.ph's one-on-one interview with Bartholomew, click here.)
ADVERTISEMENT - CONTINUE READING BELOW
What compelled you to spend three years of your life in the Philippines to write about the Filipino fixation with basketball?

It started off with my own love for basketball. My father was a player, and he brought me to a gym every day from the time I was eight years old. And then I started discovering more about basketball in the Philippines when I read a book called Big Game, Small World. It described kids playing in the street wearing their tsinelas and the way people would do anything to get a game in. It was just so inspiring to me. I didn't know I was going to be here for so long because I was supposed to stay for only nine months. I just found so much. The basketball culture and the culture in general are so rich. I enjoyed being a part of it and learning so much that I didn't want to go home... Honestly, if I hadn't left, I would probably still be doing basketball research.

What are the highlights of the book?

Part of the book has this narrative of the Alaska season. It was 2007 and the Alaska Aces actually won the championship so there was good love around for them. You get to see the interaction between the import Rosell Ellis and different players. He's so serious and he has sort of a quiet feud with Willie Miller who is the funniest guy in the planet. So there's the team dynamic and also the history. I talked to Kurt Bachmann and some of the older Olympians like Freddie Webb about the role basketball has played in the Philippines for decades, even going back to the '30s.

Can you name one thing that struck you during your stay in the Philippines?
ADVERTISEMENT - CONTINUE READING BELOW
Recommended Videos
The funniest, this is an easy basketball example. It was the first time Willie Miller ever surprised me with his nakedness, which is a common occurrence for many of his teammates. I was in the locker room before a game and someone tapped me on the shoulder. I turned around and I'm like, "Oh it's the MVP!" I was just starting with them so I didn't really know him or anyone very well. He's just there and he's like, "Hi Rafe!" and then he slapped me on the shoulder and went to the shower and all the guys were laughing. It was a rite of passage.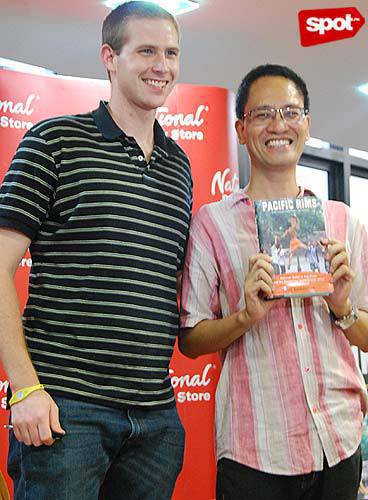 ADVERTISEMENT - CONTINUE READING BELOW
Rafe Bartholomew with Danton Remoto, one of the teachers at the Ateneo de Manila University whom Bartholomew thanked in his book for "(teaching him) so much about Philippine history and society."
How did you manage to get sources for the book?

I read as much as I could. Atlas Sports Weekly and Champ magazines were very important to me. Also, I got to meet a lot of the players who shared all their stories: the rumbles, the times they got elbowed and every trick of the trade. It was amazing to watch them open up because they're used to being asked questions like "How many points did you score?" and "What did you think of the game?" but not always questions like "How did you feel when you won that?" They would talk for hours. I think I had a four-hour interview with Ed Cordero once. It just kept going and going and going. It was great.

How did you get into all the basketball circles?

Whenever I was interested in learning some aspect of the game, I could ask my adviser Sev Sarmenta and he'd point me in the right direction and introduce me to someone.

A lot of sports journalists helped me too. I could always turn to journalists like Sev, Bill Velasco, and Quinito Henson. I ended up interviewing almost all of the big basketball columnists here. After I interviewed them, we would keep seeing each other and they'd keep giving me a heads up on things to look into.

What did you think of the gays versus midgets showdown in Cebu you went to?

I guess I was bothered by it. During the first 10 minutes of the game, I was laughing with the crowd, and then the game just went on and on and on. The players looked tired and just wanted to go home. It was a little too much for me to handle. That's when I said in the book that it was probably when I felt the most foreign in the country. At that time, I had been here for over two years. I was starting to feel like I understood things and then I went to this game, and I felt like I couldn't understand this at all. I was a little disappointed with myself and I also just couldn't handle it.

Why do you think no Filipino has ever written a book about Philippine basketball?

Hindi ako sigurado. Para sa inyo, pangkaraniwan ang basketball katulad ng kanin. (I'm not sure. For Filipinos, basketball is part of everyday life like rice.) It may not have occurred to people that such a part of their everyday life was very, very special. The same way that I don't go outside in New York and go, "Oh, I want to learn about this culture." I hope this book leads to more books written about Philippine basketball because there's a lot more to say.

How did you pitch the idea of studying Philippine basketball to the selection committee that gave you the Fulbright grant?

That was a challenge because the Fulbright is an academic grant and most of my colleagues and batchmates were studying economics, micro finance, migration issues, very academic-sounding stuff. And here I was saying I wanted to write about basketball. I think I just had to give them the evidence that basketball plays a really important and unique role in Philippine society. Luckily, I made a good enough case to pass the first round. A Filipino panel judged the second round; I think once they saw it, I was in pretty good shape.

What was the audience in your mind when you were writing this book?

I was writing it for an American publisher and knew that they were planning to primarily sell the book in the United States so I was writing it for that audience in some ways. If I were writing it for the Filipino audience, I probably wouldn't have to explain terms. No reason to be like, "Longganisa is a sausage." But at the same time--I never really told my editor this and I don't know if he knows it or not--the people I wanted to be impressed with this book were the Filipinos, people who understood what I was trying to write about better than I do.
ADVERTISEMENT - CONTINUE READING BELOW

How does it feel to hold your book in your hand?

When I first got it, I was jumping around and dancing in the street. There were a couple of moments like that. There was a moment when I finished the first draft; I put the last period and I just took this deep breath. I'm like, "Oh my God, I can't believe it." I went to the subway station and I was jumping, it was like a Rocky movie.

How has the reception been?

Very, very positive among Filipinos in New York and the San Francisco Bay area. For the most part, as much as I've heard so far, Filipinos have really embraced the book. That's the ultimate mark of success for me. If you guys can read it and it seems like I did a good job, that's like the best indicator of authenticity of whether or not I did a good job. I think it's building word of mouth; there's this interesting book out there about this thing that most Americans haven't heard about but they kind of really like.

Which book review did you enjoy the most?

Siguro 'yong pinakamalaking parangal para sa akin 'yong review ng Philippine Daily Inquirer na lumabas sa Philippine Independence Day, June 12. At sinadyang i-publish on June 12. (It was such a huge honor when the Philippine Daily Inquirer intentionally published a review of Pacific Rims on June 12, the Philippine Independence Day.) The idea that it was my book they wanted to feature on one of the most important days of the year meant so much to me. It was also a great review.

Do you have plans to write another book?

Plans, yes. I don't really know what it's going to be about yet, but I'd love to. That's the dream, right? For basketball, there are just so many stories, so many angles in this book that I couldn't go into because of space. Some of the history of Alaska, Ginebra, Jaworski, the provinces... I got a chapter but there's almost a book in each of those things.

Did it ever cross your mind to become a professional player here?

I don't think I could've made that choice for myself but I would've loved to. It crossed my mind. That would be cool.

How was your everyday life here?

It was great. I call those the best three years of my life and I seriously mean it. A lot of it was just everyday life, walking around in the Katipunan area. I feel like the community there adopted me as the official foreigner... Six months after I arrived in the country, I ended up as a "Bigat 10" in Wowowee. I couldn't really speak much Tagalog back then but Willie Revillame talked to me in Tagalog anyway. I said, "Ako si Rafe, Bigat 10 ng Loyola Heights, Katipunan, Quezon City," and everyone went crazy. The whole neighborhood was like, "Yeah, he shouted us out in Wowowee!" So every time people would see me, they'd go, "Wowowee!" They usually expected me to do the hand sign.
ADVERTISEMENT - CONTINUE READING BELOW
Rafe Bartholomew appears in the teleserye Bakekang.
How was your acting stint in Bakekang?

I don't know if you want to call that acting. It was a very, very fun experience. I wish I were a better actor but I wasn't used to having a camera right here (points to his face) and the director screaming, "React! React!" I tried. I was also conflicted at times because the crew was telling me to slap a woman and call her really, really awful names. After that, kids would run up to me and ask where Bakekang was and if we lived together.

What is the most compelling aspect of Philippine culture that you took away from the experience?

It's hard to come up with a "most." The thing that is really interesting to me and I'm sure everyone will laugh at me for this because it's so normal... It took a long time for me to let go and stop trying to control every part of my environment. I think that's sort of an American thing, to want to be like, "I want to know I'm going to be here at this point in time. I'm going to get there this way and it's all going to happen according to plan." I found that when I tried to live that way here, I almost always failed. I would get to where I was going but it wasn't exactly perfect. That sort of shows the Filipino ingenuity. You're going to figure out a way to go there even if you have no clue what Point A and Point B are when you start; you're going to end up getting there somehow.

Did you adopt the concept of Filipino time?

I think I have. I'm now later than most of my friends. But I have a lot more Filipino friends now in the States than I did before so we're sort of matching in terms of our schedule.

You have been known to sing karaoke. What is your favorite karaoke song?
ADVERTISEMENT - CONTINUE READING BELOW
Probably "Narda." I studied Tagalog through Parokya ni Edgar songs and other OPM tracks. Those are the songs I sing the best because those are the ones I practice. I would watch MYX on Youtube and learn the lyrics that way. Hopefully, no one heard me singing in my room... Walking back and forth to work in New York, I always listen to my playlist that has about 500 Filipino songs.
Rafe Bartholomew sings "Buloy" at Cafe 81 in New York City.
Now that you're back in the Philippines, what are you most excited to do?

I'm most excited about the Dampa here in Cubao... I'll just walk around. Last night (August 20), even though I was dead tired and I just arrived at midnight, I still walked around in Katipunan. I saw all the people I used to see. They still live there, a little bit taller with different clothes, and they're all saying it's too bad I missed the liga (league) because it was really good. I'm looking forward to seeing the Ateneo-La Salle game tomorrow (August 22), the NBA Legends game later this week, catching up on that stuff. But really, the day-to-day stuff and interaction, that's what really made me love the country so much. That's what I've had a little bit of and what I'm looking forward to more of. We'll see about the street food. Last night, I bought siopao so I'm off to a good start.

Do you have a girlfriend?

I do have a girlfriend. She's from Los Angeles and she lives in New York now. We met here actually. She had a Fulbright grant the year after mine.

Has your game improved or changed since you played Pinoy basketball? Are you now magulang?

I haven't been that much of a magulang player but I'm getting older which means my license to be gulang in court is increasing. I'm also getting slower so I may actually need to be craftier when I play. But while I was regularly playing here, I think I was playing at the highest level I ever played in some ways. I was not as good a shooter here as I was in the States because I didn't get to shoot outside a lot; even when I played with really good players who were also tall, I was forced to play center. But the defense and level of competition were very high. I got to play with former PBA players, PBL players, almost everyone but the very best players in the country. I think they made me a better player. I miss playing basketball here so much.

What would you like to say to Filipinos?

Thank you. Maraming salamat. It's such an honor to be here and share this with the people who made it all possible. It was the best three years of my life and it's dahil sa inyo (because of all of you).
ADVERTISEMENT - CONTINUE READING BELOW
Pacific Rims is available at National Bookstore. Photos by Jean Natividad.
Share this story with your friends!
---
Help us make Spot.ph better!
Take the short survey
Load More Stories