15 Minutes with Bikram Choudhury
The famously frank creator of Bikram yoga on his Beverly Hills lifestyle, celebrity clientele and rumored sex stories involving his students.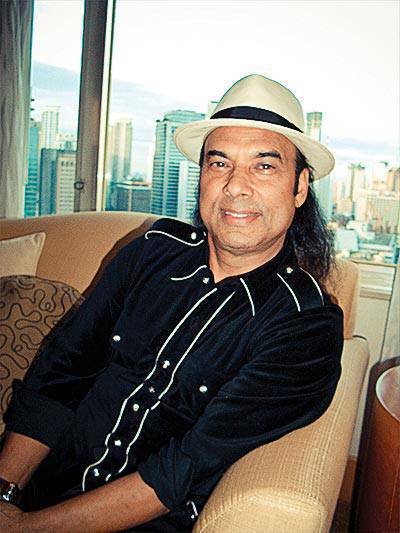 The father of Bikram yoga, Bikram Choudhury, in Manila
Bikram yoga has been gaining a faithful following in Manila over the last few years, despite the fact that it's practiced in a room heated to about 40 °C. Notorious perfectionist Bikram Choudhury, the father of Bikram yoga, is in town for a visit and sat down with SPOT.ph for a chat about why other forms of yoga are "a joke," saying no to Madonna, and how rich he really is. Who knew "hot yoga" meant more than just the temperature?

You've called your class "The Torture Chamber." Are you proud of Bikram yoga's intimidating reputation?
One hundred and ten percent. It's truth. It's a fact. You come to Bikram class, mentally you prepare [for] what you're going to face, what you're going to see, what you're going to feel. So you don't quit. It's not pain. The class is not easy, but psychologically you build up your tolerance to a different extent. When you do Bikram yoga, after one year, you are bullet-proof, fire-proof, water-proof, wind-proof, money-proof, sex-proof, emotion-proof, stress-proof, strain-proof, all-proof. Because you're above everything. Nothing in the world will bother you. That's why you start Bikram yoga the hard way. It's not easy. Anything easy, it doesn't last long.
ADVERTISEMENT - CONTINUE READING BELOW
Channel News Asia's interview with Bikram Choudhury who "defies the stereotypical image of a soul-soothing yogi"

What makes Bikram yoga better than other forms of yoga?
Other kinds of yoga, even in India, are still [using] the 5,000-year-old Mickey Mouse system. I'm the only yogi of all time out of India, [who, for] over 50 years [has done] research, and research, and research on how every posture has to be done perfectly. Which organ you're working out, and which organ you are correcting because of what disease you're preventing or curing. All these things, I bring the answer to the world from Bikram yoga. Any other kind of yoga is a joke. A Mickey Mouse. You pick up any yoga book in the world-even the names of the postures are wrong.

Every night there's a yoga show from Bombay, somebody teaches yoga in a garden with two fat girls. This is the number-one yoga show out of India but it is embarrassing to me...because they've been calling the postures the wrong names.


CONTINUE READING BELOW
Recommended Videos
How often do you go back to India?
About five times a year to give interviews. And [for] shopping.


Do you ever teach yoga there?
No. I've never taught one class in India, because they'll be dead [if I do]. They're fat, they're sick, they're weird, they're fucked-up, they're no good. They are not ready to take a class from me. They all ask me, "When are you going to teach?" I say, "Lose another 50 kilos. Stand on your one leg. Lock the knee first." They're so bad, you have no idea. Physically they are bad. But here (gestures towards his head), they are the best. Mentally, psychologically.


ADVERTISEMENT - CONTINUE READING BELOW
What would you say to someone who's put off by the stifling temperature required to practice Bikram yoga?
If I were in America, and somebody quit and said, "It's too hard," I would tell them, "Go eat shit and die." That's my answer because I don't have time to waste on idiot people. That's the way I talk in America, that's why they love me. Because I speak their language.


Do you really describe yourself as "beyond Superman" because you can cure any illness?
I cannot say I cure every illness, it's up to the patient. If they want to be cured, definitely I can help them. See, you can take a horse to the pond but you cannot make him drink. But I have a slightly different way. I make a deal with the horse and I take the horse to the pond. I tell them, "Drink." If the horse doesn't drink, first I chop their balls off, then I chop their legs off, then I chop their hands off. An empty barn is much better than [one that's] full of naughty cows.

Definitely I do something that nobody else does. When they say nothing else works, people come to me. It doesn't matter how bad they are, I keep them alive. You read my book-the Israeli ambassador's wife, she was dying in two hours, I kept her alive one year and eight months. No living human being in the world can perform that kind of job. So if you think it's super, it is super. We do have a supernatural power-you have it and I have it. I help people to realize it and take it out. Anything you want, you can accomplish in life. I've proved it. With millions and millions of people. They've all told me one thing: "You've changed my life." I told them, "No, you did it, I only put you on the right track." You have to do it; I cannot make it easy for you.


ADVERTISEMENT - CONTINUE READING BELOW
We read that you're a singer. What kind of music do you sing?
Not serious stuff. Anything.


What kind of music do you like to listen to?
Well, I'm the inventor of disco. The word "disco," I created. I built the first disco in the world. I started my first disco at Waikiki Beach in Honolulu in 1971. I'm a disco dancer; I dance much better than I sing.
CBS' 60 Minutes describes Choudhury teaching yoga "wearing nothing but a Speedo and a Rolex"
Do you really teach in nothing but a Speedo and a Rolex?
I've never worn a Rolex in my life. Media are stupid. They don't research, they don't study, they just write stupid things. Rolex gets free credit because of [them]. No Speedo [either], I have my own costume. I make it with my own hands. I sew-I joined a contest [back in India] and beat all the women. I was 12.


Did you really refuse to hold private classes for Madonna?
I don't give private classes. But I'll give you news: I'm going to teach a private class in February to somebody who does Bikram yoga every day. Prince Harry. And his best friend, DJ Goldie. They asked me to hold a private class and I said, "Yes, I will but on one condition: The Queen has to watch the class." Also, I'm going to teach a private lesson to Lady Gaga. She does Bikram yoga every single day. My next song will be the title song of a Hindi movie. And I want Lady Gaga to sing with me, so [in exchange] I'll give her a private lesson.


ADVERTISEMENT - CONTINUE READING BELOW
So you're probably the world's richest yogi, with a Beverly Hills residence and a collection of Rolls Royce cars...
No, no. I'm not. I don't have too much money, I just spend it. Fifty percent of my earnings go to charity. So I don't have too much money. I'm okay.


Is it true that you've been blackmailed by students into having sex with them?
Yeah. I was raped on my birthday. It's true. They've not only blackmailed me, they've committed suicide. I was a virgin until I was 28. And well, some superstars in Hollywood, they wanted to fool around, I said, "Yogi don't do that. I don't do that, sorry." Three of them committed suicide. Then I packed my bags, I said, "Fuck America," and went back to Japan. But Shirley MacLaine asked me to come back. She said, "You know, people attack you because they know you're available." A lot of people thought I was gay, maybe. They said, "How come you don't like women?" I said, "No, I like women. But a true yogi is supposed to be like that." They said, "But you are not in India." When in Rome...so three women raped me on my birthday.


All at the same time?
I think so. No, I don't remember, they put things in my linguine.


Photograph by Joanna Manalastas






---
Help us make Spot.ph better!
Take the short survey
Load More Stories